Industry partners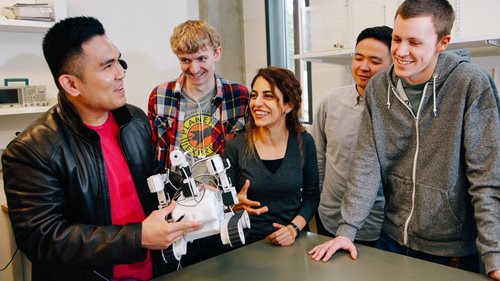 The School of Science, Technology, Engineering, and Mathematics is committed to providing the next generation of STEM-industry professionals with education and experience that will uniquely position them for STEM careers upon graduation. Partnering with UW Bothell School of STEM provides your company with opportunities to interact with and recruit future talent, explore early-stage research development ideas, and more. Below are just some of the ways for your company to benefit from a partnership with the UW Bothell School of STEM.
Support the School of STEM
Private support provides funding for student scholarship awards; technology, equipment and improved facilities; and recruitment and retention of faculty. Make an investment in future STEM leaders by making a gift today.
Work with students
Computing & Software Systems internship
Advanced undergraduate Computing and Software Systems (CSS) students are required to complete a Capstone Project and many elect to fulfill it through an internship with local industry. Through industry internships, students gain an impressive resume of practical work experience, and employers find motivated, well-prepared students who excel as student employees and as future hires after graduation. Learn more and apply to sponsor a CSS Capstone or contact Janet McDaniel for more info.
Engineering Capstone Project
Electrical Engineering and Mechanical Engineering students are available to work with local companies through their Capstone Projects. Learn more about how your company can benefit from these highly-capable students.
Recruit & hire students
Visit the UW Bothell Career Center to post internship or job opportunities, or to find out about upcoming on-campus recruiting and job fairs. Also consider using HuskyJobs to recruit potential employees from the entire University of Washington.
Partner with faculty
UW Bothell believes that active engagement in cutting-edge research enriches teaching and learning, allowing for continuous intellectual revitalization for students, staff, and faculty. School of STEM faculty members often collaborate with industry on research of mutual interest and benefit. Learn more about our faculty and their research through the links below.
Other ways to engage
Consider speaking to a class, hosting a lecture, inviting a group of students to tour your company, or serving as an industry mentor. Contact John Naumann, Director of Corporate & Foundation Relations (johnn4@uw.edu), to explore how you can meaningfully engage with UW Bothell School of STEM.
If you have any questions about partnering with the School of STEM, contact Sean Marsh in UW Bothell's Office of Advancement at 425-352-5269 or smmarsh@uw.edu.