Careers
Computer Science & Software Engineering
Graduates from UW Bothell are near the Seattle engineering and technology sector, ready to join the growing workforce of skilled professionals and make an impact at local startups and major employers. Some students discover a deep passion for research and continue their education into Ph.D. programs.

Computer Science & Software Engineering alumni work at various companies and go on to work in many different roles.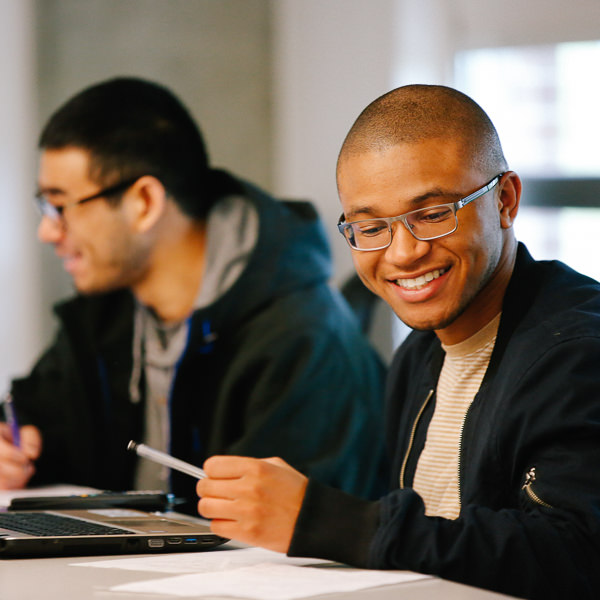 Companies
Nordstrom
Amazon/Amazon Web Services
Adobe
Google
Boeing
Microsoft
PlayStation Network
VISA
Expedia Group
Tableau
Apple
T-Mobile
S3 Global
Turn 10
Oracle
Job titles
Software Engineering Manager
Software Development Engineer
Software Engineer
Software Developer
Machine Learning Engineer
Technical Program Manager
Professional Services Consultant
Business Intelligence Analyst
Robotics Engineer
Avionics Displays Engineer
Web Developer
Data Analyst
Dev Writer
Senior Architect
Fast facts on graduates
52% of our students attend the program to prepare for new employment
90.3% of graduates are employed upon graduation
Majority of graduates received job offers before or within six months of graduation, some others maintained their current employment
88% of our graduate have jobs directly related to their graduate education
45% is the average increase in salary upon graduation
Income brackets before and after the program increased: majority of those making less than $49.99k now make between $50-99.99K, $100-159.99K, $160-210K or over $210k.
85% of our graduates highly recommend or recommend UW Bothell
Alumni stories
Hear from graduates about what inspired them to choose the master's program, their student experience, advice for future students, current job in industry, and how the program prepared and supported their career goals.
Meet Emily Hsu
Job: Software development engineer at Amazon
Background: Worked in biotech and then switched careers with the GCSDD at UW Bothell
Advice for future students: Think about your project/thesis as early as possible! Talk to professors and understand their research to help with your final defense.
Meet Aytul Arisoy
Job: Senior Manager at Amazon Web Services
Background: International student wanting to develop professionally after working in industry for 13 years.
Advice for future students: Know what you want from day one and build a course plan around it. Don't hesitate to use the student services available!
Meet Zachery Brownell
Job: Computer Scientist at Adobe Systems
Background: Was dissatisfied with my current job and wanted to switch from quality engineering to a development role.
Advice for future students: Get to know professors early and understand research areas so you can keep your thesis/project idea in mind as you plan coursework.
$45,400 is the difference a master's degree makes in median earnings for those who work one year after graduation and go into the information industry (within the computer and information sciences and support services field of study).
Washington Education Research & Data Center (data is dynamic and can change)
Career resources
STEM graduate students have the support of an in-house STEM graduate career counselor, specialized and dedicated to helping students in these programs find the job of their dreams.
The career counselor, in partnership with the UW Bothell Career Services, works with students throughout their academics and into their professional careers, engages with employers to bring recruitment and professional development to our students, and hosts workshops for students to develop the career resources they need to prepare to apply for jobs.
Learn more about STEM Graduate Career Resources and employer engagement