Careers
Software Design & Development
Graduates from UW Bothell are near the Seattle engineering and technology sector, ready to join the growing workforce of skilled professionals and make an impact at local startups and major employers.

Many graduate certificate alumni are breaking into the industry for the first time and switching careers, and others have worked in industry and need to refresh their skills or gain the proper professional credential to move onto master's degree studies. Alumni work at various companies and go on to work in many different roles.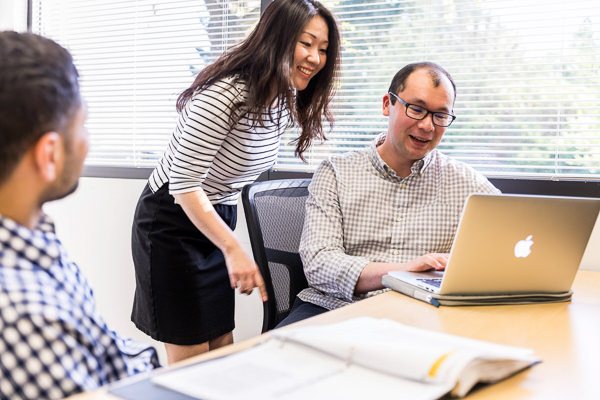 Companies
Uber
Dropbox
Expedia Group
Facebook/Meta
Tableau
Microsoft
Amazon
T-Mobile
AT&T
Nokia
Boeing
Honeywell
Expeditors
Parametric
Leica Microsystems
Job titles
Software Engineer
Software Development Engineer
Mobile Software Development Engineer
Associate Developer
Quality Assurance Engineer
Computer Specialist
Project Engineer
Forward Deployed Engineer
Robotics Lead and Computer Vision Engineer
Data Visualization Engineer
Data Scientist
Analog Design Lead
Front End UX Engineer
Machine Learning and AI Developer
Embedded Software Engineer
Overall employment of software developers, quality assurance analysts, and testers is projected to grow 25% from 2021 to 2031, much faster than the average for all occupations.

U.S. Bureau of Labor Statistics
Fast facts on graduates
52% of our students attend the program to prepare for new employment, 34% of our students attend the program to prepare for the master's degree in Computer Science & Software Engineering at UW Bothell
A little over two thirds of graduates' plan to earn a master's degree or higher
A little over half of graduates are employed full time upon graduation, others go on to attend graduate or professional school
76% of our graduate have employment directly related or somewhat related to their certificate education
22% is the average increase of salary upon completing the program (of those that reported receiving an increase)
Income brackets for full-time employment before and after the program increased: some of those making between $50-99.99K now make between $100-159.99K or over $160k
84% of our graduates highly recommend or recommend UW Bothell
Alumni stories
Hear from graduates about what inspired them to choose the graduate certificate program, their student experience, advice for future students, current job in industry, and how the program prepared and supported their career goals
Meet Jardi Martinez
Job: Command and Control System Developer Intern at NASA's Kennedy Space Center
Background: Worked in agriculture management and wanted to switch careers to software development and pursue a master's degree.
Advice for future students: Time management is one of the most useful skills, and if you have a busy life you will need to be disciplined with your time – skills that will carry on to your work or further graduate studies.
Meet Enina Bogdani
Job: Software Development Engineer at DynamoDB in Amazon Web Services
Background: Biology major who felt discouraged from taking CS classes as an undergraduate. Years late she took a coding class that ignited her passion to switch careers.
Advice for future students: The graduate certificate will give you a great foundation, but the other part is about preparing and submitting a good job application to get hired!
Meet Emily Hsu
Job: Software Development Engineer at Amazon (was a Software Engineer at T-Mobile).
Background: Studied biochemistry as an undergraduate and worked in biotech. Wanting to try something new, Emily switched careers with the GCSDD at UW Bothell.
Advice for future students: Don't give up quickly. As a non-computer science student, it was challenging for me in the beginning, but with each completed assignment you learn new concepts and gain valuable insight.
In the news
ACT-W Conference Panel: Pivoting Your Career with UW Bothell School of STEM
9/1/2022 – Q&A virtual panel with Emily Hsu (GCSDD '17, MSCSSE '20) and Christian Bergh (GCSDD '22, MSCSE current student) talk about switching careers from biotech and performing/visual arts, their experience as graduate certificate alumni, their jobs at Amazon and Primera Blue Cross. Watch the ACT-W conference webinar
ACT-W+ ChickTech Partner Event: Break into Software Engineering
2/19/2022 – Q&A virtual panel with Graduate Certificate Alumna Lily Fan and Enina Bogdani talk about switching careers from biology, their experience as women in engineering, continuing into the master's program, and their jobs at Microsoft and Bluetooth. A tech recruiter from Relativity shared valuable skills they look for in a new hire, how to stand out in the resume filter, and addressed some of the misconceptions about breaking into industry. Watch the ACT-W+ webinar
UW Bothell Graduate Certificate Programs Make a Difference in the Lives of Women in Engineering
11/09/2020 – Jennifer Kolar had more than 20 years of engineering experience but wanted to enhance her skills; Kelsey Stemm was looking to make a career pivot from human embryology to software engineering. Jennifer's desire to add to her toolset and Kelsey's career change led them in the same direction: graduate certificates at the UW Bothell School of Science, Technology, Engineering & Mathematics. Read the Society of Women in Engineering blog post on Jennifer and Kelsey.
Opening doors – UW Bothell's School of STEM helps students forge new career pathways
09/01/2020 – "The graduate certificate gives those who may not have felt encouraged and supported to pursue computer science as an undergraduate, or who felt weighed down by institutional or other systematic barriers, an opportunity to enter the tech industry," says Megan Jewell, director of graduate academic services for the School of STEM Graduate Programs. Alumna Sijie Chen finished the Graduate Certificate in Software Design & Development at the same time as a master's program at UW Seattle, and Emily Hsu used the graduate certificate to transition careers from biotech to computer science. Read in the Diversity in Action Magazine article how new career paths are opening for students.
Career resources
STEM graduate students have the support of an in-house STEM graduate career counselor, specialized and dedicated to helping students in these programs find the job of their dreams.
The career counselor, in partnership with the UW Bothell Career Services, works with students throughout their academics and into their professional careers, engages with employers to bring recruitment and professional development to our students, and hosts workshops for students to develop the career resources they need to prepare to apply for jobs.
Learn more about STEM Graduate Career Resources and employer engagement