Master of Science in Electrical Engineering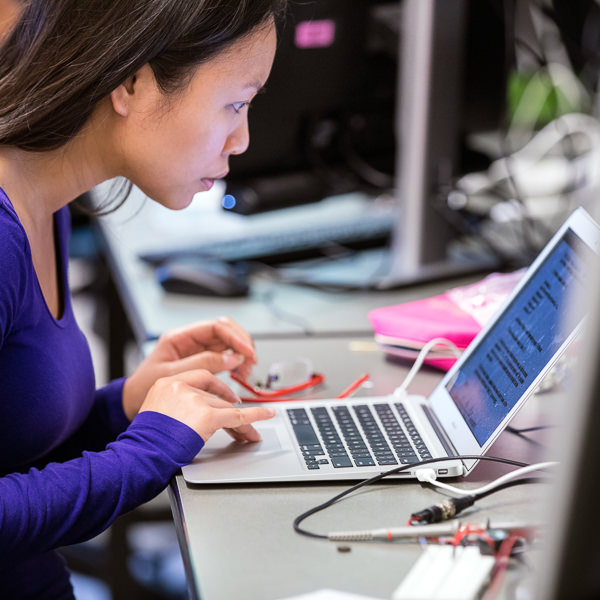 Gain advanced, in-depth knowledge across a breath of electrical engineering topics and use state-of-the-art technology. Become an innovator, researcher and technical leader in your profession.
46 credit curriculum
Part- or full-time enrollment
Afternoon and evening classes designed for working professionals
Coursework-based masters with thesis option
Students tailor their path through the program and choose the coursework or thesis option. These pathways give students the opportunity to acquire advanced skills and further conceptual understanding of electrical engineering. Alumni are ready to advance in their careers with the skills to design, analyze and optimize electronic and electrical systems.
Interested in switching your career to electrical engineering?
Gain the background or refresh your skills to prepare to go into the Master of Science in Electrical Engineering. Take six graduate-level courses in nine months to build a strong foundation in DC circuit analysis, digital systems, device electronics, AC circuits and power, signals and systems, and embedded systems.
Explore the graduate certificate program.
---
Information session
Join us to learn about the program, admission, and career opportunities.
Email sign up
Receive program details, get to know UW Bothell and get application reminders sent to you.
---
Watch our latest Electrical Engineering Research Talks
Low-cost phased array antennas for LEO satellite internet links
Dr. Walt Charczenko, affiliate assistant professor and lecturer, and Cheryl Kung, an antenna engineer pursuing a Master of Science in Electrical Engineering, talk about Cheryl's independent study focused on designing, testing, and mass producing millimeter Wave phased array antennas using new low-cost planar circuit board and additive printing techniques. Watch the antenna talk.
Next generation memory technology: a Resistive Random-Access (ReRAM) Memory
Dr. Seungkeun Choi, associate professor and EE program coordinator, and Moosa Raza, MSEE candidate, talk about the fundamentals of a ReRAM device and presents the most recent outcomes researched by Moosa. Watch the ReRAM talk.
Privacy-preserving cyber-physical system design
Dr. Sunwoong "Sunny" Kim, assistant professor, and Sharmila Devi Kannivelu, Master of Science in Electrical Engineering alumna and FPGA engineer at Amazon Prime Air, talk about cryptography techniques used to defend against network attacks and a method to remove noise in encrypted images without decryption is introduced. Watch the privacy-preserving system design talk.
---
Find out more about the MSEE degree
In this video, hear from our faculty and alumni about the electrical engineering field, our curriculum and faculty research and how the MSEE program can shape your future career.
Schedule an appointment
Future and current students can book an appointment to meet in person or online with an advisor or career counselor.
Looking for the thesis final exam schedule? Find it on the thesis defense schedule page.