Careers
Electrical Engineering Foundations
Graduates from UW Bothell are near the Seattle engineering and technology sector, ready to join the growing workforce of skilled professionals and make an impact at local startups and major employers.

Many graduate certificate alumni have a STEM background and are looking for a professional electrical engineering credential to move up in their careers, go onto master's degree studies, or refresh their skills. Alumni work at various companies and go on to work in many different roles.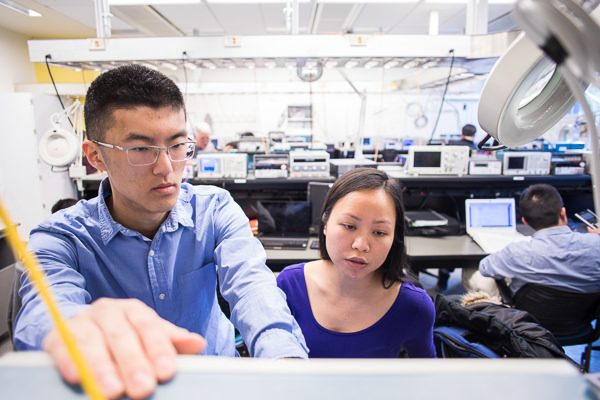 Companies
Boeing
GE Aviation
Honeywell Aerospace
Microsoft
SAP Concur
Raytheon
Allen Institute for Brain Science
NanoString Technologies
NEXT Biometrics
Strategic Robotic Systems
Solta Medical
Monsoon Solutions
Robodub
Access Laser
Redwood Software
Korry Electronics
Job titles
RF Hardware Design Engineer
Electromagnetic Effects Engineer
Tooling and Equipment Engineer
Hardware and Firmware Engineer
Electrical Engineer
Vice President of Engineering
Radar Analyst
Compliance Engineer
Manufacturing Engineer
Systems and Simulations Engineer
Mechanical Engineer
Aerospace Engineer
Quality Control Engineer
CCS Systems Engineer
Production Engineering Technician
Field Scientist
Fast facts on graduates
65% of our students attend the program in preparation for the MSEE degree at UW Bothell
88.2% of graduates plan to earn a master's degree, 11.8% a doctoral degree
Program Relevance to current employment is relatively evenly split between those whose work directly relates (slightly more graduates) and those whose work somewhat relates to their graduate certificate education
$11,000 is the average bonus received after completing the certificate program (of those that reported receiving a bonus)
100% of our graduates are employed full time or attending graduate school
82% of our graduates are employed in Washington state
100% of our graduates highly recommend or recommend UW Bothell
Alumni stories
Hear from graduates about what inspired them to choose the graduate certificate program, their student experience, advice for future students, current job in industry, and how the program prepared and supported their career goals.
Meet Jennifer Kolar
Job: Vice President of Engineering at Monsoon Solutions
Background: Been working in electrical engineering since the early '90's and was looking for a program to help expand what she was doing with power integrity engineering analysis.
Advice for future students: Know that the program is time consuming. Try to get your employer on board with you spending part of your work time on the program. Faculty are really encouraging and want you to get the most out of the material.
Meet Josh Devine
Job: Hardware and Firmware Engineer at Robodub
Background: Mechanical engineering major who was interested in mechatronics and control theory who wanted to pursue a Master of Science in Electrical Engineering.
Advice for future students: Put in the time, effort, and stay on top of the work in the program. Also, ask questions. Seek out help from peers and professors if you need it.
Meet Paul Marsh
Job: Doctoral student studying electrical engineering
Background: Interested in developing skills in terms of in-situ sensing for both my professional work as a data engineer for motorsports teams and for a desired future career in environmental sensing.
Advice for future students: Continuously reevaluate your goals. Frame your current work as a means to an end to maintain motivation and plan for the future, but don't forget to live in the moment!
In the news
UW Bothell Graduate Certificate Programs Make a Difference in the Lives of Women in Engineering
11/09/2020 – Jennifer Kolar had more than 20 years of engineering experience but wanted to enhance her skills; Kelsey Stemm was looking to make a career pivot from human embryology to software engineering. Jennifer's desire to add to her toolset and Kelsey's career change led them in the same direction: graduate certificates at the UW Bothell School of Science, Technology, Engineering & Mathematics. Read the Society of Women in Engineering blog post on Jennifer and Kelsey.
Career resources
STEM graduate students have the support of an in-house STEM graduate career counselor, specialized and dedicated to helping students in these programs find the job of their dreams.
The career counselor, in partnership with the UW Bothell Career Services, works with students throughout their academics and into their professional careers, engages with employers to bring recruitment and professional development to our students, and hosts workshops for students to develop the career resources they need to prepare to apply for jobs.
Learn more about STEM Graduate Career Resources and employer engagement