Getting Started: Students
Why Study Abroad?
Spending a part of your university experience abroad will expand your understanding of the world and help you develop global skills – adaptability, intercultural communication, learning on the fly, etc. – that are in high demand by employers and graduate programs. For many students, studying abroad is a transformational experience.
My journey from dreamer to intern was not without its challenges, but it was a testament to determination and the courage to step outside my comfort zone. Korea welcomed me with open arms, and I left with unforgettable memories and a piece of its culture in my heart.

Sumaya Yusuf, UW Bothell Study Abroad Ambassador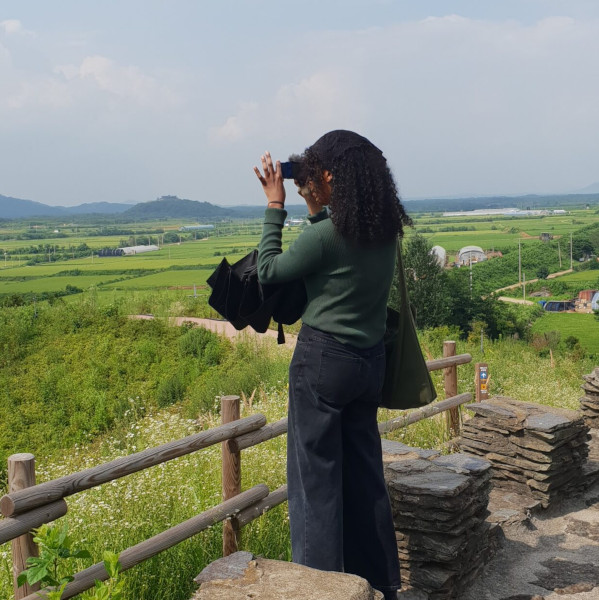 Questions to Start Your Journey
Define your academic goals and objectives first. While it's easy to imagine the best way to choose your program based on location, it is also important to consider the factors below.
Academics
Do you want to study a specific subject while abroad?
Do you need to satisfy degree requirements while abroad or do you prefer to take elective courses of personal interest to you?
Duration
What quarter, semester or year might be best for your graduation plan?
Are you flexible about the timing of your study abroad program?
How long can you be gone for?
Schedule an appointment with your academic advisor to discuss the specific credits you need in order to complete your degree.
Location
How important is the program's location to your decision to study abroad?
Are you interested in destinations in the developing world or the more developed parts of the globe?
How do you define your travel comfort zone and how far are you willing to push your boundaries?

Important note

: international undergraduate students in the U.S. on a student visa cannot study in their home country through the UW Study Abroad Office. For more information, contact uwbworld@uw.edu.
Career
Do you want internship experience while you're abroad?
Do you want to expore an international workplace environment?
Language
Do you want or need to take courses in a language other than English while abroad?
Do you want to take courses taught exclusively in English?
Accommodations
Can you adapt well to new environments?
Residence halls, homestays, shared or studio apartments are options available to students depending on the program
---
Start your Research
Utilize our website to see what programs are offered during a set time. A number of different study abroad program options are available that vary in location, purpose and duration. All approved programs earn academic credit towards degree completion and are eligible for financial aid and scholarships. If you are unsure about what program is right for you, read about the Types of Programs offered at UW.
Be sure to know to participation requirements before applying. Identifying logistical and financial constraints will also help you narrow down your program choices.
Resources to help you research:
Application Process
The most important tip in applying for a study abroad experience is to plan ahead. Planning two quarters ahead of when you want to go abroad will give you the best options in terms of programs and funding opportunities.
Consider the following:
Do you meet the program's eligibility requirements?
Do you have any personal needs that require special accommodations or consideration?
Do you have degree requirements that might limit your options (e.g. program duration, timing)?
Once you've identified a program, you can click the "apply now" button! Most programs require you to fill out an application, obtain references from your recommender(s), submit academic transcripts, and write a statement of purpose.
Read about our study abroad applications tips and basics for UW Faculty Led programs.
Common Application Questions:
Financing Study Abroad
With good planning, financial aid and external scholarships can help cover the additional costs associated with study abroad. When calculating the costs of a study abroad program, it's important to consider the program's duration, the number of credits you can expect to receive, and any other expenses the program includes/exludes.
Consider the following:
Does the program fee include housing, food, transportation, and books?
The costs of airfare, passport, visa, and insurance are typically not included in study abroad program fees.
If you have your eye on a semester-long program, to calculate a more accurate price comparison, multiply your UW expenses by 1.5.
Common Questions about financing study abroad:
Learn more about Financing your Study Abroad experience
---
Meet with Study Abroad Advisors
There are several resources at UW Bothell and UW Seattle to help you plan a successful study abroad experience. Once you've narrowed down your options to a few programs or locations, schedule an appointment to discuss your selections and ask specific questions. Virtual and in-person advising is available.