India Spring Break 2024
Study Gender, Culture, and Human Rights in India, Winter/Spring 2024
Overview
After several cancellations and delays due to the pandemic, UW Bothell Global Initiatives and the School of Interdisciplinary Arts & Sciences are again pleased to offer the unique opportunity to explore issues of gender, culture and human rights in India. The 5-credit program begins with Winter Quarter classes on the Bothell campus (40% hybrid, five meetings in person), followed by two weeks of site visits in Delhi and Mumbai in India. The program ends with online assignments and three debrief meetings at UW Bothell in Spring Quarter.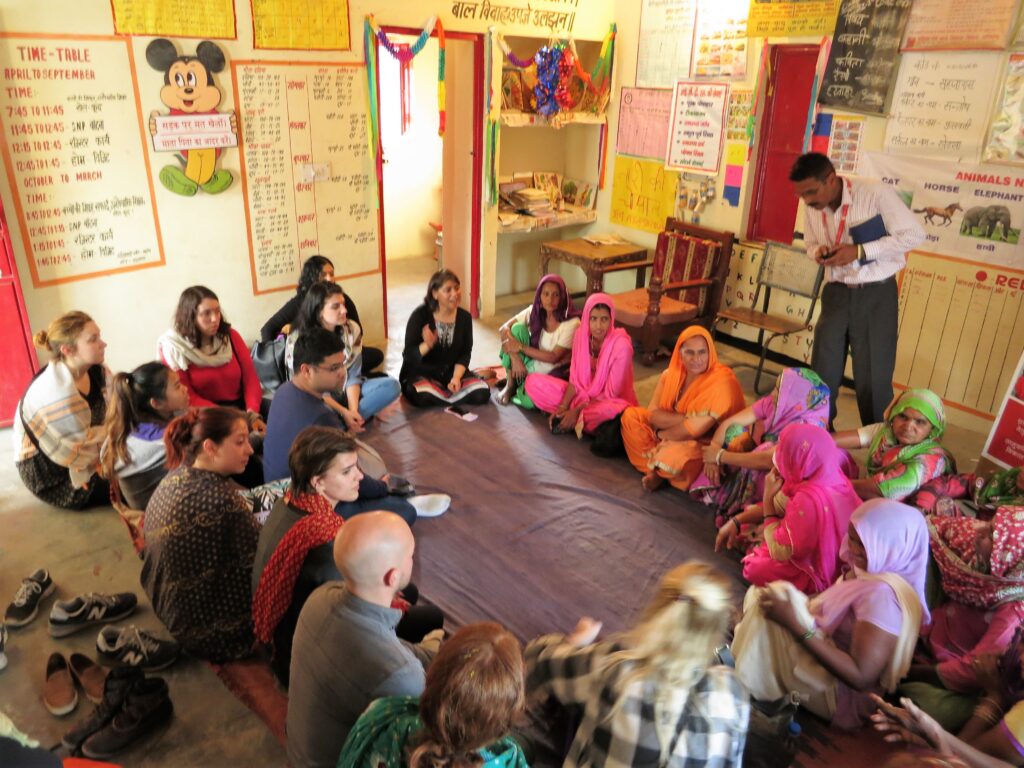 Logistics
Dates:
Bi-weekly class sessions at UW Bothell during Winter Quarter: Wednesdays, 5:45-7:45pm.
March 8 – March 24, 2024 in India. Note that travel begins during finals week. You must notify your Winter Quarter professors of this at the beginning of the term and make any necessary arrangements well ahead of time.
Online assignments and a couple of meetings during Spring Quarter, details TBD.
Locations: UW Bothell campus; New Delhi and Mumbai in India.
Program Directors: Alka Kurian, alkak@uw.edu, and Camille Walsh, camwalsh@uw.edu, UW Bothell School of Interdisciplinary Arts & Sciences.
Academic Credits: 5 credits of BIS 480, split between Winter Quarter (3 credits) and Spring Quarter (2 credits).
Cost:
$3,300 program fee, split between Winter and Spring Quarters, which covers: housing, most meals, local transportation, and tuition for 5 credits;
$350 study abroad fee;
~$1,500 airfare;
$25 e-Tourist visa to India (for citizens of most countries);
$25 UW Student Abroad insurance;
$150-$300 vaccinations, depending on health insurance;
$100-$500 personal spending money, based on reported spending by 2017 participants.
*** Financial aid and scholarships may be available to help with these costs ***
Program Structure and Course Details
This five-credit, upper division course, split between Winter and Spring Quarters, offers a unique opportunity to learn about some of the pressing concerns related to gender, culture, and human rights in India. We live in a time when our lives are extensively globalized in terms of our social, political, cultural, and economic relations. With the view to being expansive in its scope, feminist theory has moved from "global sisterhood" in the 1970s, to transnational and global feminisms in contemporary politics, going beyond national and local boundaries to investigate how the lives of women here are shaped by the lives of women in other parts of the world. Using the lens of feminist and postcolonial perspectives on contemporary globalization, the course will examine the ways in which historically embedded and modern-day internal and global conflicts, and forces of colonialism, neo-liberalism, capitalism, and Western imperialism, have resulted in the denial of fundamental rights of some of the most vulnerable sections of the Indian society.
An examination of the systemic and interlocking structures of power and inequality in India will be performed in conjunction with an investigation of the subversive culture of resistance and dissent against this system against oppression. We will consider the following questions:
How do we explain the raced, ethnic, caste, classed, and gendered nature of our perspectives?
How are relations of privilege and dispossession linked?
What is the basis of the intersectionality and interconnectedness of our identities?
Can we imagine a world with equitable relations and resources?
What kinds of strategies do feminists, human rights activists, and public intellectuals in India mobilize to counteract gendered, sectarian, ethnic, sexual, and caste oppression?
How does art intersect with the modern human rights movement?
How does cultural production promote the human rights regime as it resists challenges to justices and human dignity?
Winter Quarter: Co-curricular activities will occur during Winter Quarter before students depart with a focus on learning about the context, culture, language, history and law of India and developing a research question they plan to investigate during the trip.
Spring Break in India: During two weeks split between New Delhi and Mumbai, students will experience two culturally distinct states in India, visit with various community groups and organizations, speak with prominent feminist and human rights scholars, engage in conversations with a wide variety of women located in urban and rural communities, and explore cultural, literary, and cinematic representations of gender and human rights in the country. Site visits include Pravah, a Delhi-based non-profit that empowers youth to lead social change, and Bollywood Film City in Mumbai. Accommodation will be in retreat centers or commercial hotels. Most meals are included in the program price.
Spring Quarter: Upon our return to the U.S. students will engage with the research topics they have developed during their time in India, and pursue it further through student-selected immersive activities. They will complete the rest of the course during a handful of class meetings and online learning during Spring Quarter.
Students should expect biweekly, in-person meetings in Winter Quarter, with required readings and small weekly reading assignments, and an 8-10 page research paper to be developed over the time in India and upon return, due in Spring Quarter.
Learning Goals
At the end of the course, students will be able to:
Demonstrate a comprehensive understanding of the complex and intersectional issues of gender, culture, and human rights in India.
Articulate critical insights into gender and human rights violations in India.
Employ a gender-sensitized understanding of issues of development and cultural differences.
Identify cultural practices of awareness raising and responses to human rights violations.
Critically reflect on unfamiliar cultures.
Situate their study abroad knowledge within IAS learning objectives.
Information for Applicants
This course has no pre-requisites. Students from all years and majors are welcome. However, an interest in and curiosity about gender and human rights issues, in particular in Third World countries, should be demonstrated in the application.
Students should be prepared for a physically and emotionally-intensive two-week experience while in India. Each day is filled with activities from early morning through evening in order to make the most of the short time abroad. Due to local traffic conditions, significant time is spent traveling between sites (by air-conditioned bus). A couple of afternoons are set aside for rest.
Women travelers should be prepared for a greater level of scrutiny and harassment from men, and be aware of different social norms related to their engaging in social activities, especially around men. These topics will be discussed extensively prior to departure and during the course. A helpful manual has been prepared by the American Institute of Indian Studies (AIIS) and made available online.
Information Sessions
The program directors will be hosting three information sessions to offer an opportunity to learn more about the program and answer questions:
Tuesday, October 10, 3:30-4:30pm, Truly House (on campus, in person)
Wednesday, October 11, 7:30-8:30pm, Zoom
Monday, October 16, noon-1pm, Zoom
Apply Now!
The online application requires a resume, unofficial transcript, and a one-page personal statement that explains why you are a strong candidate for the program by articulating your interests, qualifications and projected benefits to future goals.
For priority consideration, apply by November 1, 2023. After this, applications will continue to be accepted on a space-available basis.
Applicants will be invited to participate in in-person, group interviews shortly after the deadline. Students will be notified of decisions within four weeks of applying.
What's the program like?
Check out blogs from UWB Study Abroad Ambassadors who participated in the program in previous years:
Team India, 2017
Angela Wirig, 2016
Program Support
Study Abroad Advising
Natalia Dyba, Director
425.352.3261
nataliak@uw.edu

Peer Study Abroad Advisors
425.352.3986
uwbworld@uw.edu