Tara Goode, MSML, BA, BSN, RN, Lecturer (She/Her)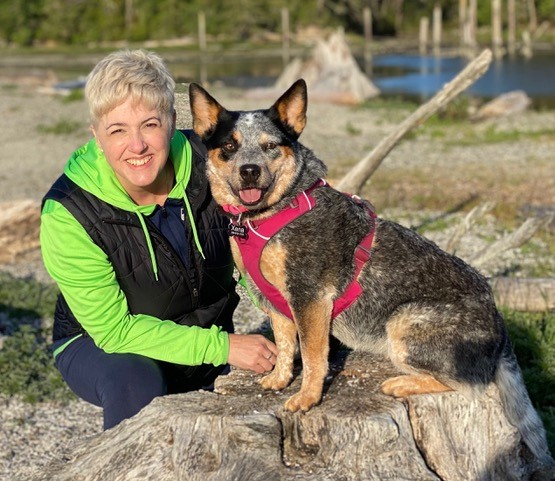 I am a Washingtonian to my bones. I love to get out and enjoy what the state has to offer as much as possible. My husband, puppy Xena, and I live on a sailboat and in a 5th wheel RV so we can have a mobile, low carbon footprint lifestyle full of adventure. I am a strong believer in the value of being brave not only in career decisions, but also in life. Sometimes you just have to take that leap to see if it'll work out in your favor!
I have been working steadily since I was 15 years old trying to discover my place in the world. It's taken me a while but I've landed on the idea that my place is wherever I think I can make a difference at the moment. It changes frequently as my skills and interests evolve. The one through line is that all of my interests lay within the realm of people. Why do they make the decisions they make? What motivates them? What influences them? It's a lifelong passion of mine to understand individuals better in an effort to make the world a better place. It's a journey.
---
Scholarship
I really began my educational adventure back in the 1980s. I found that I was good at helping people feel better and work out their problems. That got me introduced to a "Natural Helper" program in grade school and a chance to be a candy striper and I've never looked back. I studied social sciences at WSU with an emphasis on psychology and women's studies. I took a break and became a volunteer firefighter/EMT for a while which helped me understand my adrenaline junkie side. I wanted more challenge so I returned to UW and earned my BSN. I jumped straight into the deep end of the pool and began my nursing career in a cardiothoracic ICU at UW where I worked and learned everything I could about machines, medications, and people.
After being injured at the bedside, I moved to working on behalf of nurses by advocating for their happy, healthy, and productive work life. My time with the state nurses association and union helped me understand the business of healthcare much more and I was able to identify areas where I believe to this day I can make a positive impact. After a dozen years there I found the need for a life and career change. My husband and I gambled it all and sold our home, moved onto a boat and into an RV, and set our sights on living the work-life balance I'm always preaching. I jumped back into school for a social justice focused PhD program for Industrial and Organizational Psychology at Adler University and am now focused on earning my PhD in 2024. My research focus has yet to be determined but I am confident that I will find the issue where I am best able to improve the lives of individuals and the places they work.
Education
Adler University
PhD Student, Industrial & Organizational Psychology
eCornell Certificate Program
Western Governors University
Master of Science degree, Management and Leadership
University of Washington
Seattle, WA
Washington State University
Pullman, WA
Contact
Email: tgoode@uw.edu
---
---
Courses Taught
Health Policy and the Organization of Healthcare
Team Leadership and Care Coordination
Ethical and Quality Nursing Care