Become a Registered Nurse
The RN to BSN at UW Bothell provides a pathway for students who have earned an Associate Degree in Nursing (ADN) and want to advance their education and career by earning a Bachelor of Science in Nursing (BSN). Our program requires students to complete a Nursing program at a community or technical college and earn an Associate Degree in Nursing, which allows the student to take the NCLEX- RN Licensure exam.

The information provided on this page is to help you navigate the RN to BSN pathway to becoming a Nurse.
Nursing school terminology
As you begin your Nursing school research, it is important to become familiar with the language commonly used in Nursing school programs.
RN-NCLEX: The National Council Licensing Exam required to become a nurse registered with the State; i.e. an RN (like the bar exam for law graduates or the CPA exam for accounting graduates).
NCLEX Passage Rate: the average number of students who pass the NCLEX the first time, from a particular school.
RN: Registered Nurse that is licensed to practice and registered with the State they practice in.
ADN: A competitive two-year Associate Degree program in Nursing that prepares students to take the State Licensing Exam to become a Registered Nurse (RN) upon graduation of the ADN. This type of nursing program/education is provided at two-year community and technical colleges only.
BSN: Bachelor of Science in Nursing – a competitive four-year nursing degree program that prepares students to take the State Licensing Exams to become a Registered Nursing (RN) upon graduation of the BSN.
Clinicals: Hands-on training in a hospital or clinical setting. This hands-on education is part of the nursing program that provides the training and schooling to become an RN.
Pre-requisite/pre-nursing courses: courses that must be completed prior to applying to Nursing school.
RN to BSN: A competitive degree completion program for graduates of an ADN program who hold an active RN license and are now seeking to complete a BSN.
Accelerated BSN program: an accelerated BSN is traditionally a full-time program, that fast-tracks a student to a BSN degree. Some ABSN programs, require the student to have earned a Bachelor's degree in another field.
---
Registered Nurse (RN) to Bachelor of Science in Nursing (BSN)
Research multiple associate degree in nursing (ADN) programs.
Complete the prerequisite coursework and other requirements.
Apply, start, and earn your associate degree in nursing.
Test and pass the NCLEX. Congratulations – you are now a registered nurse!
Gain some experience, and complete a residency before or after your BSN.
Apply and start your bachelor's degree at UW Bothell.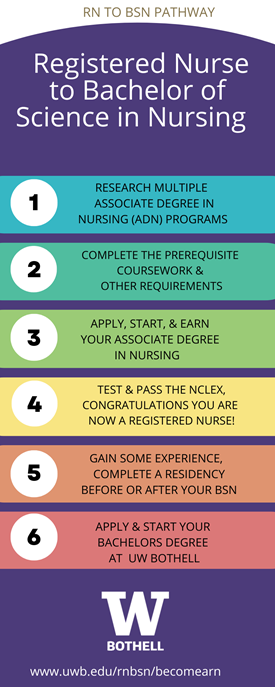 ---
1. Research
25 schools in the State of Washington offer an Associate Degree Program in Nursing, you can find the list of approved Nursing programs and a school's NCLEX passage rate on the Department of Health website.
Attend an information session at a community college to learn what is required to gain entrance to the Nursing program. As part of your research make sure to review the NCLEX passage rates for the schools you are interested in.
2. Complete
Prerequisite coursework can typically be completed at any accredited college or University.
The table below is not a comprehensive list but includes some of the most common prerequisites. The prerequisite coursework can differ from school to school therefore, do your research before registering for any coursework.
| Prerequisite | Credits |
| --- | --- |
| Anatomy & Physiology I & II | 10 – 12 |
| General Chemistry with a lab | 5 |
| Microbiology | 5 |
| Statistics | 5 |
| English Composition | 4-5 |
| General Psychology | 5 |
| Lifespan Development | 5 |
3. Apply, start, & earn
Admission is competitive, apply to multiple schools to increase your odds of being admitted. Most ADN programs are 6 quarters, 2 years (with no Summer quarter).
4. NCLEX
Upon completion of your Associate Degree in Nursing, you will be eligible to take the NCLEX. Plan for 1-3 months to prepare, study and sit for the National Council Licensure Exam.
5. Gain experience
Hospitals hiring new Registered Nurses, may have a residency requirement. The residency can range from 3 to 12 months, depending on the amount of clinical experience required in the hiring department.
The hiring hospital may request new employees to learn their role first, before starting their BSN studies.
Remember you can decide to complete a residency program before or after starting the BSN program.
6. BSN
Apply and complete the BSN program in one year, as a full-time student. Develop leadership, research, ethics, and community health knowledge. Develop a lens of social justice and awareness of health disparities and racism in healthcare.