Mindy Vu, who double-majored in Health Studies and Educational Studies, took time out of her busy schedule to tell us a little about her experiences at UWB and her future plans.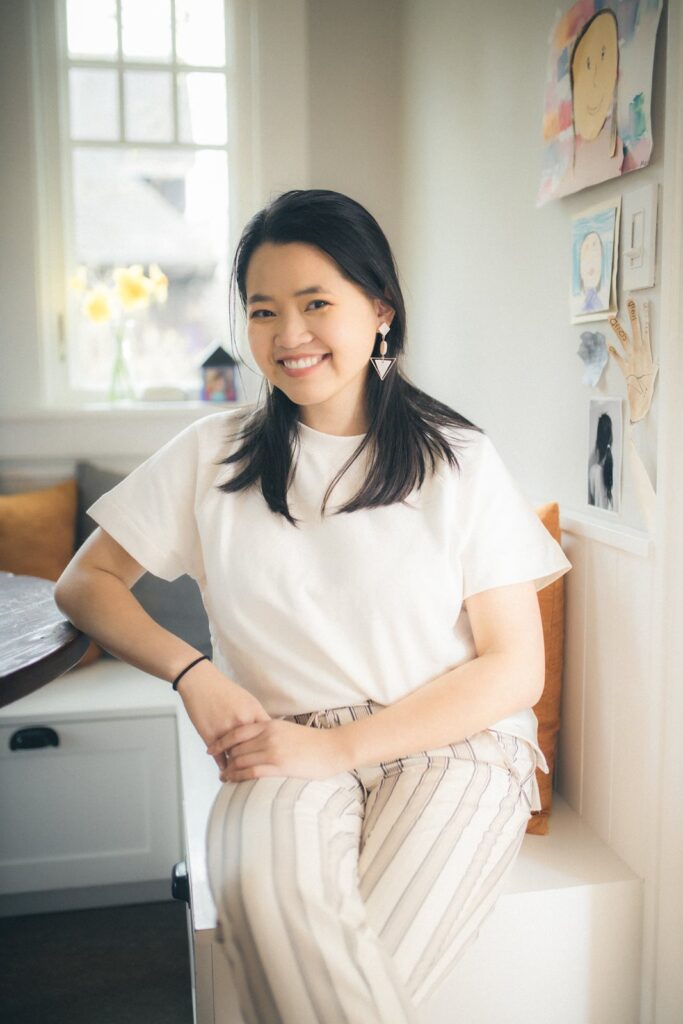 Tell us about yourself and what led you to UW Bothell.
My name is Mindy Vu (she/hers) and I will be graduating with a Bachelor's of Arts in Educational Studies and Health Studies.
I am an educator at heart and value identity, culture and community. I have always been interested in development and interpersonal relationships. Outside of the classroom, you can find me hiking or rollerskating when the whether is nice. Additionally, I love to create in any medium, whether that's through videos, painting, drawing, sewing, or coordinating events, I am there. I also love being part of a community and leading awkward ice breaker so that people start talking to each other.
I would say that blessings led me to UW Bothell. In highschool, I only applied to two schools and I was really hoping to go to UW Seattle. However when my application was rejected I was devasted and UW Bothell was simply an alternative plan I didn't think to much of. Yet, at UW Bothell and I was grateful to find a community of faculty and peers that have helped me grown in to the person, the friend, the student, the leader and the professional that I am today. Looking back on it these past four years, UW Bothell is more than just a small college campus but is truly a place that I call home.
How did your experience in your coursework help you find your career path (area of focus)? You may want to tell us about a moment at UW Bothell that you are proud of, what you've carried over from your education, and what has fueled your passion.
I double majored in Health Studies and Educational Studies because when it was time to apply to a major my 2nd year of college I didn't really know. And no one else really knew either and they would scrunch their noses and say, "Oh so you want to be a health teacher and teach F.L.A.S.H (reproductive health) to middle schoolers?" It was a great assumption to combine the two majors but yes and no.
I have always been an educator and loved teaching ever since I was a kid. Maybe it was because I was an older sibling and liked to tell people what to do, but prior to college I always found myself in teaching roles as a tutor, violin teacher etc. so for a while I wanted to be a grade school teacher. Yet, my parents had a different plan. They wanted me to be a doctor/nurse because of the salary and ultimately it was the most direct career to helping people. And parts of me really tried to want to be in primary care but after my first "Intro to Cancer Bio" course learning about cells and mitosis it wasn't something that I wanted to do despite doing well in the class.
Therefore, I think that a moment I was really proud of is when I decided to tell my parents that I didn't have a set career and made the choice to embrace the unknowns of public health. Of course, as Vietnamese immigrants this horrified them. All they wanted for me was to be financial stable and the vague explanation of public health is was not enough. But as I went through the education and health studies courses, I began to notice that no system, or issue society, whether it's in the education system or healthcare is isolated. For example, one quarter I took "Education in a Multicultural Classroom" class and "Social Dimensions of Health" class the topics seem entirely unrelated, yet I would reference the education course in my health studies assignments and vice versa. The majors were interdisciplinary and from a social justice lens, the point of connection that I have observed is that in America all systems were designed perfectly to be inequitable and marginalize groups based on their identities (socioeconomic status, race, gender, geographic location etc.) Positionality, intersectionality, power and privileged (all the complicated concepts and big words) these were the constant and reoccurring themes/discussions across systems and within society. Ultimately, that makes it a human problem/struggle, not just in education or health.
In conclusion, I still have a lot to learn and hope to continue to figure out how my skill sets can be best applied to make the systems better for marginalized communities.
Where has life taken you since graduation and what are your future plans?
I will be graduating Winter 2022 but I am currently in Ireland for two months on the ERASMUS Grant. I could never have imagined that I would be studying aboard but I am grateful for the opportunity to studying public health here. Through this experience I have learned a lot about public health but even more about myself and the importance of social connection and relationships with the people around us. Especially because throughout my college career the context of my learning was limited to my world in Seattle. Reflecting on it, I hope to take what I have learned in Ireland into my future career.
My future plans are to hopefully apply to purse Masters in Public Health in December. In the meantime, I will be applying for positions at nonprofits and continue to volunteer and to be involved in my Vietnamese community.
Was there a faculty, staff, or student service that had a positive impact on your success?
I owe all my success to all the people that have supported me throughout my college career. Starting with professors and mentors, and peers that have supported me through my academic and professional but also personal development.
Dr. Jody Early, Health Studies Professor
Layla Taylor, CBLR Program Manager
South East Asian Past and Futures Community, SEAPF/Raissa DeSmet/Nhi Tran
Billy DeMeyer/Carrie Newman, OTP staff and my students in Team Lavender
Pauline Tolentino, UWBVSA Community including Johnny Ho, Jenny Nguyen and Michelle Tran