About Residential Life
Student housing at UW Bothell
The University of Washington Bothell has provided student housing since 2009. Being able to live and study in one place, enhances a students sense of belonging and academic opportunities.
UW Bothell, in partnership with Capstone Development, is currently constructing the New Residential Village. The project will be completed by fall 2024.
---
The Residential Life team
Our Residential Life team is committed to providing a welcoming and engaging living environment where students can thrive. We live and work in Husky Village, just like our residents. Our professional staff provide 24/7 support and education to students living in housing.
The program is based on a curricular approach which provides students with opportunities to learn and grow in their new home.
Resident Advisor team
Meet the 2023-2024 Resident Advisor team! RAs serve an important role that helps provide welcoming, inclusive, safe, respectful, academically supportive, and fun residential communities.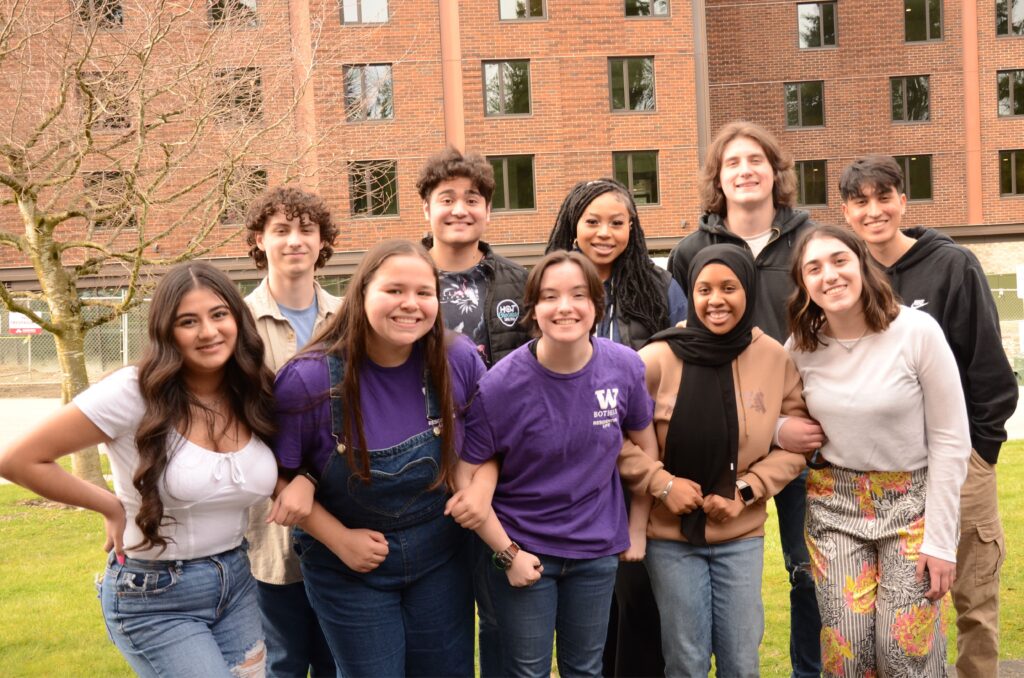 ---
Who to contact
Determining who to contact can be confusing. Both offices work out of the Residential Life office in Husky Hall 1510. Here is a breakdown to help you find your best path forward!
Contact Residential Life for:
Contact Capstone Management for:
Community programming
Education and mentorship
Roommate issues and other concerns
Policy enforcement
On call 24/7 for urgent issues
Contact information
Leasing and occupancy management
Maintenance and work orders
Facilities operation
Charges and fees
Termination and appeals
Parking passes
Contact information
We're here to help
Email is currently the best method of contact us. To help us respond to you without delay, please include your full name, student number, and your UW NetID.
After hours support
For urgent assistance after business hours, current residents may contact the RA on Duty.
---
Professional staff team
Katie Horowitz
Director, Assistant Dean for Student Engagement
kdewilde@uw.edu
Greer Henderson
Resident Director of Residential Education
ghend@uw.edu
---
Emergency lines & safety escorts
In cases of emergency, residents should call 911.
If you have questions (that are not an emergency) or want to have a safety escort across campus, Campus Safety can assist you at 425-352-5359 or uwb-safety@uw.edu
---
Residential curriculum
Education is at the heart of our work. Our program uses a curricular approach which allows staff to bring support and education students that is relevant and sequenced.
Educational priority
Through transformational experiences, residents will be challenged as independent thinkers to reflect on their identities, create healthy living environments, and navigate academic resources to prepare them for success in their communities.
Educational pillars
Our pillars and key learning outcomes reflect Residential Life's values and core goals for our students living on campus!

Thrive
UWB residential students will develop skills to help them successfully share living and community spaces with others and advance independence. Throughout their time living in residential life, residents will have opportunities to think critically about their living decisions and take initiative in order to create a space that contributes to their wellness and personal safety.

Connect
UWB residential students will develop interpersonal skills that will foster their sense of belonging. Throughout their time living in residential life, residents will be challenged to navigate conflict, create compromise, and build connections.

Reflect
UWB residential students will engage within an environment that allows them to reflect on their identities through inclusive practices. Through their time in residential life, students will develop skills to share their lived experiences, advocate for themselves and others, and think beyond their salient identities.
Community educational strategies
Husky chats
Resident Advisors will engage with residents in intentional interactions through guided conversations that will provide personal support and guidance.
Roommate agreements
Resident Advisors will guide and lead conversations between roommates on expectations of living environment and each other. This will be documented for follow-up throughout the academic year.
Virtual social connection
Resident Advisors will facilitate and engage in virtual community building during the COVID-19 pandemic. Each hall will have its own Discord channel in addition to the general Residential Life server.
Programming
Resident Advisors will facilitate and engage in events that focus on learning outcomes and pillars that were created by the professional staff. This can be a passive, traditional, or a university event. This will begin during Welcome Week and continue one evening a week.
Campus partners
Resident Advisors will collaborate with our campus partners, including promotion of their events and resources.
Community meetings
Residential Life staff (Resident Advisors and Professional Staff) will lead and facilitate informational meetings throughout the academic year based on several topics. This includes move-in, housing orientation and opening/closing floor meetings.
Individual educational strategies
Academic outreach
Professional Staff will meet with residents to provide them the opportunity to discuss strategies for improving their academic performance.
Check in conversations
Residential Life staff will meet with residents in response to reported student concerns and provide guidance, resources, and support.
Conduct meetings
Professional Staff will meet with residents that allegedly violate the Residential Life Conduct Code. Residents can reflect and learn from their choices.
Mediations
Residential Life staff will meet with residents that are in conflict in their unit or with others outside their unit to work towards a resolution. Residents can also learn to take part in conflict resolution.