Robin Fleming, PhD, RN, FAAN, Assistant Teaching Professor (She/Her)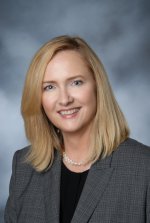 Robin Fleming has led and administered school nursing and related services in Washington State's K-12 school system, and has helped to shape national health policy as a 2017-2018 Robert Wood Johnson Health Policy Fellow, where she served in the office of U.S. Senator Tammy Baldwin, and in the Domestic Social Policy Division of the Congressional Research Service. She has won local and national awards for advancing health policy in Seattle and for her research on reducing health inequalities through school nursing services. Dr. Fleming holds a PhD in Educational Leadership and Policy Studies, and a Master's Degree in Community Health Nursing, both from the University of Washington, Seattle.
---
Scholarship
Dr. Fleming's research focuses on the intersections of health and educational inequalities and the role of school nursing services in decreasing them. Her research explores factors such as the interdisciplinary leadership of school nurses; the role of school nurses in facilitating improved health care access and quality for vulnerable populations; immigrant students' levels of school engagement as a response to pedagogy; the relationship between student health status and academic outcomes; and policy considerations and actions that advance public health broadly, and school nursing services in particular.
Education
University of Washington
Seattle, WA
Ph.D., Educational Policy and Leadership
University of Washington
Seattle, WA
MN, Community Health Nursing
University of Washington
Seattle, WA
Seattle University
Seattle, WA
Contact
Email: fleming9@uw.edu
---
---
Courses Taught
Population Based Health in Community Practice
Community and Public Health Nursing
Growth and Development Through the Life Span
Learning Wellness: Healthy Ways to Respond to Stressful Student Life