Resources
UW Bothell Sustainability Resources
The Office of Sustainability is pleased to offer a number of resources and services to the UW Bothell community. Click on the links below to learn more.
Sustainability Tours
Learn more about sustainability
Sustainability Job Boards
There are several job sites available specific for careers in environmental fields. Here are a few of our favorites.
Sustainability Events
The Office of Sustainability hosts events throughout the year including Campus Sustainability Month in October, our Climate Dialog Speaker Series in the Winter, and Earth Month in April. Check out our calendar to find upcoming events at UWB and hosted by our community partners.
Sustainable Events Guide
Campus events are the fun activities that unite our campus. Let's not let our fun harm the environment! Events can be wasteful in all the materials that it takes to make an event happen. Luckily, UW Bothell Sustainability is here to provide you with the resources to make your event as sustainable as possible. We encourage our campus community to be mindful about the impact of campus events through evaluating the sources of waste potential. Food, decorations, giveaways, and brochures are all sources of event waste, among others.

We are here to support you however we can, including with consultations on making your event more sustainable! Feel free to reach out any time at uwbsust@uw.edu and we can schedule a time to chat!
Download the sustainable event checklist to help your planning process
Earn a sustainable event certification
Certify your event as sustainable by filling out our sustainable event certification form. This form should be filled out for each event to give a stamp of approval that your event has met the criteria to be considered a sustainable UWB event. It is recommended to fill the form out once most of the logistics have been figured out and before the event has occurred so you can advertise it as such.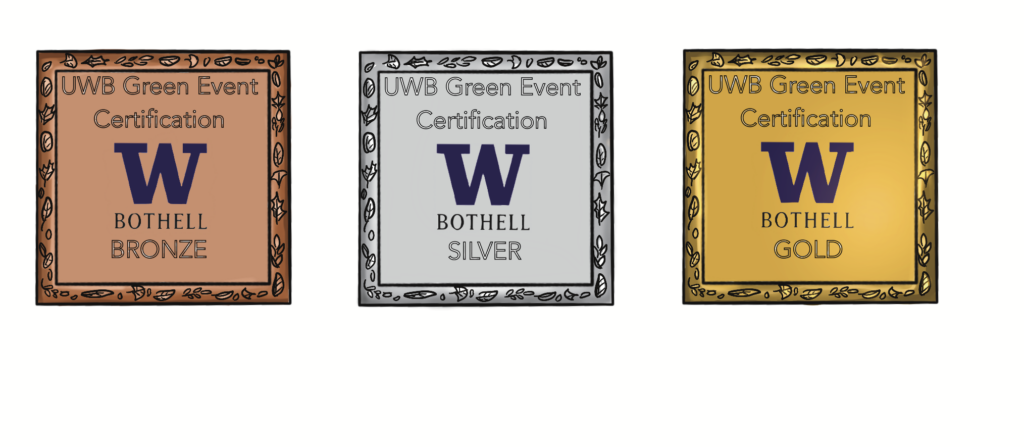 Planning
Choose an accessible time and venue
Hold events outdoors or in one of our LEED certified buildings

LEED certified buildings are more energy efficient (Discovery Hall, Innovation Hall, Mobius Hall (CC3))

Promote alternative transportation to and from the event

Encourage attendees to arrive using a method other than a single occupancy vehicle (bus, carpool, vanpool, bike, walk, etc)
Rideshare Online is a helpful commute planning tool.

Choose times when buildings are already in use to avoid expending extra electricity and energy for heating

Our campus increases efficiency by programming heating and cooling within operating hours. Saving energy will reduce the carbon footprint of your event. Keeping windows closed also helps maintain temperatures.
UWB Building Hours: https://www.uwb.edu/safety/hours
Marketing
Have people RSVP through online forms

Requiring RSVP allows organizers to have a better idea of how many people to expect and can help reduce waste.

If using printed material, use 100% recycled paper when possible

Reduce ink usage by choosing smaller fonts, printing in grayscale, using serif fonts, and decreasing opacity.

For annual repeated events, design and purchase reusable signage so that all you have to change is the date.
Email event schedule/timeline to attendees instead of printing it out.

Reduces the amount of paper used. It can even be more convenient for attendees to check the event schedule on their phone.

Use digital signage and media to inform participants about event

Reduces paper consumption and can even reach more people

Communicate the intention of the event being "green"

Include a sustainability statement when introducing the event. This can ask attendees to sort waste properly and let them know about the efforts made to keep the event more sustainable.
Food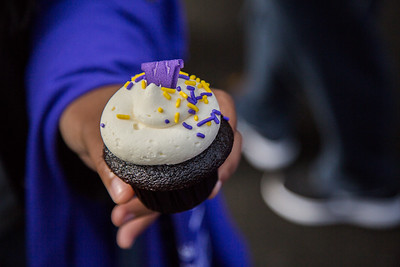 Decorations
Invest in reusable, timeless decorations

Reusing decorations saves time and money. They might cost more up front, but investing in reusable decor items like tablecloths, banners, blow ups, and reusable balloons save energy in the long term.

Choose recyclable or compostable décor

Reduces the amount of decorations that will end up in the landfill. If using florals, ask for locally grown ones!

Buy second-hand or rent

Purchase from UW Surplus or local thrift stores.

Use recyclable or reusable materials for name badges, paper communications

For items that can be used over and over, like name badges, ask attendees to return them at the end of the event so they can be reused later.

Eliminate single-use disposables such as balloons or confetti

Balloons can create a large amount of waste as they generally cannot be reused, however other options do exist!
Biodegradable options are a better choice, but reusable is best!
Waste
Group waste bins together in "triple stations"

This makes it easier for attendees to sort their waste properly.

Clearly label each bin with proper signage

Make an announcement about waste sorting to reduce any confusion.

Offer 50% more compost and recycling stations than garbage

This is to encourage attendees to use less items that are not recyclable or compostable and to dispose of items in the correct bin.

Reuse unused marketing/event materials

Reduces the amount of materials that will end up in landfills.
Only providing the number of marketing/event materials needed (such as flyers) can also reduce waste.

Make a waste free event!

Eliminate the need for garbage altogether by ensuring that everything is recyclable or compostable and remove the garbage cans entirely.
Giveaways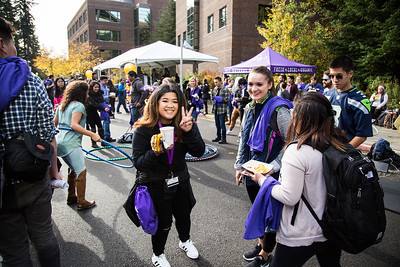 Make QR Codes instead of large printed materials

Only give brochures/programs to individuals who ask for them.

Provide gift cards to local shops

This supports local businesses and allows participants to purchase what they want. Gift cards for food also increase food security for low income participants.

Choose sustainable or zero-waste goods

Can reduce pollution, energy, and material consumption.

Give away items that are practical (gift cards, school supplies, consumables, etc.) or high-value rather than things people won't use again

Choosing consumable items such as cookies from local bakeries wrapped in compostable packaging is a great example.
Choosing items people would want to use will reduce material consumption as they are less likely to throw them away. Examples could be branded mugs, Hydroflasks, tote bags, etc.
Give away fewer high value items rather than lots of throwaway items.
List of local, sustainable, and minority-owned vendors.
Event Resources