Campus Farm
The Campus Farm is located between the sports fields and the North Parking Garage.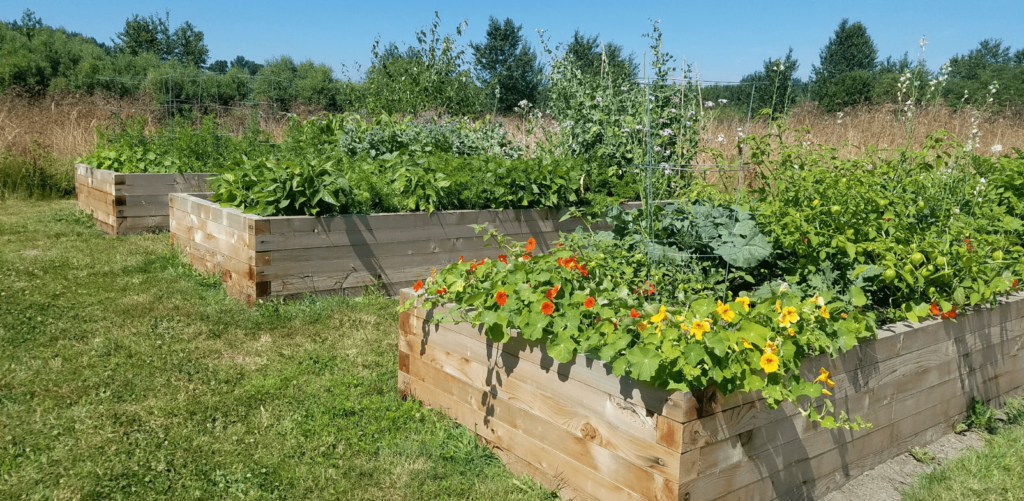 Mission
The Campus Farm provides an outdoor learning space designed to engage our campus community in experiential learning and best practices surrounding sustainable land use and food production. This space is one of the few co-managed spaces on campus, through a strong partnership with Cascadia and UW Bothell.
The space consists of:
10 raised beds,
Fruit orchard,
Vermicompost bins,
Yard waste hot compost from grounds operations, and
Several pollinator plantings are located adjacent to the farm space, which attract important pollinators needed for the farm to thrive.
Get Involved
The Campus Farm welcomes participation from all interested students, faculty and staff!
Every March we put out a call to students, staff and faculty at UW Bothell and Cascadia for individuals, organizations, classes, clubs or departments to "adopt a bed" for the farming season. Adopting a bed consists of a commitment to use your assigned raised bed however you would like during the farming season with the understanding that you will maintain your adopted space. If you are interested in adopting a raised bed, contact uwbsust@uw.edu.
Future opportunities for this space are limitless and open, so please join the conversation and help shape the future of the Campus Farm! The Farm Management Team plans volunteer work parties for planting, harvesting, weeding and other farm maintenance throughout the year (volunteer season = late March through September).
The best way to get involved on the farm is to contact Farm Management and ask about current happenings on the farm! Email uwbsust@uw.edu for opportunities to help work on the farm.
You can also follow along on Instagram.
Courses
There are many ways to get involved on the farm. Various classes incorporate hands-on research and experimentation on the farm throughout the academic year. Visit our academics webpage to learn more about courses that are offered.
Work Parties/Informal Meet Ups
In addition to coursework, students, staff and faculty can get involved through work parties where you can get involved with farm maintenance (watering, weeding, harvesting, planting) or other creative projects on the farm. Work parties occur in the spring and autumn quarters, but day and time details generally change from quarter to quarter.
To learn what is coming up next, check our social media or email uwbsust@uw.edu.
Bring Your Own Ideas
More than anything else, the Campus Farm is a space for the campus community to learn, play and experiment with organic farming concepts and develop a community around food and urban agriculture. We welcome all individuals and groups to engage on the farm space however they feel it can benefit them. We are always accepting proposals for events, projects, initiatives and programs to be implemented or run on the farm.
Want to build a greenhouse for your student club? Hold a work party for your department? Do independent research? Email uwbsust@uw.edu with your idea and we will follow up.
Edible Campus
In addition to the Campus Farm, there are many other opportunities to forage on the UW Bothell/Cascadia College campus if you know where to look! Another aspect of experiential learning and access to healthy, sustainable food is making sure that it is publicly available. Our campus is what we like to call an edible campus, where foraging is open to the public and encouraged.
Beyond the farm, there is also a historic apple orchard near the Chase House, a campus herb walk along the South side of Commons Hall (UW2) and the Cascadia Food Forest. These edible landscapes improve access to organic, local food — and educate the community about sustainable agricultural systems.
There are also many native plants throughout the campus landscape that are traditional First Foods to Indigenous people. Nettles, camas and red currants are just some examples of First Foods that can be found on campus. Learn more about campus plants on a self-guided campus plant tour.