Sarah Simonds Green Conservatory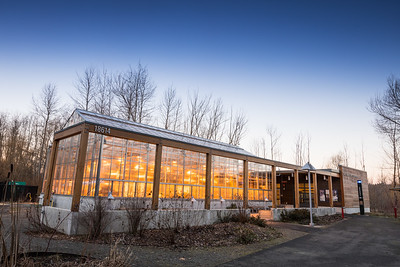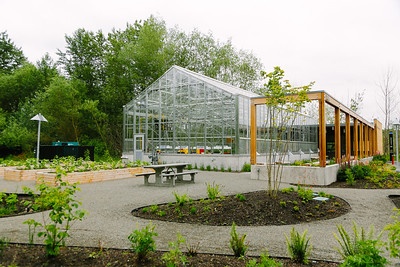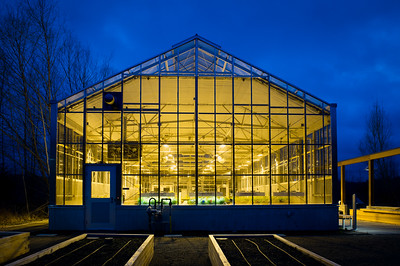 The Sarah Simonds Green Conservatory (SSGC) was completed in the summer of 2013. This 2,800 square foot complex on the western edge of the wetland houses a 1,600 square foot greenhouse, classroom, and support space for education, research, and public outreach. Surrounding the SSGC are raised beds for demonstration of native plantings and experimental plots, as well as facilities for raising native plants for the ongoing management of the wetland. The SSGC provides a dynamic center for environmental learning, cutting edge research, and a portal to the Campus Wetland.
Sustainability
Like all construction on the UW Bothell campus, the conservatory is designed to be sustainable and energy-efficient. Features include:
Natural ventilation
Robust thermal envelope that provides added insulation to reduce heat gain in summer and keep the building warmer in winter
Efficient use of materials to minimize use of natural resources
Complete day-lit spaces
Materials with high levels of recycled content
Roof designed to receive solar panels
Energy efficient lighting and equipment
Support of the Conservatory
The construction of the SSGC was funded by a generous gift from Dr. Gordon Charles Green, who wanted to give back to the community where his family took root. His vision was to create a conservatory and greenhouse that's both accessible to the public and dedicated to the legacy of his pioneering Bothell family.
Dr. Green chose to have the conservatory named for his mother, Sarah Simonds Green. Both the Simonds and Green families played prominent roles in Bothell's history. In 1912, Sarah Simonds was a member of the first graduating class at Bothell High School. Her father, Henry Simonds, was the founder and first principal of the high school. Sarah was a talented pianist, active garden club member, and devoted to her family. She also attended classes at the University of Washington. In 1919, Charles Green, Dr. Green's father, founded Green's Garage (later called Green Motors), the first Ford automobile dealership in the Bothell area. It remained under family ownership until 1965. Four generations of the family have received high school diplomas in the Northshore School District, and three generations have earned UW degrees.
Dr. Green began his college career at the University of Washington, though he completed his bachelor's degree at UCLA, and went on to earn a Master of Arts and a Ph.D. at the University of Southern California. Among his many accomplishments was dramatic training in New York directed by Erwin Piscator, where his classmates included Marlon Brando and Elaine Stritch. Later, Green became a valued member of a theater company in Houston, Texas. A talented but unpublished playwright, Green spent the bulk of his professional life as a college professor of English and drama.
Those wishing to honor Dr. Green's memory and support this vibrant facility are invited to contribute to the Sarah Simonds Green Conservatory by contacting the Department of Advancement and External Relations at the University of Washington Bothell.
Learn how to gain access to the SSGC greenhouse and headhouse.