Vine Maple
Vine Maple – Acer circinatum
At a Glance: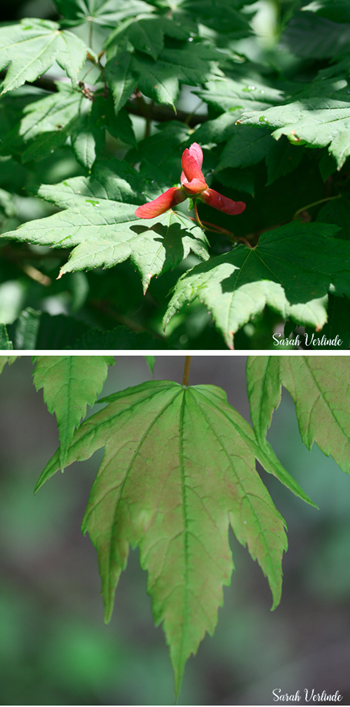 Family: Sapindaceae
Plant Type: small tree – shrub, usually spreading or making dense thickets
Distribution: Mostly Pacific Coast, North California to Alaska
Habitat: Moist woods, sea level to mid-elevations
Height: 1-8m
Flower: purple/red sepals with white petals and yellow stamens hang down.
Flower Season: March – June
Fruits: samaras with wings spreading widely – "maple helicopters"
Leaves: 7-9-lobes, serrate margin, in a round shape. Named "circi-" for the circle leaf shape. Soft hairs on underside.
Generation: Perennial
Bark: stems green or purplish-red becoming brown or green with age.
Notable feature: Trees in full sun often turn a bright red color in the fall, and trees in the shade tend to turn yellow.
Restoration and Conservation
Vine maple is planted in forested riparian habitats to help reduce erosion. Vine maples do well under a shade canopy and also in sunny locations. Deer and elk browse the leaves during summer. Birds and small mammals rely on the flowers, buds, and seeds. Squirrels and chipmunks eat and cache the seeds.
Ethnobotany
Due to the flexibility of the wood, vine maple has been used to build snowshoe frames, drum hoops and other small tools. The thin branches were good for weaving baskets and making fish traps. Vine maples are a very popular shrub/small tree for landscaping homes and businesses in North America.
References and Resources
Pojar, J and MacKinnon, A. 2004. Plants of the Pacific Northwest Coast: Washington, Oregon, British Columbia and Alaska. Vancouver (BC): Lone Pine Publishing.
This article was written by Sarah Verlinde and Jessica Rouske. For questions regarding the UWB/CC Plant Tour, contact Sarah at severlin@uw.edu.