Red-flowering currant
Ribes sanguineum – Red flowering currant
At a Glance: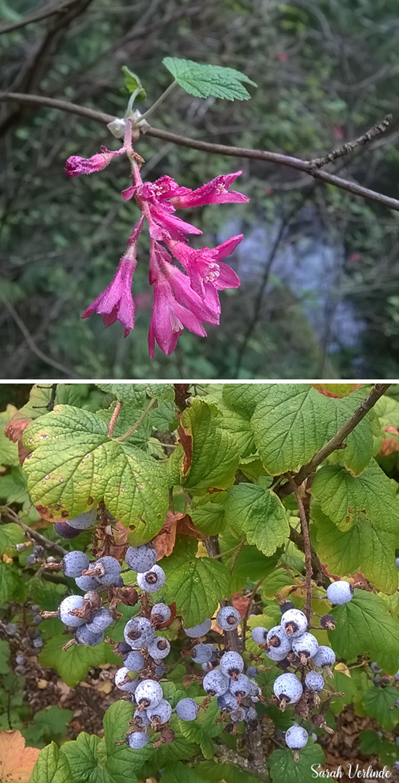 Family: Grossulariaceae
Plant Type: deciduous erect shrub
Distribution: Pacific Coast, California to British Columbia, as far east as Idaho
Habitat: widespread at low elevations in open or wooded areas
Height: 9 feet tall
Flower/Fruits: racemes (clusters) of small hot pink to red 5-petaled flowers. Fruits are black berries with a whitish-blue powdery wax covering.
Flowering Season: March – June
Leaves: lobed leaves that look like a grape leaf, deltoid-ovate. Green on top, with a lighter green underside.
Generation: Perennial
Bark: reddish-brown
Notable feature: fragrant when in bloom with nice fall color
Restoration and Conservation
Red-flowering currant tolerates poor soil and grows in sunny to partly shady areas making it a great landscaping or restoration shrub. Spring flowers provide a nectar source for hummingbirds, bees, and other pollinators. The berries are eaten by birds and mammals, and the leaves are eaten by deer and elk. Many moths and butterflies use the leaves as forage during the caterpillar stage.
Ethnobotany
Pacific Northwest tribes (Skagit, Salish, Quileute, Hoh and many others) ate the berries. The berries were collected and eaten fresh, or dried and saved for winter months, sometimes they would be added to soups for flavoring.
References and Resources
This article was written by Sarah Verlinde. For questions regarding the UWB/CC Plant Tour, contact Sarah at severlin@uw.edu.