Your B.I. Legacy
Broader Impact Legacy Development
How will you change the world with your research and teaching?
Sponsored Research offers processes to help faculty members develop "impact identities". The generation of their Broader Impact (BI) Legacy narrative involves a reflective process in which each faculty member examines integration of scholarship with societal needs, personal preferences, capacities and skills, and institutional contexts. This allows them to unveil their best-case scenario for establishing and developing impacts over the course of their career.
---
Collaborative Opportunities at UW Bothell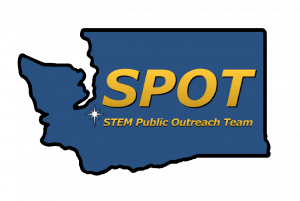 STEM Public Outreach Team (SPOT) at Bothell
The UWB STEM Public Outreach Team (SPOT) brings presentations and activities on current STEM research topics to regional K-14 classes and community groups. Research teams can share your work with K-14 audiences by joining the UWB SPOT program.
SPOT is an effective, low-cost, high-impact outreach program that can support education, outreach, and broader impacts sections for grant proposals. Researchers can work with the SPOT faculty advisors to develop an outreach module aligned with science education standards. SPOT Student Ambassadors will be trained to deliver the presentation and activities to K-14 schools and community groups. Teachers and educators request presentations with visits coordinated by the SPOT program manager. Evaluation and reporting data is shared with participating research teams. Look at sample statements to include in your proposal and learn more.