Ron Krabill
Professor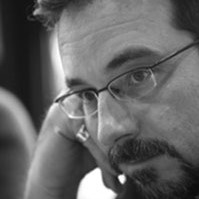 Director, Master of Arts in Cultural Studies
Co-Director, UWB Global Scholars

B.A. Communication, Peace & Conflict Studies, Goshen College
M.A. Historical Studies & Sociology, New School for Social Research
Ph.D. Sociology & Historical Studies, New School for Social Research

Recipient of the University of Washington Bothell Distinguished Teaching Award, 2006
Office: UW2-326
Phone: 425-352-3592
Email: rkrabill@uw.edu
Mailing Box: 358530, 18115 Campus Way NE, Bothell, WA 98011-8246
Teaching
My teaching is centered on the idea that the best learning grows out of a diverse intellectual community in interaction, both in and out of the classroom itself, rather than individuals imparting knowledge in a unilateral way. I strongly believe that education is best served through the building of a safe yet challenging learning community that includes students, faculty and others in a holistic learning experience. In addition to developing such interactions among members of my classes, I also value the impact of community-based learning and scholarship. Ideally, education should serve not only a student's individual intellectual development and overall well-being, but also the well-being and knowledge-base of the many communities with which each student and the university as a whole are involved.
Recent Courses Taught
BCULST 501 Cultural Studies as Collaboration
BCULST 593 Cultural Studies of Global Sport
BIS 403 Washington, D.C., Research Seminar on Human Rights
BIS 480 The Politics of Soccer in Spain and Beyond (Study Abroad)
BIS 313 Issues in Media Studies: Human Rights Public Culture
BIS 300 Interdisciplinary Inquiry
Research/Scholarship
My scholarship on mass media and politics seeks to expand our understanding of transnational mediascapes as complex forces which shape political life in relevant, sometimes surprising ways. My earlier work was centered on electronic, independent and transnational media and their impact on social life and action (particularly politics – both institutional and extra-institutional) and focused on South Africa as its most significant location. This work has continued to have a particular emphasis on the relationships between media and human rights, not only in South Africa but on a global scale.
More recently, I've been exploring collaboration and community-based learning in relationship to the concepts of praxis in cultural studies and interdisciplinarity, with a particular interest in international education and the roles of reciprocity and equity in building more justice global partnerships.
I am also currently engaged in a collaborative textual and visual research project on "The African Game in Seattle," which explores the role of soccer as both a catalyst for and expression of community-building among diasporic African communities in the Seattle metropolitan area.
Selected Publications
Starring Mandela & Cosby: Media and the End(s) of Apartheid. University of Chicago Press, 2010.
Feminist Interventions in Participatory Media: Pedagogy, Publics, Practice. (Co-edited with Lauren Berliner) Routledge, 2018.
"The Seattle Afrikan Premier League" (w/ D. Hoffman), Africa is a Country, 2 July 2018.
"Against the Romance of Study Abroad" (w/ B. Gardner), Africa is a Country, 5 July 2017
"The Bill Cosby Show," Africa is a Country, 24 November 2015
"Graduate Mentoring Against Common Sense" in Collaborative Futures: Critical Reflections on Publicly Active Graduate Education, edited by A. Gilvin, G. M. Roberts, and C. Martin, Syracuse: The Graduate School Press of Syracuse University, 2012.
"American Sentimentalism and the Production of Global Citizens," Contexts 11(4), 2012.
"Critiquing What We Love" in "Periscope: World Cub 2010," Social Text 19 July 2010.