Naomi Macalalad Bragin
Associate Professor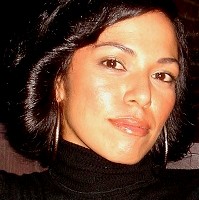 B.A., Dance, Wesleyan University
M.A., Folklore/Anthropology, UC Berkeley
Ph.D., Performance Studies, UC Berkeley
Click here for Office Hours
Website: naomibragin.com
Email: bragin@uw.edu
Teaching
Introduction to Performance Theory. Study of performance as a critical lens for uncovering power relations and articulating social implications inherent to systems of representation, highlighting transgressive and experimental artists.
Introduction to Interdisciplinary Arts. Co-taught with Professors Ali and Borsuk. Applying practical skills to academic study of visual art, literature and performance genres.
Doing Performance Research. Students make their own performances to pose research questions, building new conceptual vocabularies through counternarrative with an emphasis on revision.
Street and Club Dance Workshop. Studio course in hip hop, street and club dance techniques, emphasizing collective improvisation as choreographic process.
Performing Community (MACS Graduate Program): Applies performance methods and analysis to student research projects, with a focus on ethics of relations and culturally responsive research.
In my classes, performing happens both on conventional stages and in everyday life, where potentially any event can be studied as a performance. I ask students to see themselves in the role of artist. Practices call deep attention to socially trained patterns of knowing and relating. I bring my community activist work into the classroom, facilitating group meditations and discussions about love, vulnerability, accountability and boundary setting, drawing on works by feminist and queer thinkers. Although I do present a basic itinerary for each of my classes, students' curiosity will often alter the map.
I teach all study as practices of seeing differently. To build more expansive ways to see, I use a method I call Noticing that connects somatics practices to Black Feminist pedagogies, especially in the work of Jacqui Alexander and Audre Lorde. Noticing is a way of full-body listening, accessing a range of resources from physical feelings to emotional responses, as part of engaging an intellectual process. Noticing allows meaning to be partially hidden, multiple and open-ended. Noticing brings vulnerability into critical research, which I consider integral to self-care and access-centered learning.
Research and Scholarship
I am a dancer, writer, wanderer, wonderer, curious about people who use art to collaborate in healing and recreating worlds. At UWB, I teach courses in cultural politics, self-care, dance and performance art as research practice. I collaborate with Professor Anida Yoeu Ali to produce campus and regional arts events through the IAS research group Critical Acts: Socially Engaged Performance, including our Visiting Artist Residency, Alive Performance Festival and Imagine Student Showcase. My book Black Power of Hip Hop Dance: On Kinethic Politics mixes dance ethnography and oral history to tell stories of streetdances created by youth living in Funk and Disco era California, whose everyday artistry helped set foundations for global contemporary hip hop dance. I invented the word 'kinethic' to describe how their collective movement practices reorient dancers toward other ways of sensing, being and belonging in ethical relation. Forthcoming with the international Dance Studies Association's Studies in Dance Series (University of Michigan Press), the book has received support from National Endowment of Humanities, Simpson Center for Humanities, Royalty Research Fund and the UC President's Postdoctoral Fellowship. I also collaborate artistically with Milvia Pacheco Salvatierra, Executive Director of Movimiento AfroLatino Seattle. Our current project, Little Brown Language, researches submerged histories of resistance to colonial encounter in Venezuela and the Philippines, translated as dance-incantations. We have performed for On The Boards, Wing Luke Museum and 2022 Reflections Dance Festival. From 2002-2008 I directed DREAM, an Oakland, California-based streetdance company which toured nationally. Our piece Full Circle, a collaboration with hip hop dancer and AfroCuban folklorist José Francisco Barroso, was nominated for the Bay Area Isadora Duncan Dance Award in Choreography. I have been a New York City Hip Hop Theater Festival Future Aesthetics Artist and received funding from Creative Work Fund, Rennie Harris PureMovement, East Bay Community Foundation and Zellerbach Foundation. My work is deeply informed by three-decades study of African Diaspora dances in the US, Cuba, Brazil and Europe, and underground dancing in clubs and parties of 1990s Los Angeles, New York and the San Francisco Bay Area.
Selected Talks
Selected Publications
2022. "Streetdance and Black Aesthetics." In Oxford Handbook of Hip Hop Dance Studies, eds. Mary Fogarty and Imani Kai Johnson. Oxford University Press.
2018. "On The Front Porch: Deborah McCoy and Fresno Streetdance." Tropics of Meta (blog). Solicited by Fresno State Valley Public History Project.
2016. "From Oakland Turfs to Harlem's Shake: Hood Dance on YouTube and Viral Antiblackness." In Oxford Handbook of Screen Dance Studies, ed. Douglas Rosenberg. Oxford University Press.
2014. "Techniques of Black Male Re/Dress: Corporeal Drag and Kinesthetic Politics in the Rebirth of Waacking/Punking." Women & Performance: A Journal of Feminist Theory 24.1. Special Issue: "All Hail the Queenz: A Queer Feminist Recalibration of Hip Hop Scholarship," eds. Jessica Pabón and Shanté Paradigm Smalls.
2014. "Shot and Captured: Turf Dance, YAK Films, and the Oakland, California, R.I.P. Project." TDR: The Journal of Performance Studies 58.2. Winner of TDR Graduate Student Essay Contest, Gerald Kahan Scholar Prize of American Society for Theatre Research, and Outstanding Dance Publication of Congress on Research in Dance.