(John) Eric Stewart
Associate Professor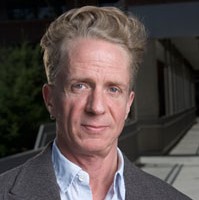 B.A. Psychology, University of California, Berkeley
Ph.D. Clinical-Community Psychology, University of Illinois
Office: UW2-337
Phone: 425-352-5282
Email: johns5@uw.edu
Mailing Box: 358511, 18115 Campus Way NE, Bothell, WA 98011
Teaching
My teaching philosophy can be broadly described as "By any means necessary." My goal is for students to be fabulous, to become even more fabulous, but also to be well-armed for the struggle. To that end, I will subvert, mock, mystify, transgress, coerce, seduce, or converse. But I will not patronize. I will bank knowledge; I will break your piggy bank. I will make students steal knowledge; I will make students make knowledge on and of their own. Because I think passivity and complacency doom people in life-and at any rate are a pathetic form of resistance-I do employ disruption and provocation as tactics. I lecture. I make students talk. I make them prove things. I make them read books and I make them watch movies. I make them write a lot and well. I do content and I do process. I do group and I do solo. I make students think about meaning and where it comes from. I make them think about other people and where they come from. I make them do things with and for others, in the classroom and in communities. I try to help them figure out who is and is not their friend. I force them to think about power-in part by not pretending like I don't have it and exercise it-because I want students to learn how to participate in and use power. Like a lot UW Bothell students, I came into higher ed through the back door of community college, 10 years after dropping out of high school, and worked my way through school. I therefore have a rather romantic belief in college as a great and wonderful thing (no kidding), and as a tremendous privilege. I also have little patience with complaints about high demands or difficult labors; this here, this is the easy part. I am hypersensitive to the ways that low expectations for student fabulousness are so much more oppressive than are high demands for student performance.
Courses Taught
BCUSP 170 Introduction to Psychology
BIS 270 Abnormal Psychology
BISCP 343 Community Psychology
BIS 349 Personality Psychology
BIS 422 Clinical Psychology
BIS 438 Prevention and Promotion
BCULST 502 Cultural Studies as Collaboration
Research/Scholarship
The practices of psychology are increasingly implicated in the regulation of communities. This problem calls for an interdisciplinary, multi-pronged and critical approach. As a community psychologist, my research has three objectives, each of which centers on social change:
understanding, facilitating, and documenting the building of community and community practices;
an empowerment-oriented commitment to foregrounding diverse, community-based strategies and theories of change and collective self-determination; and,
developing methodology and role-relationships for collaborative research and action.
With this dedication to "bottom up" approaches to the production of knowledge and social change, research and practice are closely intertwined in my work, which is always attentive to collaboration, translation, and representation. In particular, I am interested in how people who have been variously configured on the basis of mental or social health/risk status find ways to resist, transform, or subvert the discourses that constitute their identities and relationships. My work examines how people develop tactics for countering these kinds of disqualifying configurations and experiences. This entails giving continual consideration to how academic and professional theories, methods, and communications—including my own "expertise"—work for and against people.
Selected Publications
Stewart, J. E. (2013). Living with Brain Injury: Narrative, Community and Women's Renegotiation of Identity. New York: New York University Press.
Stewart, J. E. & Roy, A. (2013). "Homosexuality" and "Subjectification." In T. Teo (Ed.), The Encyclopedia of Critical Psychology. London: Springer/Verlag.
Stewart, E. (2010). On voice: Difference, power, change. In M. Aber, K. Maton, & E. Seidman (Eds.), Empowering settings and voices for social change. New York: Oxford University Press.
Stewart, E. & Rappaport, J. (2006). Narrative insurrections: HIV, circulating knowledges, and local resistances. In E. Trickett & W. Pequegnat (Eds.), Community interventions and AIDS (pp. 56-87). New York: Oxford University Press.
McKellar, J., Stewart, E., & Humphreys, K. (2003). Alcoholics Anonymous involvement and positive alcohol-related outcomes: Cause, consequence, or just a correlate? A prospective 2 year study of 2319 alcohol dependent males. Journal of Clinical and Consulting Psychology. 71(2), 302-308.
Stewart, E. (2000). Thinking through others: Qualitative research and community psychology. In E. Seidman and J. Rappaport (Eds.), Handbook of Community Psychology (pp. 725-736). New York: Plenum.
Stewart, E. & Weinstein, R. S. (1997). Volunteer participation in context: Motivations and political efficacy within three AIDS organizations. American Journal of Community Psychology, 25(6), 809-838.