Judge This Book By Its Cover

a Discovery Core Experience
BCORE 104 (Arts & Humanities)
About This Course
We all think we know what a book is—we use them every day, see them in libraries, on coffee tables and bookshelves, and have all kinds of metaphors about them (like maybe that college is a place to pick up some "book-learning"). But when we say "book," are we picturing the same thing? Is a book on a Kindle still a book? Is a zine or pamphlet? What about a length of wool with knots in it or a little clay tablet?
In this class, we will look at the book as an object with a rich past that includes a lot of playful experimentation, and we will make books of our own in response. We will imagine impossible books and see a few as well. And we will think about the role books play in the academic and literary worlds—meeting librarians, booksellers, writers, and book artists to learn about their journeys with letters and pages.
Who Should Take This Course?
This class is for anyone interested in books who wants to know more about their history and their future. We will get hands-on with books, thinking about them as tactile objects designed for interaction. We'll make books, play with letters, and print our own posters. Get ready to be creative and playful with print.
Selected Projects & Activities
Learn to use a risograph printer to print posters
Experiment with dry-transfer lettering
Stitch a blank journal
Create erasure poetry
Dr. Amaranth Borsuk (she/her/hers)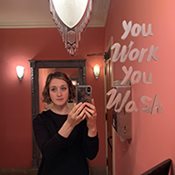 Education
Mellon Postdoctoral Fellowship in the Humanities, Massachusetts Institute of
Technology
PhD, Literature and Creative Writing, University of Southern California
MA, English Literature, University of Southern California
BA, English, minor in Women's and Gender Studies
Contact
Office: UW1-331
Phone: 425-352-5292
Email: aborsuk@uw.edu