Gender Under Construction

a Discovery Core Experience
BCORE 107 (Social Sciences)
About This Course
As part of the Discovery Core, we will take the construction metaphors in the course title and apply them to your own road to and through college. You will work together to help each other find your own paths, complete with interesting intersections and suggestions for managing roadblocks. We will take time to explore the resources and pathways open to you in the UW Bothell community – I hope every student walks away excited by the many great opportunities to connect, learn, and play!
Our course theme focuses on gender. We will explore identities and culture, with focused analysis on gender. Some questions we will consider:
What is gender?
How does gender relate to other aspects of our identities and cultures?
How has our understanding of gender changed over time?
How does gender impact our experiences and opportunities?
What can we do to promote well-being, equity, and social justice tied to gender?
Through active inquiry we will develop a set of tools to look at these questions and examine how gender operates in our lives and the spaces we inhabit. We will also think about how we can build more equitable and inclusive settings like classrooms, workplaces, families, and governments.
Our classroom will be playful, curious, and scholarly as we use a variety of texts (written, audio like podcasts, and video) to explore:
Gender as a social construction at the intersection of other categories of difference, such as race, class, sexuality, and nationality
How gender norms may serve as roadblocks for individuals and groups
Cases where people uncover unspoken assumptions that reinforce gender roles and assumptions that we may have accepted as "natural."
Detours and new pathways for enacting and reimagining gender
Students will conduct their own research on topics they want to know more about. Examples may include gender pay equity, gender-based marketing, gender in gaming, gender and careers, gender in media, gender and fashion, gender bias in dress codes, gender and sports, and others that emerge based on class interests.
But how will we learn together?
I am committed to building a classroom that supports you welcoming yourselves and each other each day. Our classroom will be curious, playful, respectful, and scholarly. We will work together to identify questions, build our tools for observation, unpack texts, and reflect on our unique cultures and lived experiences.
Learning Objectives
At the end of the quarter, you will be able to:
1) Make meaningful and ongoing contributions to a learning community
2) Collaborate effectively with classmates, faculty, and staff
3) Summarize, analyze, question, and critique course texts using tools including:
intersectionality
the social-ecological model
social construction
4) Make connections between course texts, class activities, and personal experience
5) Analyze and articulate how gender is constructed and represented in the spaces you inhabit in your everyday lives, including at UW Bothell
6) Actively reflect on your learning practices, including setting learning goals, making connections across activities, managing work load, and stress management techniques
Dr. Lichty (they/them)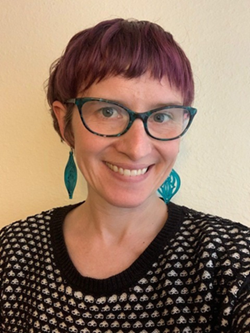 Education
B.S. University of Illinois at Urbana-Champaign, Psychology
M.A. Michigan State University, Ecological-Community Psychology
Ph.D .Michigan State University, Ecological-Community Psychology
Specialization: Quantitative Methods and Evaluation Sciences
Teaching
I believe universities should create transformative spaces that propel students into their careers with excitement and critical awareness of their roles as citizens and professionals. My goal is to facilitate students' active participation in the knowledge generation process with attention toward
real world analysis and application of course concepts. I hope to support each student on their quest to find their scholarly path and voice, fostering creativity, curiosity, and attention to social justice along the way. Through discussion, collaborative inquiry, and applied experiences in the community, I strive to create settings where students feel comfortable openly and critically examining course material. I also try to identify opportunities for students to engage in community-based activities in order to make learning local and bring our vast university resources, of which our student body is a critical one, into the community.
I encourage students to bring their whole selves, particularly their multiple identities, prior education, personal and professional lives, and communities, into the classroom. I use a variety of activities, such as small and large group discussions, photovoice, and community-based projects, to create opportunities for students to explore and challenge the material through scholarly and lived experience lenses. This is not to suggest that all critiques are equally valid and useful; part of the power and purpose of the classroom is to learn to present compelling critiques and generate novel insights or applications of academic material. This is an exciting space to share with students and I look forward my own new "aha" moments that occur each quarter I have the privilege of co-learning with UWB students.
Contact
"I hope to support each student on their quest to find their scholarly path and voice, fostering creativity, curiosity, and attention to social justice along the way."

Professor Lichty