Sharon Jones (she/they)
Professor
Vice Chancellor of Academic Affairs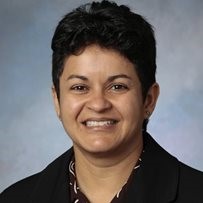 Ph.D., Engineering and Public Policy, Carnegie Mellon University
M.P.A., Public Works Policy, California State University at Long Beach
M.E., Civil Engineering, University of Florida
B.S., Civil Engineering, Columbia University
Email: uwbvcaa@uw.edu
Teaching
I am a first generation college graduate, immigrant to the US, and a female with various racial identities. Because of my varied background and experiences, I have tried to understand and practice the pedagogical techniques that make a classroom inclusive so that I can reach students with different learning styles, different academic foundations, different socio-cultural perspectives, and varied career and lifelong aspirations. And, I continue to learn. My goal as a teacher is to provide the type of classroom environment that a) acknowledges the assets that every student brings to a course, b) incorporates projects (ideally those for real communities) as an integral part of the learning process, and c) encourages both individual and team opportunities so that students develop professional skills and competencies.
Recent Courses Taught
I have not had the privilege of teaching courses at UW Bothell as yet since due to my administrative role. The typical courses that I have taught in the past include:
Environmental Justice; Environmental Policy & Management; Environmental Life Cycle Assessment
Technology & Public Policy; Technology & Society; Professionalism and Ethics
Applied Decision Methods; GIS; Engineering Economics
Introduction to Engineering Design; Capstone Design
Research/Scholarship
My research primarily focuses on a systems approach to sustainable infrastructure policy, engineering ethics education, broadening participation in science, technology, engineering, and mathematics, and bridging engineering and the liberal arts. Many of my projects include undergraduate research students who are encouraged to jointly publish and present our work. Currently my main project centers on the environmental justice context as a result of increased wildfire intensity in the Pacific Northwest due to climate change.
Selected Publications
Jones, S.A., C. Cairncross, T. VanDeGrift, J. Kalnin. 2021. "Persistence of Students who begin Engineering Programs in Precalculus," Advances in Engineering Education, 9(4).
*Lorber, C., R. Dittrich, S. Jones, *A. Junge. 2021. "Is Hiking Worth It? A Contingent Valuation Case Study of Multnomah Falls, Oregon," Forest Policy and Economics, 128(C).
Michelfelder, D., S. A. Jones. 2016. "From Caring about Sustainability to Developing Careful Engineers," in Filho, L. & S. Nesbit (Eds), New Development in Engineering Education for Sustainable Development, Springer: ISBN 978-3-319-32933-8
Jones, S.A., 2015. "The Need for Intentional Graduate Pathways for Students in Liberal Studies and Engineering Pre-Professional Programs," Engineering Studies, DOI: 10.1080/19378629.2015.1062485.
Jones, S., D. Michelfelder, I. Nair. 2015. "Engineering Managers and Sustainable Systems: The Need for and Challenges of Using an Ethical Framework for Transformative Leadership," Journal of Cleaner Production, DOI: 10.1016/j.jclepro.2015.02.009.
Jones, S., K. Sanford Bernhardt, M. Kennedy, *K. Lantz, *T. Holden. 2013. "Collecting Critical Data to Assess the Sustainability of Rural Infrastructure in Low-Income Countries," Sustainability, 5.
Jones, S.A., *A. Abseen, *N. Stacey, *L. Weir. 2012. "A Life-cycle Approach to Improve the Sustainability of Rural Water Systems in Developing Countries," Challenges: Special Issue "Challenges in Industrial Ecology", 3(2).
Jones, S.A., *K. Rose, *K. Tull. 2011. "A Strategic Approach to Improve Environmental Policy-making for End-of-cycle Product Management," Journal of Environmental Assessment and Policy Management, 13(4).
*Indicates Student Author