Masahiro Sugano
Senior Artist-in-Residence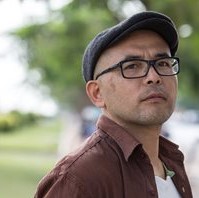 B.A., in Philosophy (California State University, Northridge)
M.F.A., in Film/Animation/Video (University of IL Chicago)
Email: sugano@uw.edu
Website: www.studio-revolt.com
Teaching
My community building process of engagement across borders and nations, across socio-economic, racial and gender lines has helped me to refine my pedagogy. I look forward to the opportunity to bring all the interdisciplinary and my transborder and transnational experiences I have accumulated over the years to the classroom at UW-Bothell.
As a diasporic filmmaker, multimedia artist, writer and philosopher, I engage the intersectionality of marginalized communities in ways that defy expectations of the dominant culture. When we, the scholars, activists and artists, put our own liberation at stake next to those who suffer from disenfranchisements, we find leadership and wisdom in the very marginalized population we seek to assist. These particular agendas are not only at the forefront of my scholarly endeavors; they are very much embedded in my overall teaching practice.
In my classrooms, I ask students to think of themselves not only as learners but encourage them to be media producers of change. I therefore stress that key to their storytelling practice is an attention to audience, message, creativity, and intent. As the instructor, I supplement the theoretical with the practical and work closely with students so that they are comfortable with filmmaking as a multifaceted technical practice and artistic mode. I also focus specifically on the craft of filmmaking, which involves a serious engagement with cinema history, film criticism, film production, and film review. I then push students to consider the possibilities of film as a medium of social change, reminding them that they are in the unique position as artists, storytellers, and critics.
Finally, my expertise in Japanese and world cinema provides a unique access point for students eager to understand the world beyond their own. Because cinema came into existence in the age of global consciousness, it has been frequently utilized to explore the intersectionality of different cultures. Kurosawa adopted Dostoevsky and Shakespeare to create authentic Japanese period films. And his samurai films launched the career of Clint Eastwood (by way of Fistful of Dollars, a remake of Youjimbo), and inspired Lucas's Star Wars. The Italian neo-realism film Bicycle Thief birthed the rich cinematic world of Indian filmmaker Satyajit Ray, one of the most important cineaste from the 20th century along with Ozu and Tarkovsky. When young French filmmakers revolted against the establishment in the 60s, young Japanese filmmakers responded with their own New Wave. As an engaged practitioner of this intersectional art form, I will be excited to share with students the extensive network of international filmmakers and artists from Middle East, South East Asia, Europe and Africa. Ultimately, I work to provide my students with the critical and theoretical frame works to do ethical, meaningful, and engaging projects.
Recent Courses Taught
BISMCS 234 Media & Communication Techniques: Reimagining Documentary
BISMCS 343 Media Production Workshop: Visualizing Absurdity
BISMCS 341 Topics in the Study of Culture: Japan Cinema, Theater, Novel and Manga
BISMCS 472 Advanced Media Production: Global Media Lab
Research/Scholarship
Two principles drive my research and creative endeavors. One is to defy conventional narratives of identity politics through authentic yet strategic emotional engagement with the viewing public. The other is to pursue all forms of expression and storytelling in order to examine the meaning of our existence as both individuals and as a collective. These principles map the course of all my works. These two principles also represent two phases of my development as an artist/researcher.
The first, defiance of conventional identity politics driven narratives, arises from my long-standing struggle as an immigrant of a minority group in America. This allows me to address experiences of marginalization as my own urgent issue knowing that it will also affect my own children's futures. It is based on my belief that my personal liberation in fact depends on the liberation of many others. Aboriginal artist Lilla Watson said it best, "If you have come here to help me, you are wasting your time. But if you have come because your liberation is bound up with mine, then let us work together." Togetherness brings me to my second guiding principle.
The second principle, a search for interconnected meaning of our existence as individuals and a collective, is the most basic reason for humankind to take on any intellectual, spiritual and creative endeavors. This second principle allows me to examine and elaborate on human experiences from the most inclusive and intersectional point of view. This impetus to find meaning between the individual's struggle and societal issues drive much of my more popular film works. My collaborative media lab Studio Revolt has been instrumental in the pioneering of spoken word videos, merging a cinematic sensibility with a populist form of poetry into online viral content. My videos have continued to present narratives from the peripheries including voices from Palestine, the Marshall Islands, Botswana and deported poet and ex-con Kosal Khiev. Cambodian Son, my feature length documentary on Kosal, has been screened around the world reaching a wide range of people from suburban housewives in Oklahoma to street kids in Luang Prabang, all of whom deeply moved by the poet, poetry and ultimately his struggles with injustices. I believe art when experienced with complexities and through compassion can have a far wider impact than other tools of activism. For me, visual story telling with emotional and intellectual resonance is the most powerful antidote to the culture of othering.
Selected Exhibitions/Screenings/Awards
Awards
2017 GAP Artist Trust Award
2017 TAIP Grant by Tacoma Arts Commission
2016 Audience Award (Cambodian Son): Luang Prabang Film Festival
2016 Best Documentary (Cambodian Son): National Asian American Journalist Association
2015 Sovereign Asian Art Prize with Anida Yoeu Ali (The Buddhist Bug Project)
2015 Audience Award (Cambodian Son) Bali International Film Festival
2015 Best Film (Cambodian Son): Jogja-Netpac Asian Film Festival
2014 Best Documentary (Cambodian Son): Center for Asian American Media Festival
2013 Center for Asian American Media Innovation Fund Award for "Verses in Exile" web series
2012 Best Performance (Why I Write): Zebra Poetry Film Festival Berlin
2012 Popular Vote Win (My Asian Americana): White House's AAPI "What's Your Story" Video Contest
2010 Grand Prize Award (1700% Project: Mistaken for Muslim): LinkTV's One Nation film competition
2001 Honorable Mention (Super Kamada) Ann Arbor Film Festival
1998 Best Animation (Hisao) IFC's Student Film Competition
1997 Nomination (Hisao) Student Academy Awards
Filmography
2019
Transcendental Joe (script development), Feature, HD Color
2018
Paper Girl (development), Animation with Paper Cut Artist Lauren Iida/HD Color
Never Again (development), Photo and Video Installation series /HD Color
2017
Headlock (post-production), Short Film/HD Color
Exiled Stories (post-production), Short Film series/HD Color
2016
The Red Chador: Threshold (with Anida Yoeu Ali), Short Film/5min/HD Color
Hijabs and Hoodies, Animation Short/Xmin/B&W
Neon Poem, Spoken Word Short/3min/HD Color
2015
Verses in Exile, Web Series/30min/HD/Color
The Buddhist Bug: Into the Night, 2-Channel Video Projection/7min/HD Color
Dreams, Spoken Word Short/3min/HD Color
2014
Cambodian Son, Documentary/90min/HD/Color
2013
Unite Us, Spoken Word Short/5min/HD/Color
Hadeel, Spoken Word Short/3min/HD/Color
Exiled Stories#1: Tyna and Zar, Documentary/5min/HD/Color
Dance, Live Action Short/1min/HD/Color
Who's Got Us, Spoken Word Short/5min/HD/Color
Tell Them, Spoken Word Short/3min/HD Color
2012
Neang Neak (Serpent Goddess), Live Action Short/3min/HD/Color
Return to Sender, Documentary/8min/HD/Color
2011
Why I Write, Spoken Word Short/5min/HD/Color
My Asian Americana, Live Action Short/3min/HD/Color
Another Day (includes 3 episodes) LiveActionShort/21min/HD/Color
2010
1700% Project: Mistaken for Muslim Live Action Short/5min/HD/Color
Maria's List Live Action Short/3min/HD/Color
Instant Slapping Live Action Short/14min/HD/Color
Yarning for Love Live Action Short/5min/HD/Color
2009
Art of Love (Second Moon), Live Action Feature/90 min/HD/Color
2000
Super Kamada, Live Action Short/35 min/16mm/Color
1999
Fog in a Can, Live Action Short/9 min/16mm/Color
1998
Doghunter, Live Action Short/12min/16mm/B&W
1997
Hisao, Photo Collage Animation/9min/16mm/Color
Exhibitions
7/2017 Solo Exhibition "Perpetual Irrelevance" at Feast Arts Center [Tacoma, WA]
8/2017 "BorderLands" Group Exhibition at King Street Station [The Red Chador as filmmaker]
3/2017 "High Blood" Group Exhibition at Spaceworks Tacoma [The Red Chador as filmmaker]
10/2016 Kaunas Art Festival (Lithuania) [Into the Night as filmmaker]
05/2016 "Crosslines" Culture Lab at Smithsonian Arts & Industries Building [Hijabs & Hoodies]
11/2015 Asia Pacific Triennial 2015 (Brisbane, Australia) [The Buddhist Bug as photographer]
09/2015 Asian Art Biennial (Taiwan) [Hadeel and Cambodian Son as filmmaker]
10/2014 Milan Image Art Fair (Singapore) [The Buddhist Bug as photographer]
10/2014 Asia Now Paris, Carrousel Du Louvre (France) [The Buddhist Bug as photographer]
09/2014 Fukuoka Asian Art Triennial [Unite Us as filmmaker, The Buddhist Bug as photographer]
Film Festivals and Screenings
(Most Recent only)
2017 Afrika Eye Festival / Bristol, UK
2016 Luang Prabang Film Festival/ Laos
2015 Shanghai International Film Festival / China
2015 Bali International Film Festival / Indonesia
2015 DMZ Documentary Film Festival / South Korea
2015 Seattle Asian American Film Festival/ USA
2015 Jogja – NETPAC Film Festival / Indonesia
2015 Urban Nomad Film Festival / Taiwan