Martha Groom
Professor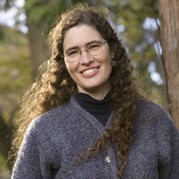 Dual B.A. Biology & Public Policy, Princeton University
M.S. Zoology/Tropical Conservation & Development, University of Florida
Ph.D. Zoology, University of Washington
Office: UW1-130
Phone: 425-352-5410
Email: groom@uw.edu
Website: http://faculty.washington.edu/groom/
Mailing Box: 358530, 18115 Campus Way NE, Bothell, WA 98011-8246
Teaching
I am endlessly fascinated by the complexities of conservation education and mentorship in environmental studies. I teach courses primarily in Environmental Studies, Conservation & Restoration Science, Policy Studies, and Global Studies. My goals as an environmental educator are to help students learn how to evaluate information from multiple sources and perspectives on environmental issues, and develop strategies to work to improve environmental well-being in support of communities and other species. To achieve this end, I seek to enhance students' critical thinking and communication skills, while fostering their understanding of the process of science and its integral concepts and methodologies. I use interactive-learning approaches to help connect students to course material, including group work and discussion to prepare students for lifelong collaborations in seeking understanding. I place particular emphasis on problem-solving and an understanding of both the limits and promising tools of our fields. Wherever possible, I try to connect students to work on current, local problems, including restoration efforts, conservation practice, and conservation policy concerns, but also to connect with broad issues that impact those in other countries. Where possible, my courses include a field component in which students observe and conduct experiments in local field sites, including our own restoration site on campus.
Recent Courses Taught
BCORE 110 Stories in Climate Justice
BIS 300 Interdisciplinary Inquiry: Oil Futures?
BIS 459 Conservation and Sustainable Development
BIS 499 Portfolio Capstone
Research/Scholarship
My scholarship emphasizes biocultural conservation – seeking to conserve cultures, species and ecosystems, particularly across agricultural and urban/urbanizing landscapes – as well as efforts to make conservation and environmental education that is truly engaging, welcoming and effective for all.

For the past ten years, I have worked with many talented people in the Doris Duke Conservation Scholars Program, an intensive summer program in conservation and environmental justice based at the UW. As part of this work, I am collaborating on studies on the benefits of using social justice pedagogies in conservation education, as well as how working with interns can impact the DEI journeys of conservation organizations.

In addition to education research, I have collaborated in landscape-scale studies of sustainability of coffee production and urban community gardens, and continuously seek means to simultaneously improve wildlife populations and human welfare. I am currently working on developing open-access curricula for teaching about energy justice in the age of climate change, and about biocultural conservation.
Selected Publications
Textbook:
Groom, M.J., G.K. Meffe, and R.C. Carroll, and contributing authors. 2006. Principles of Conservation Biology, 3rd Edition. Sinauer Associates: Sunderland, MA. 793 pages. Co-Author of 12/18 chapters and two cases.
Peer Reviewed Publications:
Porzecanski, A.L., A. Bravo, M.J. Groom, L.M. Davalos, N. Bynum, B.J. Abraham, J.A. Cigliano, C. Griffiths, D.L. Stokes, M. Cawthorn, D.S. Fernandez, L. Freeman, T. Leslie, T. Theodose, D. Vogler, and E.J. Sterling. 2021. Using Case Studies to Improve the Critical Thinking Skills of Undergraduate Conservation Biology Students. Case Studies in the Environment 5 (1): 1536396. https://doi.org/10.1525/cse.2021.1536396
IUCN Working Group on Capacity Development. 2015. IUCN World Commission on Protected Areas (WCPA) Strategic Framework for Capacity Development in Protected Areas and other Conserved Territo-ries 2015-2025 (SFCD). International Union for the Conservation of Nature.
Savilaakso, S., C. Garcia, J. Garcia-Ulloa, J. Ghazoul, M. Groom, M.R Guariguata, Y. Laumonier, R. Nasi, G. Petrokofsky, J. Snaddon and M. Zrust. 2014. Systematic review of effects on biodiversity from oil palm production. Environmental Evidence 3:4. doi:10.1186/2047-2382-3-4.
Borkhataria, R., J.A. Collazo, M.J. Groom, and A. Jordan-Garcia. 2012. Shade-grown coffee in Puerto Rico: opportunities to preserve biodiversity while reinvigorating a struggling agricultural commodity. Agriculture, Ecosystems and Environment 149:164–170.
Miller, J.R., M.Groom, G.R. Hess, D.L. Stokes, T.A. Steelman, J.A. Thompson, T. Bowman, L. Fricke, B. King, R. Marquadt. 2009. Where is biodiversity in local conservation planning? Conservation Biology 23(1):53-63.
Groom, M.J., E.A. Gray, and P.A. Townsend. 2008. Biofuels and Biodiversity: Principles for promoting better biofuels policies. Conservation Biology 22(3):602-609.
Inman, F.M., T.R. Wentworth, M.J. Groom, C. Brownie, and R. Lea. 2007. Using artificial canopy gaps to restore avian habitat in tropical timber plantations. Forest Ecology and Management 243:169-177.
Gold, W., K. Ewing, J. Banks, M. Groom, T. Hinckley, D. Secord, and D. Shebitz. 2006. Collaborative Ecological Restoration. Science 312:1880-1881.
Gleffe, J.D., J.A. Collazo, M.J. Groom, and L. Miranda-Castro. 2006. Avian reproduction and the conservation value of shaded coffee plantations. Neotropical Ornithology 17:271-282.
Borkhataria, R., J.A. Collazo and M.J. Groom. 2006. Additive effects of vertebrate predators on insects in a Puerto Rican coffee plantation. Ecological Applications 16 (2): 696-703.
Groom, M.J. 1998. Allee effects limit population viability of an annual plant. American Naturalist 151:487-496.
Ruesink, J.L., I.M. Parker, M.J. Groom, and P. Kareiva. 1995. Reducing the risks of non-indigenous species introductions: guilty until proven innocent. BioScience 45:465-477.