Lauren S. Berliner
Associate Professor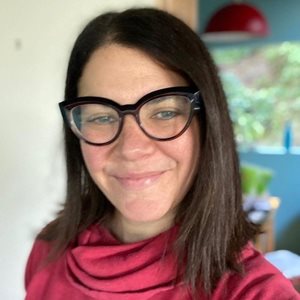 B.A., Wesleyan University, English Literature and Anthropology
M.A., Emerson College, Visual & Media Art
Ph.D., University of California, San Diego, Communication
Office: UW2-322
Email: lsb26@uw.edu
Mailing Box: 358530, 18115 Campus Way NE, Bothell, WA 98011
Teaching
My primary goal in teaching is to help my students feel energized and equipped to do difficult and important work in the world. And I wish for them to leave my classes with more questions than they started with. I am always pleased when students tell me that my classes have made them consider multiple sides of issues and debates. Is the Internet inherently empowering? How do we learn to see difference?
I am interested in developing new frameworks for critical pedagogy and encourage students to take a praxis-oriented approach to scholarship as well as a scholarly approach to multiple forms of cultural practices. I see pedagogy as a form of critical engagement and community building through collaboration with on-campus and local resources, and believe my role is to enhance these connections for students even after our coursework together has ended. I typically incorporate diverse learning styles and uses of new media forms in the classroom, and enjoy tailoring activities to students' particular backgrounds, interests, and concerns.
Recent Courses Taught
BIS 313 Life Online: Interpreting the Internet
BCULST 584 Media Power and Production
BCULST 500 Formations of Cultural Studies
BCULST 501 Cultural Studies as Collaboration
BIS 233 Participatory Media Culture
BIS 300 Interdisciplinary Inquiry
BIS 473 Visual Culture Studies in a Digital World
BISMCS 333 Media and Communication Studies
Research/Scholarship
I study trends and transformations in everyday media production. From the old home videos in your basement to social media feeds, I am interested in what we make reveals about existing social and institutional structures.
My first book, Producing Queer Youth: The Paradox of Digital Media Empowerment examines how queer youth media makers negotiate the structural conditions of funding and publicity and incorporate digital self-representations into practices of identity management.
I have also co-edited a volume with Ron Krabill called Feminist Interventions in Participatory Media: Pedagogy, Publics, Practice, which provides theoretical, creative, and practical strategies for integrating technology, social change, media activism, and/or praxis into teaching or community work.
An important facet of my public scholarship is my role as a Associate Director of Los Angeles Filmforum's Festival of (In)Appropriation, an international traveling showcase of contemporary, short audiovisual works that appropriate existing film, video, or other media and repurpose it in "inappropriate" and inventive ways.
My current research focuses on digital (social) media that has been posted online but does not manage to circulate. By studying media that is either filtered out or over, or simply unwatched, I seek to learn what themes, identities, and production practices are escaping (algorithmically-informed) representation.
Selected Publications
Books
Multimedia
Selected Articles & Chapters
Lauren S. Berliner and Jonathan Cohn. "Introduction to the special issue Genre After Media." Television & New Media, Vol 24(5), 479–487, 2023.
"Towards a Methodology of Unwatched Digital Media." Feminist Media Histories, Vol 8 (2): 219–230, 2022.
"Whatever Happened to Home Movies? Self-representation from Family Archives to Online Algorithms." Frames Cinema Journal. Issue 19, Spring 2022.