Amaranth Borsuk (she/her)
Associate Professor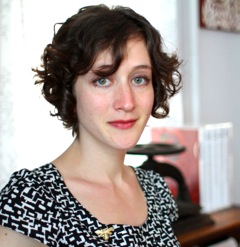 Director, MFA in Creative Writing & Poetics

B.A. English, University of California Los Angeles
M.A. English Literature, University of Southern California
Ph.D. Literature and Creative Writing, University of Southern California

Office: UW1-331
Phone: 425-352-5292
Email: aborsuk@uw.edu
Website: www.amaranthborsuk.com
Mailing Box: 358530, 18115 Campus Way NE, Bothell, WA 98011-8246
Teaching
In all of my classes, we focus on the materials through which meaning is made, encompassing form, content, and medium in order to gain a larger sense of a given work. From close reading poems to considering the cultural implications of writing technologies, I encourage students to consider why writing takes the form it does and how it is, in turn, influenced by the form it takes. My aim in the classroom is to encourage a sense of community in order to facilitate risk-taking and experimentation, and I ask my students to approach our subjects with an open mind and generous spirit, treating one another's work with the same respect we give to published pieces.
Recent Courses Taught
BISIA 319 Introduction to Interdisciplinary Arts
BISIA 483 Chapbooks and Artists' Books
BISIA 401 Literary and Arts Journal: Clamor
BIS 208 Experimenting through the Arts
BISIA 207 Introduction to Creative Writing
BISIA 310 Creative Writing: Poetry
BCWRIT 501 Between Fact & Imagination
Research/Scholarship
My work as a scholar and poet is united by a focus on textual materiality—from the surface of the page to the surface of language. My poetry is highly attuned to the texture of words, their resonances and slippages, often drawing on etymology and language play. I rely on collaboration to supplement my individual writing practice and keep me connected to a larger writing world. My collaborative projects include a collaborative translation, with Gabriela Jauregui, of Oulipo poet Paul Braffort, a performance/interactive book hybrid, created with Kate Durbin and Ian Hatcher, a book-length erased diary compposed with Andy Fitch, and several digital interactive works created with Nick Montfort, Jesper Juul, and Brad Bouse. I am especially interested in expanded notions of poetics, and have collaborated with artists Carrie Bodle and Julie Wills on sound-based poetry installation works that invite readers to let language wash over them.
As a poet and scholar whose work spans print and digital media, I have long been interested in the ways the technology of the book influences both reading and writing. My most recent publication, The Book, published in the MIT Press Essential Knowledge series, is concise volume on the book's changing technologies that bridges book history, artists' books, and electronic literature. At a moment when the dual subjects of the death of the book and the future of books (two halves of the same debate) have taken hold of popular interest, this volume seeks to divert those misplaced anxieties by illustrating the myriad ways the book's form and content have historically transformed one another and will likely continue to do so in the years to come. Encompassing a brief introduction to the book's history along with speculations about its future, I examine the transformation of text's material supports, particularly via the experimentation of book artists in the twentieth century, as innovative engagements with the book that suggest a way forward for the printed word, broadening the popular definition of what books are and how they function not only on our bookshelves, but in the contemporary imagination. This research was greatly facilitated by a Worthington Innovation Fellowship during the 2016-2017 academic year. As a companion to the book, I launched a public project in June of 2018 to crowdsource definitions of the book from scholars, poets, book artists, librarians, and publishers in the interest of expanding and deepening our understanding of what books can be and do. Those definitions appear at t-h-e-b-o-o-k.com.
Selected Publications
Scholarship
Borsuk, Amaranth. The Book (MIT Press, 2018).
Poetry Books
Borsuk, Amaranth. Pomegranate Eater (Kore Press, 2016).
Borsuk, Amaranth, Kate Durbin and Zach Kleyn. Abra (1913 Press, 2016).
Borsuk, Amaranth and Andy Fitch. As We Know (Subito Press, 2014).
Borsuk, Amaranth. Handiwork: Poems (Slope Editions, 2012).
Borsuk, Amaranth and Brad Bouse. Between Page and Screen. (Siglio Press, 2012; SpringGun Press, 2016).
Artists' Books
Chapbooks
Essays and Poetics
Borsuk, Amaranth and Terri Witek. "To the Rider: A Double-Tongued Response." Periodicities (November 2021).
Borsuk, Amaranth. "Book." Keywords for American and Cultural Studies. Bruce Burgett and Glenn Hendler, Eds. (New York: New York University Press, November, 2020).
Borsuk, Amaranth. "Embodying Text." The Future of Text. Frode Hegland, Ed. (November 2020).
Borsuk, Amaranth. "What is a Book? 101 Responses."] American Book Review 41.5 (July/Aug 2020).
Borsuk, Amaranth and Abraham Avnisan. "Haptic Onto-Epistemologies in Tender Claws' Pry." Attention À La Marche! / Mind the Gap!: Thinking Electronic Literature in a Digital Culture. (November 2020).
Borsuk, Amaranth. "The Abra Codex." Enculturation: A Journal of Rhetoric, Writing, and Culture. Special issue: Critical Making and Executable Kits. Roger Whitson and Helen Burgess, Eds. (November, 2019). Web.
Borsuk, Amaranth. "Between Page and Screen." #WomenTechLit. Ed. María Mencia (West Virginia: West Virginia University Press, 2017), pp. 165–176.
Borsuk, Amaranth, Kate Durbin, and Ian Hatcher. "Abra: Expanding Artists' Books into the Digital Realm." Gramma: Journal of Theory and Criticism 22, "Digital Literary Production and the Humanities," Tatiani Rapatzikou and Philip Leonard, Eds. Winter, 2016.
Borsuk, Amaranth. "Abra: The Kinetic Page". Bellingham Review 73 (Fall, 2016).
Borsuk, Amaranth. "Introduction." A Thing of Shreds & Patches by J'Lyn Chapman (Essay Press, 2016).
Borsuk, Amaranth, Nick Montfort, and Jesper Juul. "Opening a Worl in the World Wide Web: The Aesthetics and -Poetics of Deletionism." Media-N 11.1, Special Issue: The Aesthetics of Erasure." Paul Benzon and Sarah Sweeney, Eds. (Spring 2015).
Borsuk, Amaranth. "Towards an Auto-Destructive Poetics." The Force of What's Possible: Writers on Accessibility & The Avant-Garde. Lily Hoang and Joshua Marie Wilkinson, Eds. (Nightboat Books, 2015).