Spring 2023 Business writing class interviews justices and prosecutors
Students enrolled in Laura Umetsu's community-engaged learning BBUS 307 C: Business Writing Spring 2023 course conducted research, data collection, and interviews with stakeholders. They wrote organizational web-based press releases in collaboration with the National Alliance on Mental Illness (NAMI) Seattle.
CELR courses are hands-on, reflective, skill-building opportunities for students to engage with campus and community projects. Through a mutually beneficial exchange with community partners, students apply theory to practice, develop professional experience, and contribute to the public good. The Office of Connected Learning contributed Course Support funds toward this course.
---
Read the Student Articles
Having an educated discussion with my family or friends is essential
Leesa Manion, a Korean-American immigrant, has made history by becoming the first woman and person of color to be elected King County Prosecuting Attorney. Her identity is a mixture of identities that are underrepresented in society, and she is an inspiration to those who share her identity. Manion and DeSanto both pursued law school with a shared vision of empowering others to find their voice and serving vulnerable populations struggling with behavioral health challenges.
By Nikki Bryant, Sophia Dang, Samba Gueye, Tora Ogata, Rolando Smith, and Boi Hoa Tran
Read part 1 of the Leesa Manion and Pete DeSanto Interview
Empathy and Justice (part 2)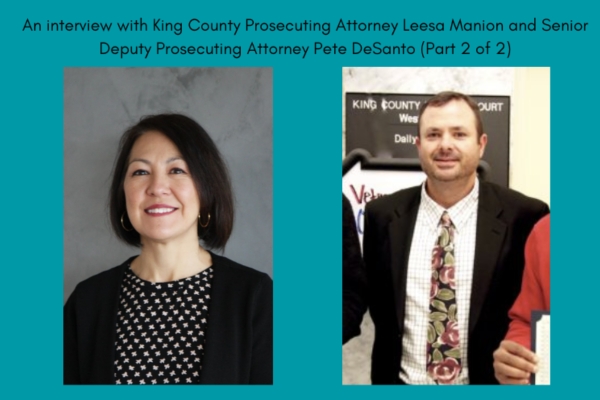 King County Prosecutor Leesa Manion and Senior Deputy Prosecutor Pete DeSantos' Vision for Handling Cases Involving Severe Mental Illnesses.
By Christine Truong, Thao Pham, Thejas Jebanathan, Abigail Habtom, Bahador Fathi, and Joel Yim
Read part 2 of the Leesa Manion and Pete DeSanto Interview
I was raised to remember that I come from those who survived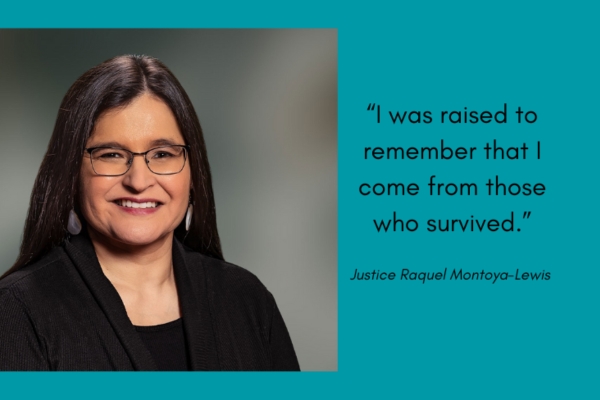 A discussion with Justice Raquel Montoya-Lewis, the first Native American to serve on the Washington State Supreme Court, called in from her home in Olympia, a judge's bench and courtroom set as her background, to talk with us about the impact of Native boarding schools on her community.
Read the Raquel Montoya-Lewis interview
Demand the services that you need, and push back. You belong here.
An interview with Mary Yu, Washington State's first Asian American, Latina, and openly gay woman to serve on the state Supreme Court, on the intersection of the criminal justice system and mental health issues.
By Vi Le, Lucy Lee, Robert Petrisor, Anisha Singh, Alissa Starling, and Dylan Withers
Read the Mary Yu interview