01/31/2020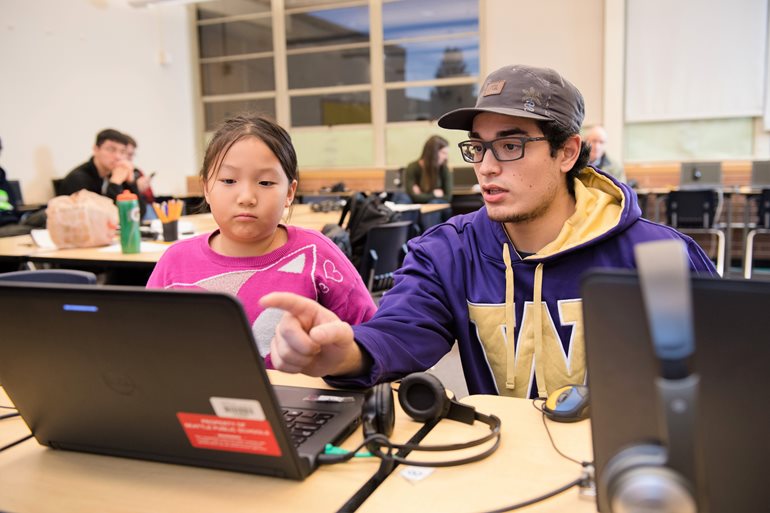 The Carnegie Foundation has recognized the University of Washington Bothell for its community engagement — collaborations with outside partners that lead to the mutually beneficial exchange of knowledge and resources.
UW Bothell — along with UW Tacoma and UW's Seattle campus — was among 119 universities and colleges to receive the Carnegie Community Engagement Classification Friday from the Swearer Center for Public Engagement at Brown University, which administers the designation.
The classification is national recognition of institutions doing exceptional work that enriches teaching and research while also benefitting the broader community, said Mathew Johnson, executive director of the center. The 119 institutions join 240 that earned the classification during the previous selection round, bringing the total to 359 campuses. That's fewer than 10% of approximately 4,000 higher education institutions in the United States. Only 40% of the first-time applicants received the classification for 2020.
In its decision letter, the foundation said UW Bothell responded to the classification framework with descriptive, coherent and compelling evidence of exemplary practices of institutionalized community engagement. The foundation cited UW Bothell's "excellent alignment among campus mission, culture, leadership, resources and practices that support dynamic and noteworthy community engagement."
Self reflection, national recognition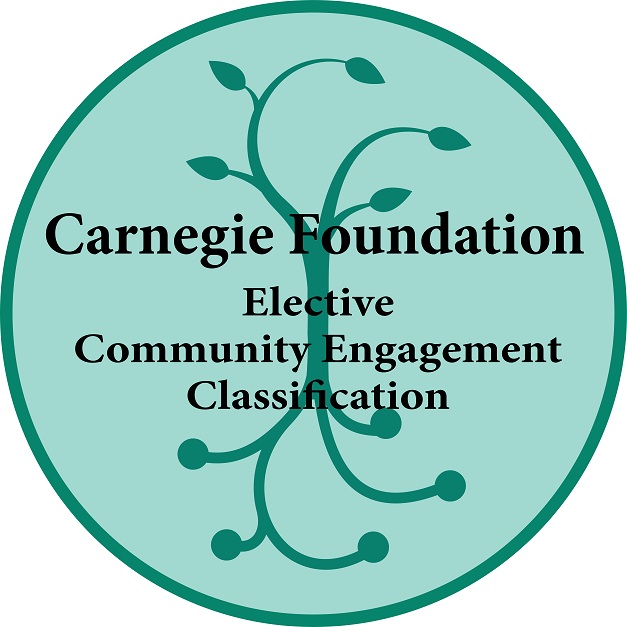 The classification is a voluntary, evidence-based documentation. The application process required a lengthy and thorough self-assessment.
The application process, which began in 2017, was an opportunity for UW Bothell to reflect on how to sustainably incorporate community engagement in institutional best practices, said Chancellor Wolf Yeigh.
"I want to recognize all our faculty, staff, students and community partners for their collaborative and inspiring work," said Yeigh. "I also want to thank everyone who was part of this Carnegie application team and its numerous working groups."
Kara Adams, director of community engagement, guided the process. The Community Engagement Council was the core advisory board, chaired initially by Bruce Burgett, dean of the School of Interdisciplinary Arts & Sciences, and then by the current chair, Deanna Kennedy, associate professor in the School of Business. The core team included administrators Claire Peinado, Joy Emory and Jonathan Cluts.
"The process of preparing our application took many hours over multiple years. We would not have been honored by Carnegie without their tireless work," Yeigh said.
The process is the point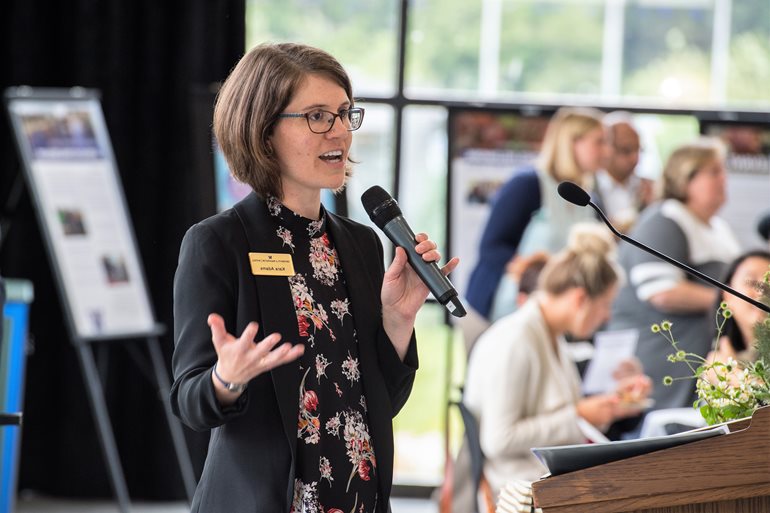 Faculty and staff led work groups that collected information from about 60 people, including students and community partners, to draft the application, which exceeded 100 pages. The faculty leads included Shauna Carlisle, Andrea Stone, David Goldstein, Jeff Jensen, Charity Lovitt, Keith Nitta, Ed Buendia, Jason Naranjo and Surya Pathak. The staff leads included Cluts and Emory.
"The process helped us focus, organize and build institutional infrastructure to support community engagement," Adams said.
Presentations and listen-and-learn sessions revealed that all five schools at UW Bothell engage in an impressive amount of community engagement, Kennedy said.
"We're helping our students make an impact on their own community," she said. "Now we can keep that momentum going.
"To have this designation shows we are committed and have experience in community engagement, and I think we'll see more classes have a component," said Kennedy, who added that the goal is to give all UW Bothell students a community engagement experience somewhere in their academic career.
Community-Based Learning & Research
The Carnegie classification is recognition of relationships the university has with more than 400 businesses, nonprofits, schools and other partners. A significant number of the connections were arranged through the Office of Community-Based Learning & Research. In the 2018-19 school year, 38% of UW Bothell students enrolled in a CBLR course.
But that's not the only way to engage, said Adams. Internships, capstone projects, student exchanges with other universities, even student clubs that perform community service — any interchange with external partners that is reciprocal and mutually beneficially is community engagement, Adams said.
Connecting academics with the community gives students a deeper learning experience — a relationship, not an assignment. They are challenged to see themselves in new roles, to imagine themselves as professionals. The experience also gives students networking contacts and an activity they can cite on applications for scholarships, graduate school and jobs.
Student experiences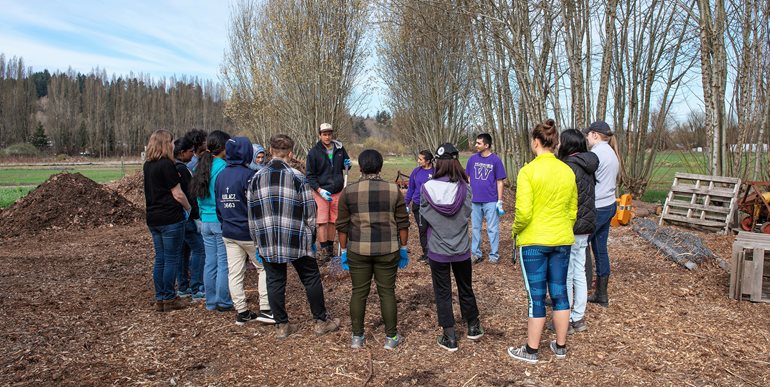 Rachel Raymond: A double major graduating this spring in Interdisciplinary Arts and in Interactive Media Design, Raymond helped produce a video on homelessness for the Downtown Emergency Service Center in Seattle and worked on a project with the Imagine Children's Museum in Everett, Washington. Both projects became part of her portfolio.
"These types of assignments allow students to have career-connected learning experiences that employers look for in new graduates, while allowing them to be in spaces that help them practice professional behaviors, such as working with clients, meeting deadlines and communication," Raymond said.
Her experiences not only took learning outside the classroom but also had an impact. "This designation makes me not only proud as a student, but as a member of the PNW community," Raymond said.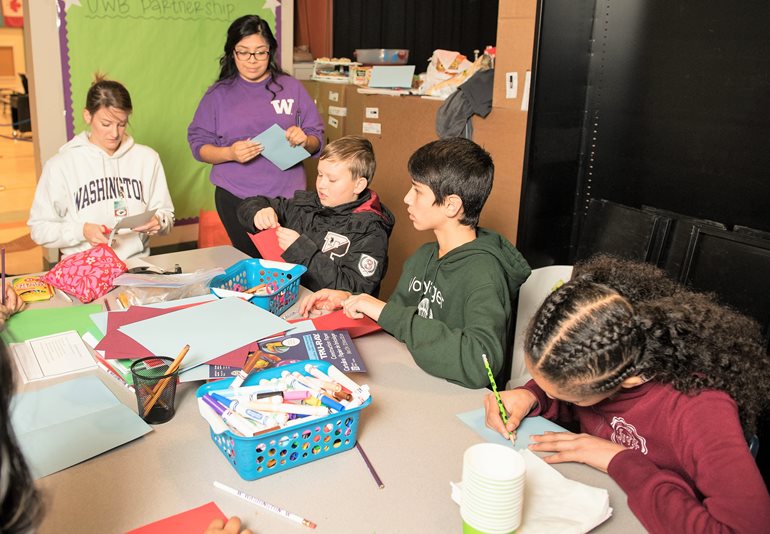 Matthew Emery: With plans to graduate in spring 2021, Emery is pursuing degrees in Law, Economics & Public Policy; in Media & Communications Studies; and in Mathematical Thinking & Visualization. He's had community-based learning classes that offered urban planning advice to the cities of Redmond and Kenmore. He also helped Friends of North Creek Forest post pictures and native species facts.
"These CBLR courses have allowed me the opportunity to take what I've learned and apply it in a real-life setting," he said. "It's great to learn stuff in class, but getting the opportunity to apply what I've learned has built my confidence and knowledge in various fields.
"I found myself learning so much more about how communities operate and what I can do to be a better citizen and community member," Emery said.
Partner perspectives
21 Acres: A center for sustainable agriculture education in Woodinville, 21 Acres has an extensive history of working with a number of UW Bothell students.
"We've learned so much over the years about what makes a great partnership," said Krystal Wasson, the volunteer lead. "It's exciting that Carnegie has recognized the team at UW Bothell, and we're honored to be included as a valuable contributor."
Seattle Children's Alyssa Burnett Adult Life Center: This organization, located in Bothell, provides day programs and classes for young adults with autism spectrum disorder. Students from the center and the university have been learning from each other for six years, said founder Tammy Mitchel.
"The beautiful part of students' time here is that their engagement in classes, socializing with students and taking part in activities together allows us to strip down stigma, barriers and fears about each other's difference, and serves as a reminder for both sets of 'students' that we are actually all more alike than we are different," Mitchel said.
The center is proud to be deeply rooted in partnership with UW Bothell, Mitchel said. "This classification is a further reminder of our collective passion and determination to stand out in the community and shine with our students."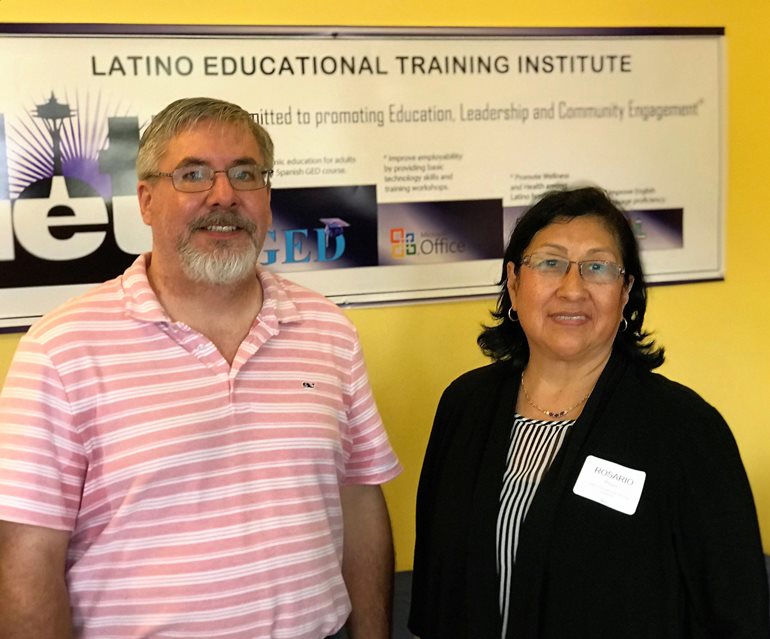 Latino Educational Training Institute: LETI is a Lynnwood nonprofit that serves the Latino community in south Snohomish County. It has long partnered with students in nursing and social sciences. Founder Rosario Reyes said the UW Bothell relationship is invaluable for bringing new perspectives and professional-level support. LETI reciprocates by showing young professionals how a small community organization survives.
The UW Bothell partnership adds to LETI's credibility, said Tom Laing, associate director.
"It raises the community's perception of LETI in general, which is helpful for fundraising, helpful for partnerships. It helps people take us seriously," Laing said.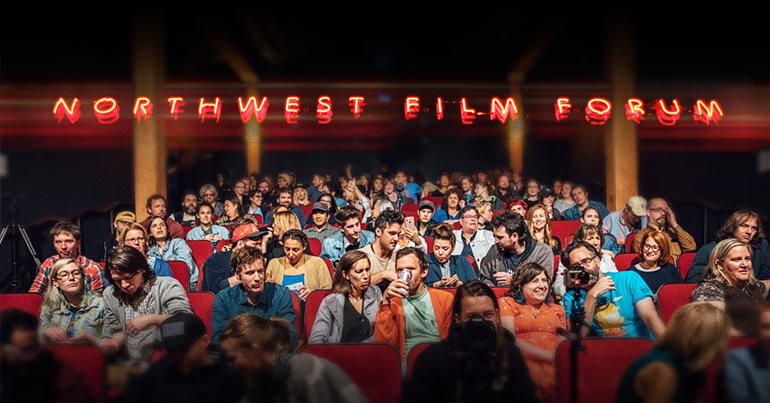 Northwest Film Forum: As a CBLR partner, the Northwest Film Forum in Seattle had a role in an Introduction to Film Studies course.
Rana San, the artistic director for the organization, learned that the forum was the first time many UW Bothell students had engaged with an arts institution.
"What an honor for us to serve as an entry point into the arts," San said. "Our decisions around programming and educational offerings are deeply based in community, and it's delightful to witness our community growth and expansion in collaboration with UW Bothell."
Faculty focus
David Goldstein: The instructor for Introduction to Film Studies, Goldstein, a principal lecturer in the School of Interdisciplinary Arts & Sciences, said UW Bothell takes its public service mission seriously.
"We cannot serve our region and our state without our community partners," Goldstein said. "Although, like all relationships, community engagement is an ongoing process that needs continuous nurturing, the Carnegie classification affirms our work with these reciprocal partnerships."
Charity Lovitt: A lecturer in the School of STEM, Lovitt values the bridges community engagement work builds between the campus and the region.
"Carnegie classification provides recognition of the work that the university and community partners have done to help students connect classroom learning with community needs," she said. "It recognizes the relationships and provides impetus to continue to develop these relationships in the long term."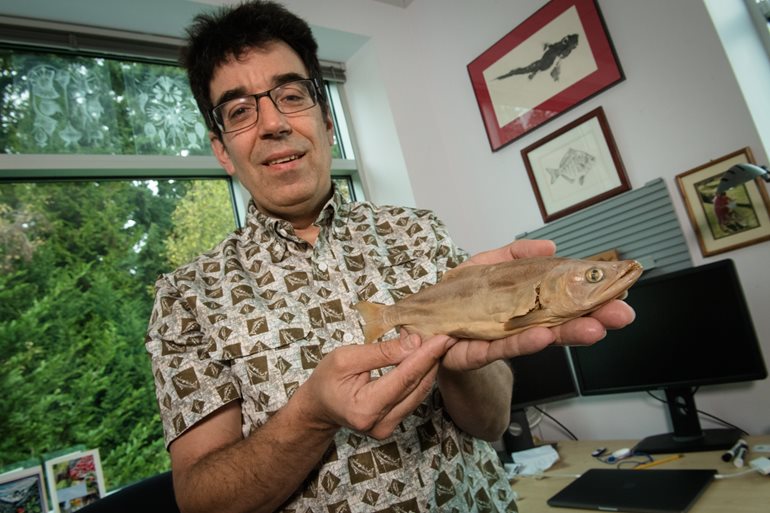 Jeff Jensen: Jensen is a senior lecturer in Biology in the School of STEM who includes students in an ongoing project to see fish such as kokanee salmon return to Lake Washington streams. With support from the Lake Forest Park Stewardship Foundation, which was awarded a grant from King County to support kokanee restoration, they are carefully taking the necessary steps to place a fish egg incubator in a stream in Lake Forest Park.
Salmon restoration in general — and kokanee restoration in particular — is a great way to rally the community around restoring habitats, Jensen said. It offers a tangible goal for a sign of success, he said. "Go down to your stream and see sockeye or kokanee in there."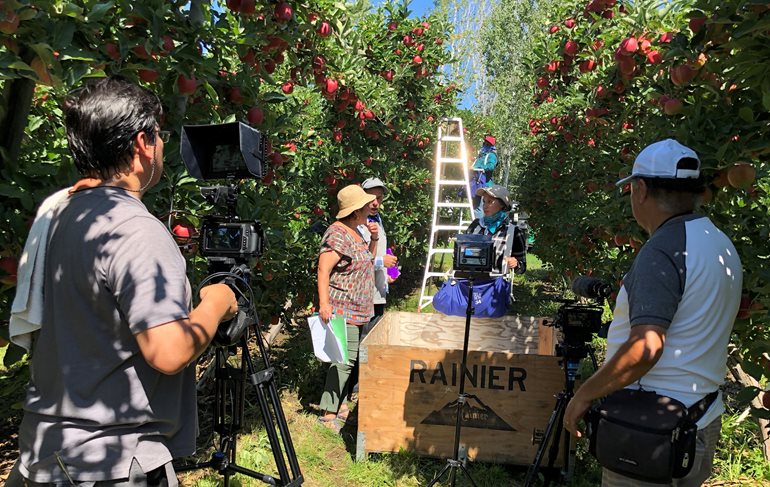 Jody Early and Victoria Breckwich Vásquez: These faculty partners in the School of Nursing & Health Studies — the first an associate professor and the second an affiliate assistant professor — helped develop a training program to prevent sexual harassment in agriculture.
They worked with public health students, the UW's Pacific Northwest Agricultural Safety and Health Center, and more than 70 farmworkers. Together they produced a training video that was recorded in a Yakima Valley orchard. There is a large demand for the training, said Mike Gempler, executive director of the Washington Growers League.
Core mission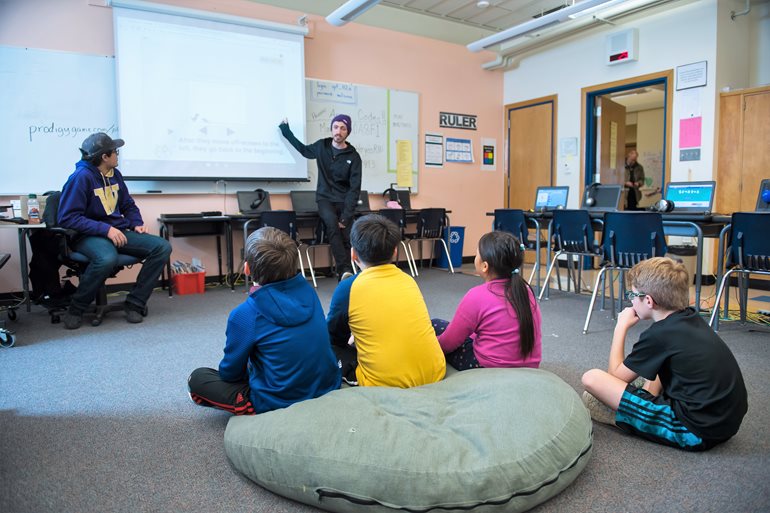 As a regionally accountable public university, UW Bothell has long been committed to building partnerships to enhance the well-being of the north Puget Sound region and state. Such partnerships enrich learning, and students who participate learn to become more engaged citizens.
Community engagement has been one of UW Bothell's core practices known as the "three Cs" (along with cross-disciplinarity and connected learning). Applying for the Carnegie classification has deepened that commitment.
"Just pursuing this classification moved our institution forward tremendously," Adams said. "We are still becoming and growing into our ability to do community engagement well."
The Carnegie process has outlined continued engagement work for the next five to 10 years, Adams said
"There's more we can do to support our region and be a good partner."