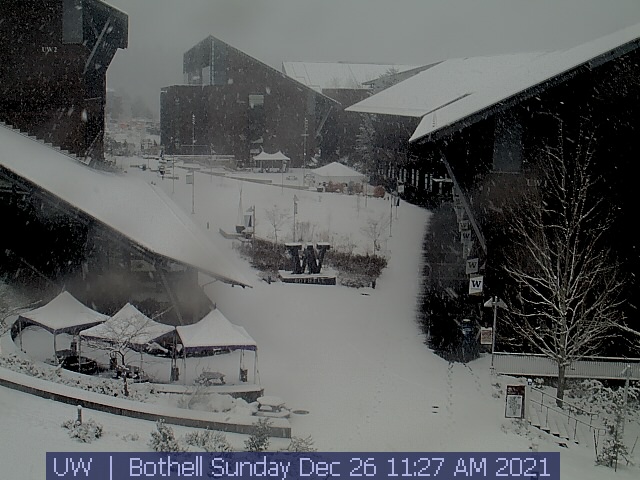 With snow and cold in the forecast, this is a reminder of the tools you can use to find out if the campus will suspend operations (no classes), close early or open late or close due to a weather emergency. Campus leadership monitors conditions. In the morning, a decision to close or open late would be made by 5 a.m. A decision for evening classes would be made by 6 p.m. Visit the emergency page for the full notification schedule.
When there is a threat of severe weather, UW Bothell leadership monitors conditions and makes preparations to keep the campus safe. Emergencies and closure information are communicated in several ways:
UW Alert (text and email messages) Sign up for UW Alert
UW Bothell website: www.uwb.edu
www.twitter.com (@uwbothell)
UW Bothell information line: 425-352-3333
www.flashalert.org (also feeds to local TV and radio)
UW Bothell campus security can use overhead speakers in UW1, UW2, UW2, LBA, LB1, North Creek, Husky Village (community center), physical plant building, the Conservatory and throughout Cascadia College.

Note: There are not overhead speakers in Husky Hall or Truly/Boone house.
There are 41 call stations on the UW Bothell/Cascadia campus. These stations have intercoms that will immediately summon Bothell Police.
During an emergency, our emergency site (www.uwb.edu/emergency) is updated regularly with information about the status of the event. You are encouraged to check it regularly for the latest information.