Emergency communications at UW Bothell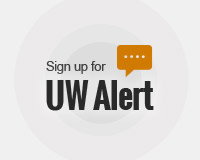 How will you know if there is an emergency or disruption on campus? From text and email alerts to our internal public address system, UW Bothell has a number of ways to notify the campus community about incidents when they occur. Please take a moment now to sign up for these text and email alerts via UW Alert.
In the event of an emergency, a leadership team convenes quickly to determine the type of message that should be sent. The team includes representatives from UW Bothell Campus Safety, Administration & Planning, Emergency Management, Marketing & Communications, Facilities, and Cascadia College.
Emergencies and closure information on or near campus can be communicated in a number of ways, including:
UW Alert (text and email messages)
Alertus desktop notification system
UW Bothell website: www.uwb.edu
UW Bothell's emergency blog: www.uwb.edu/emergency

The blog is updated frequently when an incident on campus occurs.

UW Bothell Facebook page: www.facebook.com/uwbothell
UW Bothell Twitter (@uwbothell)
UW Bothell Advisory email list
UW Bothell information line: 425-352-3333
FlashAlert (feeds to local TV and radio)
UW Bothell campus security can use overhead speakers in UW1, UW2, UW2, LBA, LB1, North Creek, Husky Village (community center), physical plant building, the Conservatory and throughout Cascadia College.

Note: There are not overhead speakers in Beardslee Crossing, Husky Hall, UWBB or Truly/Chase houses.
In the event of a significant emergency or disaster The American Red Cross' Safe and Well website, www.safeandwell.org, may be used to make family and friends aware of your status.
Please verify your UW Alert subscription here. You may sign up for alerts from all three campuses.