Strokes, which occur when a blood vessel in the brain is either blocked or ruptured, are the leading cause of serious illness and long-term disability in the United States.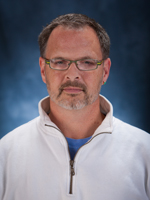 After suffering a stroke, people can have difficulty with their vision as well as their ability to walk, speak and coordinate movements. Physical therapists provide treatments for stroke patients to improve or restore these functions, although it can often take months, even years.
Dr. Pierre Mourad, professor in the University of Washington Bothell's School of STEM, is working with colleagues to reimagine what is possible for stroke rehabilitation. Mourad, who is also a professor in the UW's Department of Neurological Surgery in Seattle, spends a significant amount of his time conducting research at hospitals and has become aware of the many challenges doctors face with patient rehab — and he is determined to generate solutions.
"The traditional approach to stroke rehabilitation involves a lot of exercises that are pretty boring, and people don't like to do them," Mourad said. "Their participation, however, is critical to their recovery so I started thinking about how to get people motivated."
Part of the answer was involving undergraduate students at UW Bothell in his research.
Scholars gain skills
In collaboration with a team of students and faculty, Mourad is gamifying the therapy session and, essentially, making it fun. "People will sit in front of a computer console for hours playing something relatively meaningless because it engages them," he said. "The goal is to mimic that engagement but for something extremely beneficial."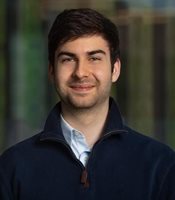 While this approach may one day help hundreds of stroke patients, it has already benefitted Daniel Dirdala, a sophomore in the School of STEM who is one of the 2022-23 Digital Scholars. The program in the Office of Connected Learning provides first-generation students with skills in digital marketing, data analytics and data visualization.
Based on his interests, Dirdala was paired with Mourad's team working on virtual reality rehabilitation, where he gained invaluable skills and extensive research experience.
At the center of the project he worked on is Gizmo, a robot that can turn physical rehabilitation into an engaging game that keeps patients entertained. Gizmo began as a capstone project by some of Mourad's students, and Dirdala had the opportunity to develop code to expand its capabilities.
Rehabilitation reimagined
"Stroke victims often experience reduced motor control of their upper extremities, and traditional rehabilitation requires tedious reach exercises to regain control," Dirdala said. "Patients often don't care for the monotony, which can become an issue. If they don't keep up with rehabilitation, they risk permanent impairment."
To use Gizmo, a physician draws a path on a piece of paper that represents the movement the patient must complete during a rehab session. The path is programmed into the robot, and the therapy designed as a game begins. Following the robot, the patient moves their arms and controls their muscle movement at certain intervals that the physician has set. After each interval, the patient's hand hovers over an ultrasound sensor, and the robot records the data, which the physician can use to interpret the outcome of the session.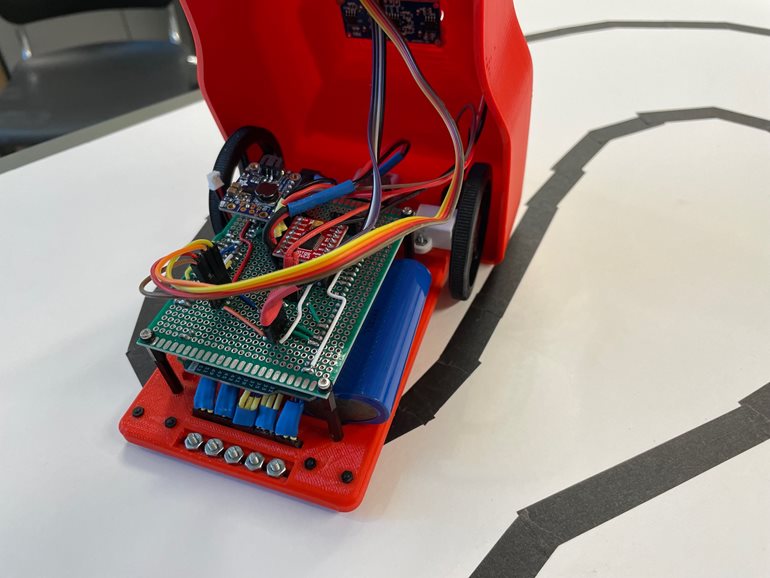 Dirdala spent summer 2022 helping the team with the Gizmo's coding. "I had some knowledge of coding going into it but only in Java. This was C++, a different coding language," he said. "It was challenging but in a good way. It helped develop my skillset. Getting it right was just so awesome.
"I learned so much in a relatively short amount of time," Dirdala said. "It's been so rewarding — and not just because of what I learned but because I got to contribute to a greater good."
Revise, review, refine
Dirdala's code allows physicians to give patients a final score at the end of their games. Over time, the patients can see progress, which can serve as motivation to complete their rehab therapy.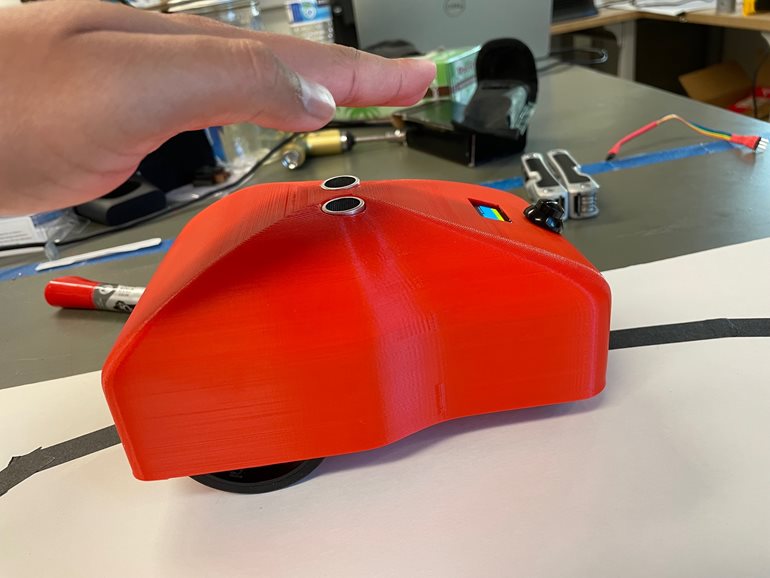 Dirdala and his team are happy to report that, with this level of functionality in place, the Gizmo has completed several presentations. "We gave a demonstration of the Gizmo to some physicians at Harborview Medical Center, and they loved it," he said. "They plan on using it in the future, once we have everything finalized."
Gizmo 2.0 is also currently in the works. It aims to take the interaction already established and build upon it further to accommodate for visual field neglect, which is a point in the session where the patients may lose track of where the robot is in their field of vision.
"It is a highly complex symptom that takes place neurologically and does not have much to do with actual visual impairment," Dirdala said. "To combat this, it is necessary to track both brain waves and eye movement.
"The Gizmo will inch forward on the path, and when the patient loses track of it, it will come back and then go forward again — pushing that field of vision."
Invested in the outcome
The team is still in the early stages of Gizmo 2.0 and doesn't expect it will be finished until sometime in 2023. Gizmo 1.0, however, could be deployed in hospitals this fall.
"This project will hopefully help tons of patients," Mourad said. "I am so happy that Daniel came on board and helped us with the Gizmo. He understands the impact of his research, and that motivated him to work extremely hard."
Dirdala said he plans on continuing to work on the Gizmo, even after the Digital Scholars program concludes. "I have learned a lot since I started this project," he said. "I am really invested in the outcome and am eager to see the final version of the Gizmo.
"This program has given me so much, and I am glad that the time I have given will end up as a gift to stroke patients, too."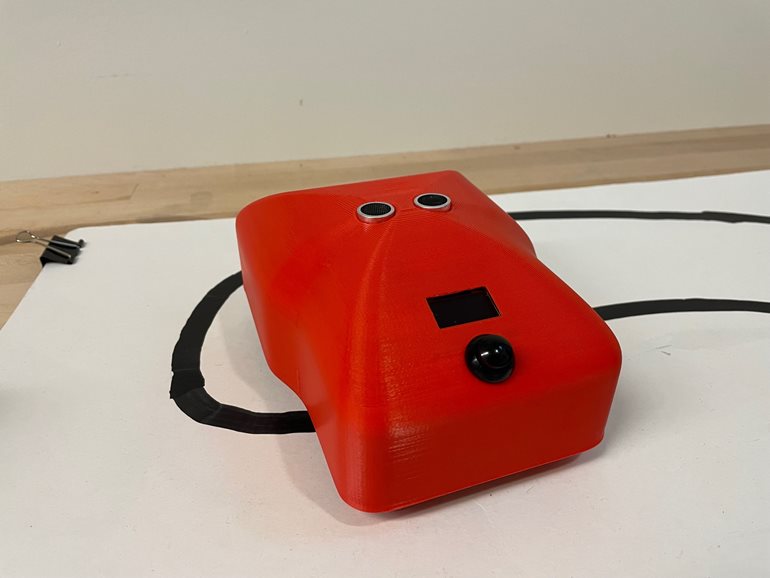 The Digital Scholars Program, part of the Office of Connected Learning's Husky Catalyst Initiative, is made possible by a gift from the Washington State Employees Credit Union.