Over the summer, 11 college students from Heritage University in Toppenish, Washington, participated in an Research Experience for Undergraduates at the University of Washington Bothell. The students engaged in STEM research at the UW Bothell campus, the Pacific Northwest National Laboratory or at the Laser Interferometer Gravitational-Wave Observatory at Hanford in Richland, Washington.
Their projects ranged from automating a diagnostic ultrasound imaging exam to finding an efficient way to detect solution reproducibility in earth system models to measuring the charge on LIGO test masses.
"The goal of this partnership is to diversify the field and to address barriers facing HU students that prevent them from pursuing graduate STEM education," said Dr. Joey Key, assistant professor in UW Bothell's School of STEM. "This will be done through undergraduate research experience, mentorship and hopefully in the future, direct admission into UW Bothell's School of STEM undergraduate and master's degree programs."
The REU was made possible by a grant from the Alfred P. Sloan Foundation awarded to Key and Dr. Linda Simonsen, professor in the School of STEM. The funds allow for paid summer research and training opportunities for students at Heritage University, which in 2021 became one of only two universities in the country to be designated as a Hispanic Serving Institution and a Native American-serving Non-Tribal Institution.
Breaking barriers
The STEM program at Heritage University is relatively small with only three majors offered: biology, computer science and math. "Because of this," Key explained, "the students don't have as many research opportunities. But we are hoping to fix that through this program."
Another significant barrier for HU students is cost. Many of the undergraduates cannot afford to sacrifice their jobs to take out time to conduct research — no matter how beneficial it would be to their education. Recognizing this, the STEM REU program provides students with financial support, paying them for their research efforts and supporting their housing.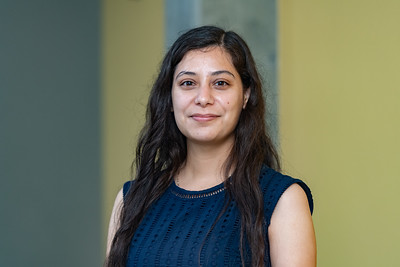 This allowed Lizbeth Cervantes, senior majoring in Biology, to participate in the program. Cervantes crossed the border from Mexico to the United State when she was pregnant with her son, who is now 5 years old. She has raised him as a single mother while working and pursuing her education. "I have never had an opportunity to conduct research like this," she said.
"And it means a lot because I plan to get my doctorate in immunology and study cancer. I lost my grandma and many other loved ones to the disease."
Cervantes has been staying in an apartment near UW Bothell during the week while her mother looks after her son back home in Yakima, Washington. "It has been really hard being away from him for five days at a time. I don't think I would have been able to participate in the program and have this opportunity to do hands-on, meaningful research if I couldn't see my son on weekends," she said. 'Thankfully, I miss him more than he misses me."
Her ability to visit her son is not just luck, as the program was designed with undergraduates like Cervantes in mind. "Lots of students can't just get on a plane and travel halfway across the country for a summer. They have people or commitments tying them here," Key said. "Having these amazing opportunities at renowned facilities makes it much more accessible."
Dentistry and diagnostics
Among the first HU students to experience the program is Maria Barrios, a senior majoring in Biology with a minor in Psychology. She testified to the impact the research opportunity has made on her — and on her future.
"It has shown me that I am far more capable than I ever imagined," she said. "I am proud of all I accomplished, and it's given me confidence to take on challenges in the future, like graduate school.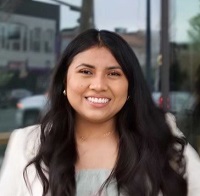 Barrios applied to the program because she had never had a research-based internship, despite being a person who loves investigating and thinking outside the box.
"I thought this would be a really great place to start, especially because I knew the first two weeks of the program were going to be spent training us on how to be researchers," she said. "That gave me the reassurance I needed to sign up and participate."
Although Barrios plans to pursue a career in dentistry, she ended up working on Automating a Diagnostic Ultrasounds Vein Imaging Exam, an engineering project. "It was very intimidating at first," she said. "Going into it, I didn't know anything — and I mean nothing — about engineering."
The sweet spot
But with the mentorship of UW Bothell STEM faculty Dr. Jong Yoon, associate professor, and Dr. Pierre Mourad, professor, Barrios and her class partner Eric Mendoza set out to create a collaborative robot that can take safe and accurate ultrasounds of a person's arm and identify their veins.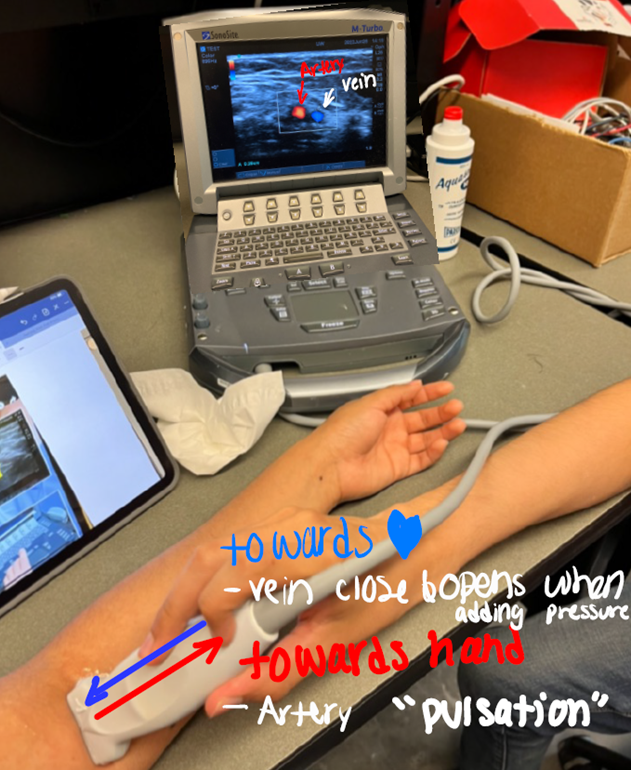 First, she had to learn about what a collaborative robot is. "I had never heard of one before, but I quickly found that it's a robotic arm designed to work safely alongside humans."
The next step was figuring out how to properly work an ultrasound machine. She said that to get the most optimal view of the veins, the settings had to be just right. Neither she nor Mendoza knew what those settings were, resulting in a lot of trial and error.
"It was the same with the amount of pressure the robot applied to the arm. Too much or too little distorted the image so again, it had to be just so."
For Barrios, the process of finding that "sweet spot" was the most challenging and most rewarding part of the experience. "I would get really frustrated at times and feel like I would never find it," she said. "I watched so many instructional videos trying to figure it out, but when I finally did it was the best feeling in the world."
She said the skills — and patience — she gained will make her a better, more well-rounded professional. "I learned that I am capable of doing a lot more than I originally thought I could, like creating a robot," she said. "Three months ago, I wouldn't have thought that was possible, but knowing it is gives me a lot of confidence in myself and my abilities."
Programming predictions
"An earth system model is an open-source software for building climate, weather prediction, data assimilation and other earth science software applications," Maybee explained. "The model simulates all relevant aspects of the earth system including the atmosphere, land, ocean, ice and sea ice."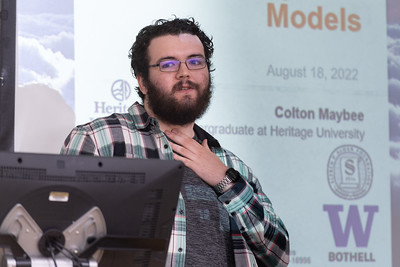 Known as E3SM, the model is being reconfigured to enhance its predictive skill. This can be extremely time consuming, as after each enhancement the model is sent to a climate specialist who has to manually evaluate all of the output to determine whether the enhancement is good enough.
Maybee is exploring more efficient ways of determining an enhancement's effects. "We are working on putting an automated system in place that will alert the programmers if something is wrong," he said. "This will significantly reduce the number of hours spent and computation time wasted."
Balwinder Singh, an earth system modeling computational scientist at PNNL and Maybee's mentor, was so impressed that he wants to continue working with Maybee after the REU program ends. "He told me he would love to have me on some long-term projects while I am getting my bachelor's degree and after I graduate," Maybee said. "Part of why I joined this program was to make those connections, and this is evidence that my hard work is paying off."
Detection device
Mayra Diaz Acevedo, an HU junior majoring in mathematics, worked at LIGO to improve the ability to detect gravitational waves, which allow scientists to observe systems that are invisible by any other means.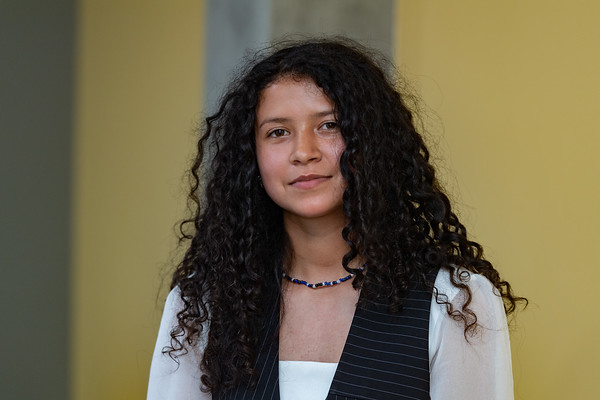 In recent years, the team at LIGO has observed a buildup of electrical charge on the detection device, which can affect its ability to detect the waves. "My responsibility was to take measurements to help determine where the buildup was originating from before it caused any issues with detection," Diaz Acevedo said.
To find these answers, she developed an analysis code. "This code will help us monitor the force exerted on the test mass," she said. "I found that the force is created by the electrostatic driver, an instrument used to move the test mass using an electric field. But it can also cause the charge to build up. This new code will help monitor that buildup and prevent it from getting too high.
"Working at LIGO has been incredible. They have been so welcoming and treated me like family," Diaz Acevedo said. "The internship taught me that I would love to work in a collaborative setting where everyone is contributing to a common goal."
REU revelations
Other REU summer projects undertaken by HU students included electromagnetic sensing of body signals, neural coding of sound in cochlear implants, optical probing for biomedical applications and an analysis of the microorganisms in marine organisms.
"I never realized this depth of research was going to be available to me as an undergraduate," Barrios said. "I'm grateful to have had this opportunity to imagine my future."
For Key, seeing the work these students have done and the impact it has made on them as individuals reinforces the importance of expanding undergraduate research opportunities.
"I have been impressed with their adaptability, cohesiveness and great final research products that will serve them well as they move forward in their careers," Key said. "This first cohort of Heritage STEM students has set the stage for future students to benefit from regional research opportunities with UW Bothell, PNNL and LIGO."