May 20th this year marked the 25th anniversary of the University of Washington's Undergraduate Research Symposium. After two years online, students had the opportunity to present their work in person, in front of their professors, family and friends. They also had the option to share their projects virtually.
Hosted by the Undergraduate Research Program, the UW symposium is one of the largest in the country. More than 700 undergraduates presented their research in 2022, including 25 students from UW Bothell. Most of these students came from the School of STEM with majors in Biology, Electrical Engineering or Physics, but the School of Nursing & Health Studies and the School of Interdisciplinary Arts & Sciences were also represented well.
Among the presenters were five UW Bothell Mary Gates scholars: Michael Cho, Natalie Gonzales, Cameron James Norris, Milana Premkumar and Katie Ward.
From victim to oppressor to advocate
Ward, a senior in the School of IAS who identifies as non-binary, presented a reflection about their experience growing up as a female-presenting person. The idea for the project started in summer 2020, when nearly 100 U.S. Confederate monuments honoring leaders who promoted the enslavement of Black Americans were removed.
"There were so many people protesting the removal of these monuments, including white women," Ward said. "I was trying to make sense as to why these women would be protesting that — and then it dawned on me. They, like these statues, are monuments to the patriarchy."
That realization sparked self-reflection, as Ward could see their old self in these women. "Growing up in middle school and high school, I wasn't like the other girls in my class. I was never hyper-feminine and had a hard time finding things in common with them. I always gravitated to the boys," Ward said. "To fit in with the boys, I ended up bashing other women with them. After a period of self-reflection, I realized that like the women now protesting, I was a monument to the patriarchy."
Coming to terms with who they once were was difficult, but Ward has come to a place of self- forgiveness. "I am grateful to have had the awakening. Coming to UW Bothell and majoring in Gender, Women & Sexuality Studies, I have learned so much about myself and others, too."
Ward was inspired by the work of feminist Audre Lorde and specifically her quote, "For the master's tools will never dismantle the master's house. They may allow us temporarily to beat him at his own game, but they will never enable us to bring about genuine change. And this fact is only threatening to those women who still define the master's house as their only source of support."
Through a project titled, Oh Silly Woman! I Was a Monument to the Patriarchy, Ward is giving women the tools to go from being a monument to emerging as trailblazing change-makers. Ward's deep reflection for the project was paired with intensive readings of feminist writers including Lorde as well as Bell Hooks and Toni Morrison, among many others.
"I highly encourage people to read books they may not initially agree with, to have conversations with people who have different views and to listen — because that's how we learn," Ward said. "That's how we grow."
The invisible identity
Nicole D. LaBelle was another senior majoring in Gender, Women & Sexuality Studies who presented at the symposium. Passionate about disability studies, she decided to conduct a case study analysis which she also presented at the 2022 Society for Disability Studies Annual Conference held online in April.
"Disability is everywhere, but it seemingly is discussed nowhere," LaBelle said. "It's called the 'invisible identity' for a reason. People commonly recognize race, gender, sexuality and even socioeconomic status as elements of identity, but disability remains less recognized in classrooms and communities."
To change this, she started by informing herself, and then informing her community, on applied behavior analysis — a form of therapy used on those with cognitive disabilities, most commonly autism spectrum disorder. "The way ABA is put into practice can be problematic," LaBelle said. "For starters, sessions can be up to eight hours at a time. Plus, it's extremely intense. But beyond that, there are perhaps more serious issues of consent."
She explained that in typical, psychology-based therapy practices, the therapists rarely tell their clients what to do, offering suggestions rather than instructions. "In ABA, however, the therapy model is completely different," LaBelle said. "The whole model is on the client conforming to the instruction of the therapist, and the consent is about gauging what someone with a cognitive disability is able to consent to or wants to do."
The model is problematic for another reason, too, she said. "It's about changing a person's behavior to fit into that of a neurotypical person rather than allowing them to still be themselves and giving them tools to navigate the world," LaBelle explained. "The goal of my project and presentation was to provide an alternate perspective as to why this is not necessarily good, nor helpful."
LaBelle spent months researching ABA and read dozens of articles on the practice, but the most valuable thing she learned didn't come from papers or case studies. It came from her community. "The most important thing I gained from this project was the knowledge that people care. By talking about disability with friends, family and faculty, I was blown away by everyone's response of wanting to help," she said. "People are starting to think about disability more, and it felt good to know there are a lot of people out there who really, genuinely care."
Ward also participated in the project and presented a case study analysis on service animals at the disability studies conference. For this research, LaBelle and Ward received the Leslie Ashbugh Feminist Praxis in Education Award, which recognizes Gender, Women & Sexuality Studies students who demonstrate inspiring and impactful feminist praxis during the course of their studies at UW Bothell. The honor is named for Ashbaugh, who was assistant vice chancellor of academic achievement at UW Bothell and on the faculty in the School of IAS before succumbing to cancer in 2016.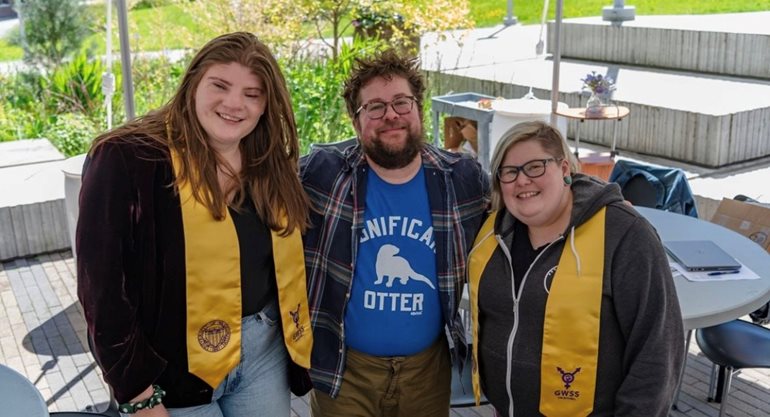 Smart asthma-inhaler
Also using their research to make a positive impact on people with disabilities are recent graduate Youssef Beltagy and alumna Sarah Panther, both from the School of STEM.
Their faculty adviser, Dr. Pietro Paparella, associate professor in the School of STEM and a lifelong asthmatic, came up with the idea for a smart asthma-inhaler. Panther explained that asthma, a chronic disease of the lungs, affects approximately 262 million people and has caused 461,000 deaths worldwide — in 2019 alone. "Asthma can result in frequent emergency department visits, hospitalizations and premature deaths," she said. "To effectively manage their condition, asthma patients need to accurately track their medication usage, but that is a manual task, prone to human error."
To improve the lives of asthma patients, Panther, Beltagy and their teammates Jennifer Lee and David Chiang built a smart asthma-inhaler system to automatically record patients' use of medication. Their system is made of a Bluetooth-enabled inhaler, a smartphone app and a Bluetooth-enabled wearable sensor.
"The inhaler records when the patients took their medications and sends the data to the smartphone app," Panther explained. "The app retrieves weather information including temperature, humidity and air quality index from the web. The wearable sensor also measures the particulate matter in the air surrounding the patient when the inhaler was used."
This system should allow patients to accurately record when and why they used their inhalers, allowing physicians to use this information to better diagnose and treat asthma. "We hope to bring this system to market to help mitigate the damages of asthma," Beltagy said, "and ultimately, lower the number of fatalities."
Fantastic faculty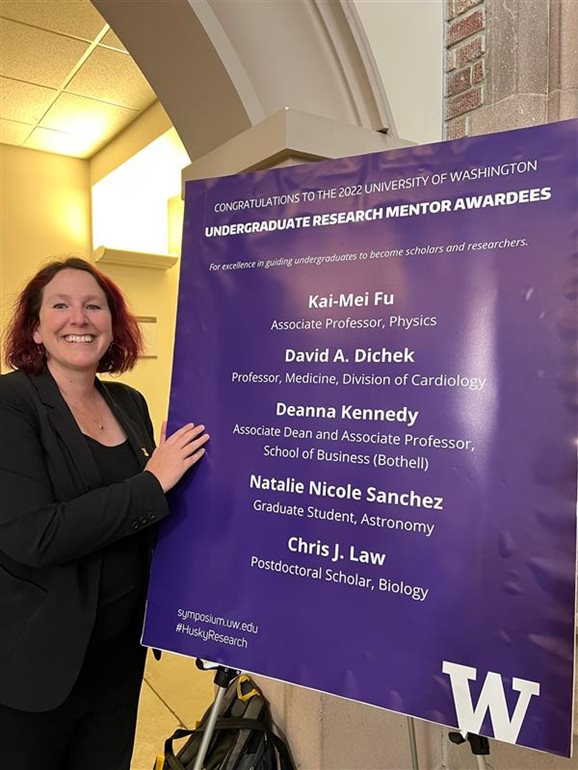 While the students all did incredible work, it would not have been possible without the help of faculty. To honor their commitment to helping students reach their potential, five UW faculty and graduate students received Outstanding Research Mentor Awards, including Dr. Deanna Kennedy, associate professor in UW Bothell's School of Business.
In the nomination letter, one of her students wrote, "Before I began my research under Dr. Kennedy, I had heard of the vague topic of 'research' but didn't know what research entails. Unlike many other research experiences which take place in a lab, where a student may only do one or two aspects of a research project, Dr. Kennedy directed me through the entire research lifecycle — from question generation to presentation at this symposium."
Kennedy said the award is a huge honor. "I am grateful to all the students I have worked with over the past decade," she said. "As a research mentor, my role was in helping them realize how to obtain the answers to their own research questions. And I have heard so many great questions over the years.
"It was inspiring to hear the ideas about organizational team research at the symposium, and it still keeps my own research knowledge fresh and evolving."
Here are more students who participated in the Undergraduate Research Symposium. Learn about all the presentations.