Gleaming gold shovels glinted in the sunshine as University of Washington Bothell administrators, students and project partners ceremoniously dug the first shovels of dirt that will lay the foundation for new student housing — and more — on campus.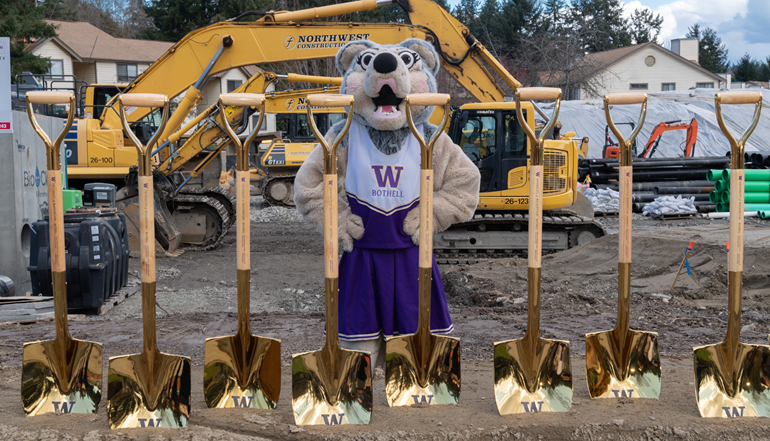 When completed in 2024, the Residential Village will encompass three buildings with a total of 1,055 beds, a 15,000-square-foot dining facility and 20,000 square feet of event and office spaces. It will also help transform the entire campus experience.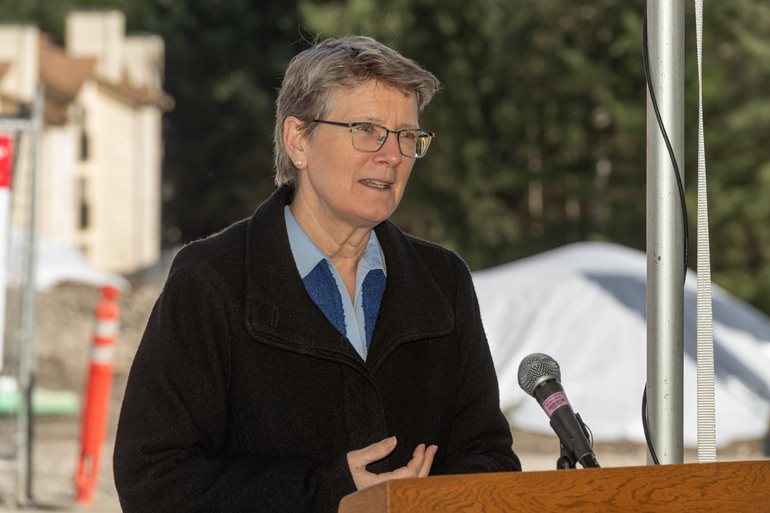 "Staff and faculty across campus are already imagining the possibilities, including new social activities as well as more academic and cultural events," said UW Bothell Chancellor Kristin G. Esterberg. "I know that all these new spaces will help everyone in the campus community to learn, explore, play and engage more deeply with each other."
Lasting memories, lifelong connections
Research literature consistently identifies engagement and a sense of belonging as key indicators of student success, persistence and graduation. During the ceremony, University of Washington President Ana Mari Cauce referred to the Husky Experience: the culmination of each student's unique experience inside and outside of the classroom. The new Residential Village will enable triple the current number of UW Bothell students — for a new total of 1,000 — to have on-campus residential experiences.
"So much of what gives a college education meaning happens outside the classroom — over a meal, or a board game or a late-night heart-to-heart," Cauce said. "Experiences that not only create memories but can even alter the course of students' lives."
Third-year student Amelia Alam, a woman in STEM majoring in Biochemistry, agreed. Her first year at UW Bothell was filled with potentially uncomfortable situations. It was her first time away from home, her first time living with roommates, in a new city with new people to meet. Alam said that living on campus enabled her to thrive.
"It allowed me to make deep connections that I still keep to this day," Alam said. "It allowed me to be in touch with the UW Bothell community and understand my new environment. It allowed for easier transitions and for me to know that I was not alone in hard times.
"There were two groups of people I could always turn to: my resident adviser and my friends living on campus," she said.
In her third year at UW Bothell, Alam is now an RA, providing the support she received so other students can have their own rich Husky Experience.
Public-private partnership
The new 300,000-square-foot student housing community will expand the use of the 4.4-acre site where the current Husky Village housing for students is located. Traditional residence halls, suites and apartment housing will compose the three new, six-story residential buildings.
In her remarks, Esterberg also acknowledged and thanked former UW Bothell Chancellor Wolf Yeigh for his leadership in initiating this public-private partnership with Capstone Development Partners and equity partner Harrison Street Capital.
The Residential Village facilities and programming within the spaces will be managed by the Division of Student Affairs, led by Vice Chancellor for Enrollment Management & Student Affairs Scott James, in tandem with project developer Capstone. James said transition plans are already underway to ensure students have the best experience possible."
"I believe that the quality of the facilities that we provide for our students sends a signal to them about their own value and the high regard in which we hold them — especially students from traditionally underrepresented populations and first-generation college students," said James. "I'm proud that we're partnering with Capstone to build a first-rate facility because our students deserve nothing less."
Follow the milestones of the Residential Village development.