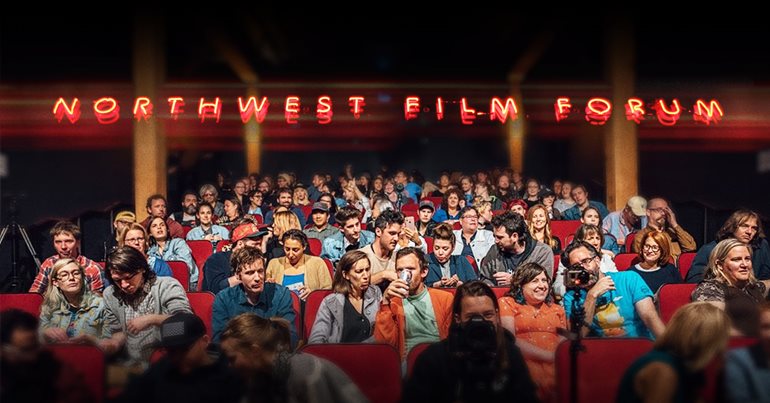 By Douglas Esser
Students in a University of Washington Bothell film studies course are exploring movies and documentaries this summer with the help of the Northwest Film Forum (NWFF) in Seattle, one of the university's core partners in community-based learning.
"It just greatly enriches the course," said the instructor, David Goldstein, a principal lecturer in the School of Interdisciplinary Arts & Sciences (IAS). "The community engagement adds a depth that I couldn't have imagined."
The NWFF has partnered with other UW Bothell courses in the past. The Introduction to Film Studies course was an obvious choice to continue the relationship. Kara Adams, director of community engagement, and Layla Taylor, program manager for the Office of Community-Based Learning & Research (CBLR) suggested that Goldstein collaborate with Rana San, the artistic director for the theater.
San came to Goldstein's class on the first day and highlighted the summer lineup — something new almost every day that students could choose. While Goldstein teaches the film students how to read an image and analyze how technical things create meaning, San adds another perspective — "how filmmakers go about making the films, especially independent filmmakers who are local," Goldstein said. "Students get the benefit of her knowledge as well as mine."
Meet me at the forum
Northwest Film Forum is a member-based nonprofit film and arts center. It presents hundreds of films each year and hosts festivals, community events, performances and public discussions. It also offers workshops and services to filmmakers.
San said it's been wonderful to have the UW Bothell students coming through the theater.
"I was so excited when David approached us with a proposal to team up around his Introduction to Film Studies course, allowing us to engage a whole class in our wide range of summer offerings, including a Finnish lumberjacks and logrollers series, documentaries about artist David Hockney and luchador Cassandro the Exótico, and a two-day multidisciplinary arts and performance festival," she said.

San was heartened to learn that many UW Bothell students indicated that NWFF was the first time they engaged with an arts institution.
"What an honor for us to serve as an entry point into the arts," San said. "Our decisions around programming and educational offerings are deeply based in community, and it's delightful to witness our community growth and expansion in collaboration with UW Bothell."
Last year, students in a project management course in UW Bothell's School of Business developed a survey that the forum could use on grant applications and to drive membership and inform marketing and programming.
"The outcome was a tool our lean team had previously lacked the bandwidth to develop, and we were grateful to the partnership with UW Bothell for facilitating this opportunity for reciprocal learning," San said.
Both sides benefit
Community-based learning is one of the core teaching practices at UW Bothell. Students link to projects that deepen learning and open up opportunities beyond the classroom through mentoring and internships, said Taylor, the program manager.
"My goal is to connect faculty with community partners to enhance student learning," she said. "It's not uncommon for a CBLR student to continue with a partner organization and then find themselves with a relationship that leads to a job."
The university has about 130 active partners in schools, government agencies, businesses, civic organizations and nonprofits in the local region. There are 20 to 30 CBLR courses each quarter across all five UW Bothell schools. The CBLR component typically requires 15 to 20 hours of work. Students may be individually placed or work on a project as a group or whole class, Taylor said.
Lauren Berliner, an assistant professor in IAS, initiated a relationship with NWFF managers five years ago and introduced them to the CBLR office. In addition to Goldstein and Berliner, other IAS faculty who work with the forum include Deborah Hathaway, lecturer; Alka Kurian, senior lecturer; Kari Lerum, associate professor; and Minda Martin, associate professor.
This year, NWFF received the IAS Partner of the Year Award. A representative from NWFF also serves on UW Bothell's Community Engagement Council, which offers feedback and advice on strategic planning.
The student experience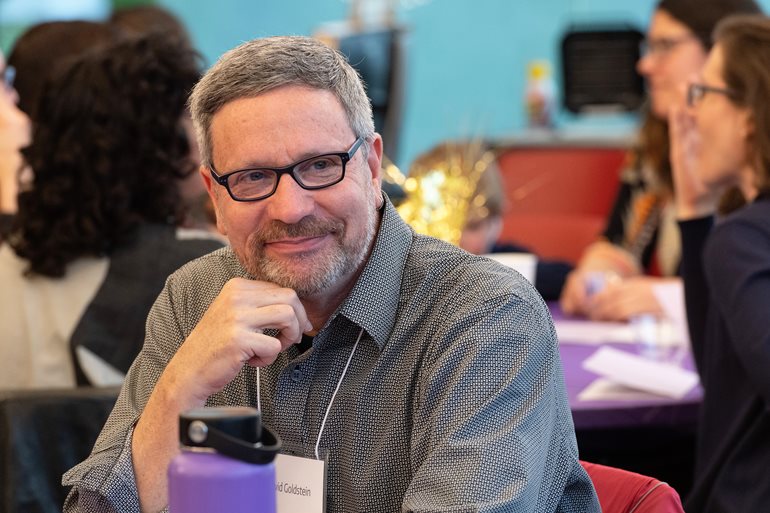 For the 45 students in Goldstein's film course, the CBLR component requires them to attend a few showings or events at the theater in Seattle's Capitol Hill neighborhood. For each NWFF event, they write a short reflection on the questions: What did you learn? How do you connect that with the concepts that we learned in class? It amounts to about 10 hours of work in addition to other course requirements such as writing papers.
The partnership with NWFF puts UW Bothell students into the Seattle arts community, Goldstein said, and that experience teaches students to recognize film as one of several arts that enliven a community. Students also learn how to compare film with other art forms and to understand how film represents and influences cultures.
"I want my students to get a sense of what the possibilities are, thinking about film as a communal effort," Goldstein said. "It's much more fun to do it this way."
One student, Vivian Mak, said the introduction to film culture was both intellectually engaging and inspiring.
"As a student, attending the NWFF exposed me to their nonprofit organization but more importantly their strong community of art advocates," said Mak, an Interdisciplinary Arts major planning to graduate in 2021.
Mak also is an illustrator, and after contacting Rana, Mak is working with NWFF on visual graphics.
Choice viewing
Mak enjoyed watching "Instant Dreams," a documentary about Polaroid instant photography that "was beautiful and shows our obsession with keeping memories, curating this sense of time and place."
More summer offerings were "Naer Vaer" (close-dwelling), which is archival film footage from the Nordic Museum's curated by Moving Image Preservation of Puget Sound (MIPoPS). It was accompanied by live music from the Postcard from the Badlands ensemble.
Another film "Aberdeen," was about a female sports journalist. Director Colton Van Til was in attendance and answered questions after the screening. A third was "Breaking News," a MIPoPS presentation of archival news stories from the region, starting with a story that aired on KIRO-TV in 1959.
The NWFF events are free to the students, who also help promote them by posting on their Facebook or Instagram accounts. It's a good example of CBLR reciprocity, Goldstein said.
"They want to turn young people on to the arts, especially film," he said. "It's mutually beneficial."
Win-win-win
A CBLR course can be logistically challenging, so it helps to have the CBLR office building those relationships, Goldstein said. Despite the extra effort, CBLR courses are a "win-win-win," he believes.
"Students connect what they learn in the classroom with what's out there in the world," he said. "It's a boon to the partner to have students engaging in real, meaningful work that they find helpful — and then it's fun for the teachers, too. I've been teaching here almost 22 years, and this is one of my favorite classes."
Goldstein, who also teaches History of American Documentary Film and Queer Cinema, said sending students into the community is different from anything else he's assigned.
"It's invigorating to have a community partner as a co-educator. We learn by doing," Goldstein said. "I'm proud that CBLR is a signature feature of our curriculum. I think it's a brilliant model.
"It's all about student learning."