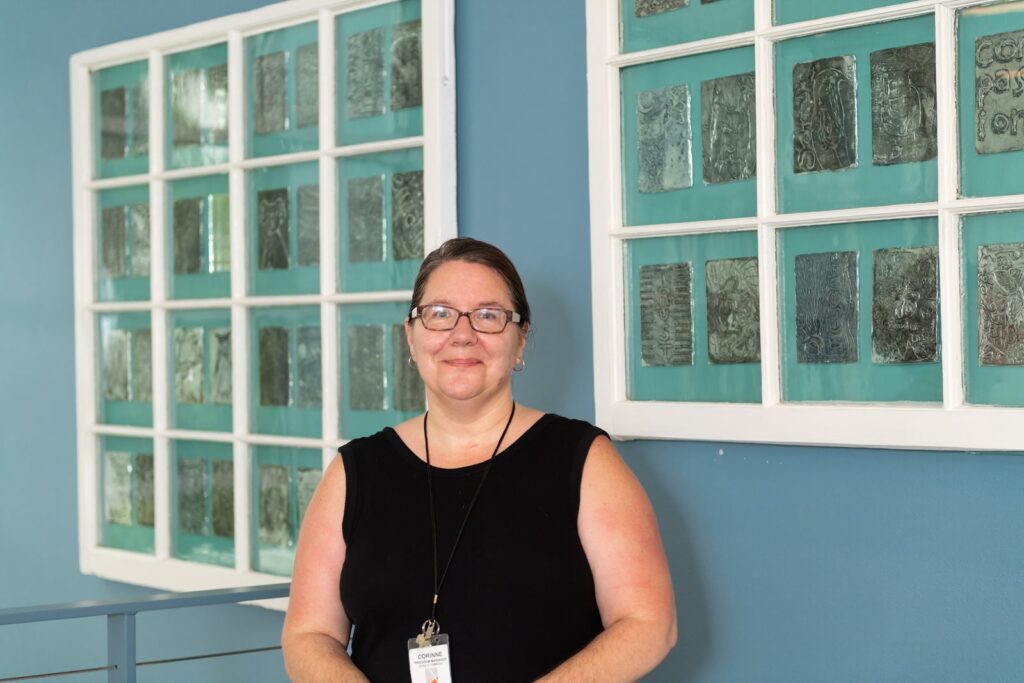 By Douglas Esser
New artworks on the walls of Ronald Commons are especially meaningful to residents of the affordable housing complex adjacent to the Ronald United Methodist Church in Shoreline, Washington. The residents, many of whom were once homeless, created the art themselves with University of Washington Bothell students.
After the 60-unit Ronald Commons opened in February 2017, managers with the Compass Housing Alliance contacted the community engagement office at UW Bothell. It arranged for the collaboration with Gary Carpenter, an artist and lecturer in the School of Interdisciplinary Arts & Sciences, to help fill the blank walls.
"This was just the perfect match from my perspective," said Carpenter, who teaches Creative Activism: Inspiring Social Change through the Arts.
Carpenter incorporated the projects in his fall and winter courses in Discovery Core, a sequence for first-year students at the University.
"For me, the beauty of these projects is finding the common ground," Carpenter said. "I'm trying to build relationships, lessen divides between groups that may initially seem different but have far more in common than either group would have initially imagined."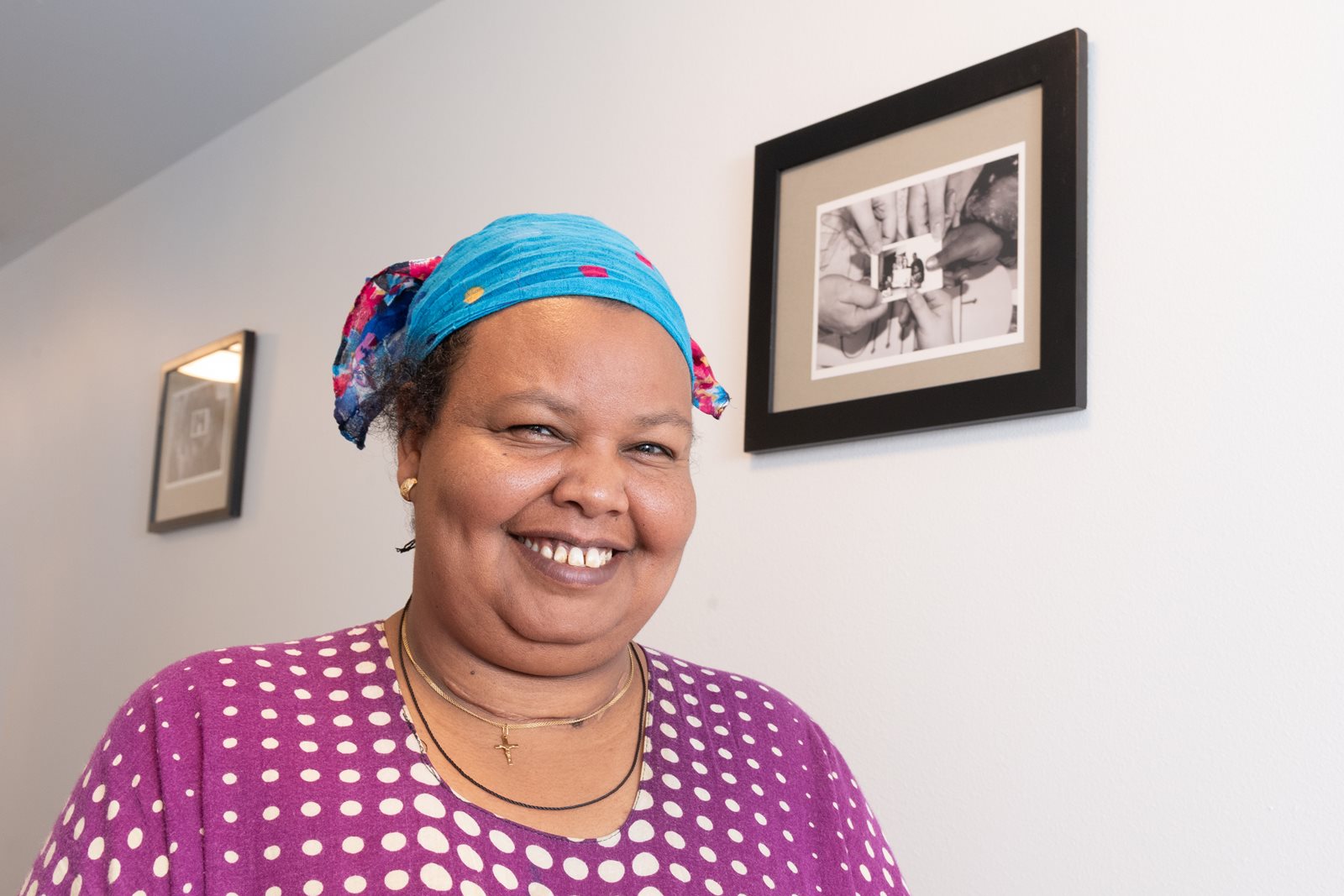 Resident Selamawite Woldemariam looks at artwork in hallway outside her door that includes photo of her and her daughter Ruhama.
They used two kinds of media: poster paper to color and aluminum foil processed to look like a low-relief metal casting. Carpenter's fall class visited Ronald Commons twice to create colorful posters. His winter class visited four times to create the low-relief plaques. About 40 residents, ranging in age from children to the elderly, participated in lively interactions. A few residents and Ronald Commons staff members visited UW Bothell and participated in the class on campus.
Some residents and students were uncertain about what to expect, Carpenter said. They eased into the art collaborations with discussions about hobbies, languages, religion, education and the type of community where they would like to belong. Photo: Art now on the walls.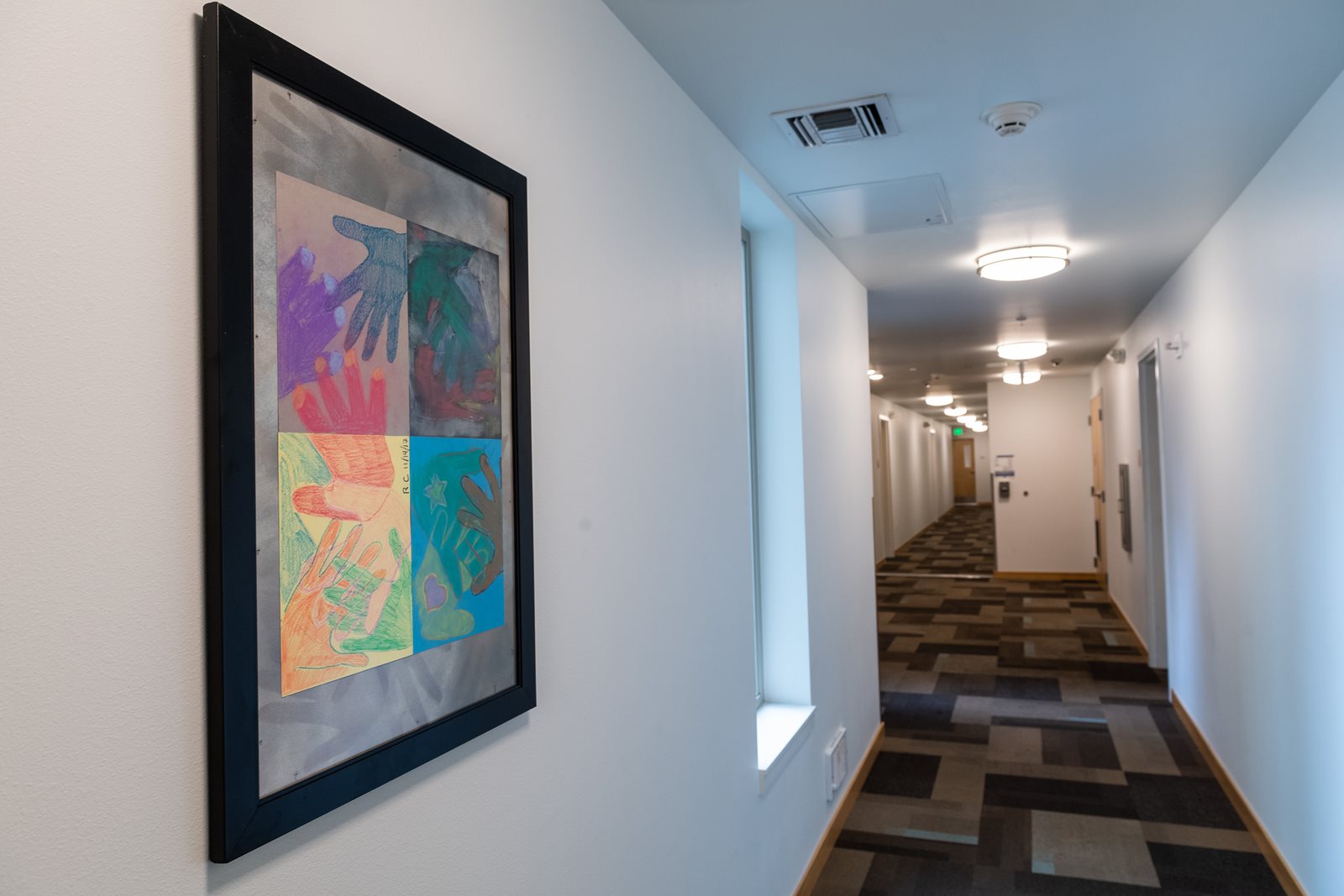 "You can navigate a difficult conversation through artwork. It drops a lot of barriers," Carpenter said. "We can talk about a heated social issue or prejudice or privilege, and if you do it through art you gain more traction."
For the posters, they traced overlapping outlines of their hands and colored them to reflect their preferred community: bright, intense colors for an energized social life or cooler, more subdued colors for a peaceful existence. Photo: Detail of one poster.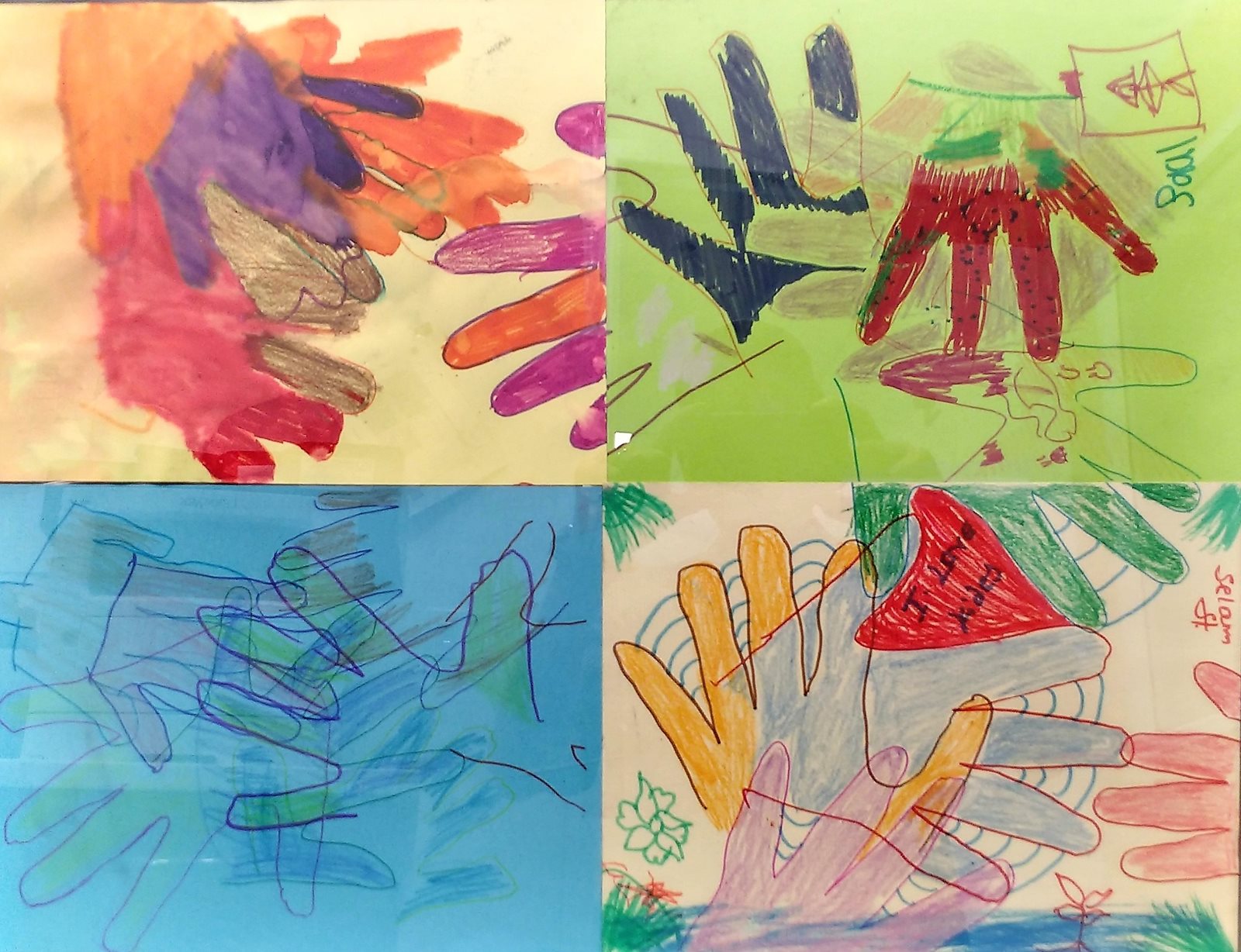 For the plaques, students and residents discussed qualities they want to contribute to their community. They picked an animal totem as a representation in their design. Carpenter also took photos of the do-it-yourself artists, which became part of the art
"Initial discomfort and uncertainty from both groups melted away as the collaborations unfolded," Carpenter said. "Beyond my goal of helping others realize the importance of the arts in our lives personally and socially, I believe that if I can increase students' empathy, even in the smallest way, that I've really achieved something. I believe that empathy is the key to creating change in society, and arts are the perfect vehicle." Photo: Detail of one plaque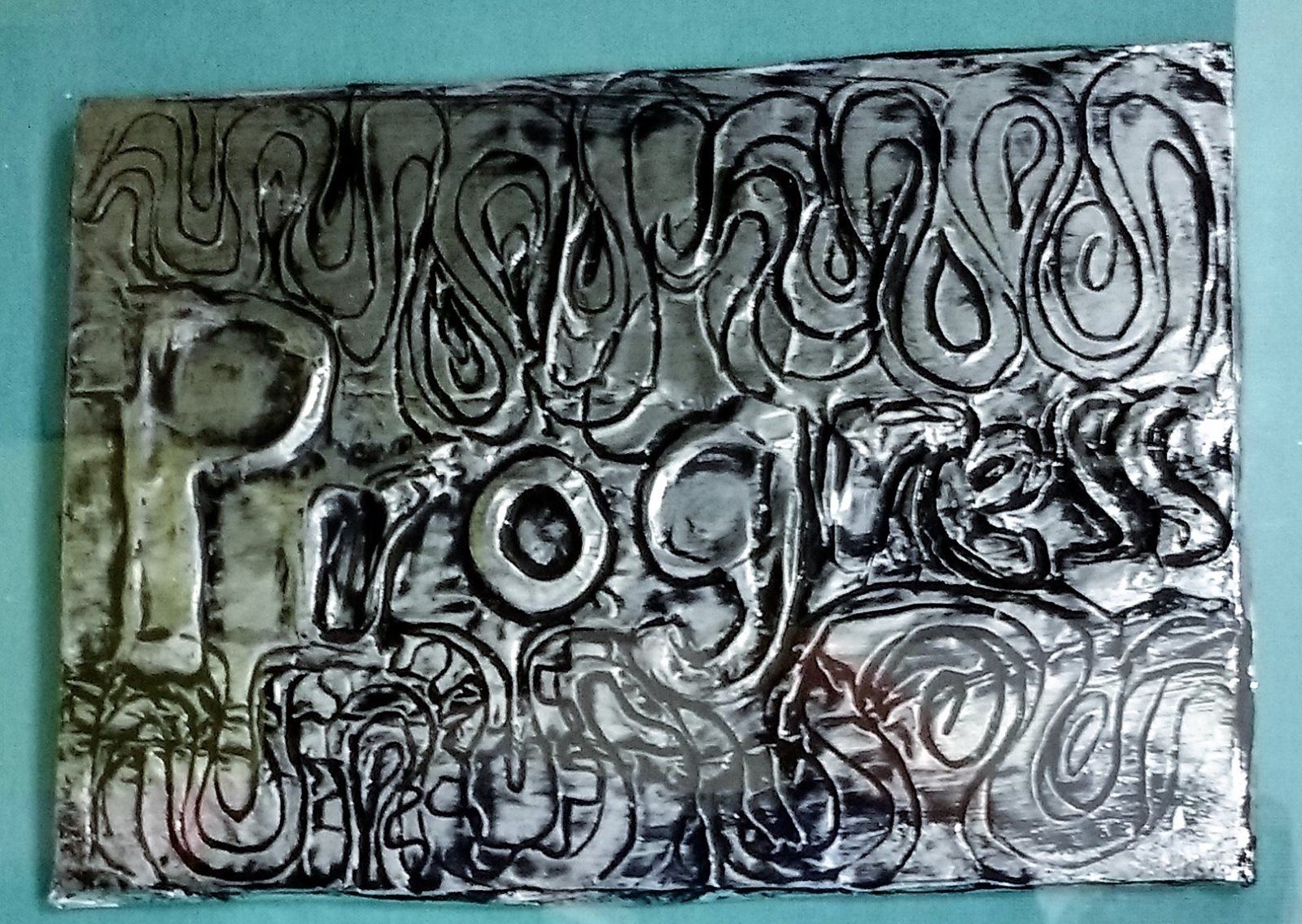 The artworks cost Ronald Commons nothing, said Corinne McKisson, program manager. Carpenter did all of the framing himself.
"He's just an amazing blend of social justice, community awareness and accessible art," McKisson said. "He's been inspiring, bringing these diverse audiences together and shepherding the project."
McKisson said residents enjoy seeing their work, saying, "I remember that. I did that."
One student, Sana Iqbal, said engaging in the community helped her see ideas in real life.
"It is one thing to talk about issues and people in your community and another to see them firsthand," Iqbal said. "Sitting down with residents was eye-opening to the kind of struggles people can face when hit by life unexpectedly."
Student-resident partnerships worked surprisingly well, said Katie Lightner, case manager at Compass Housing Alliance.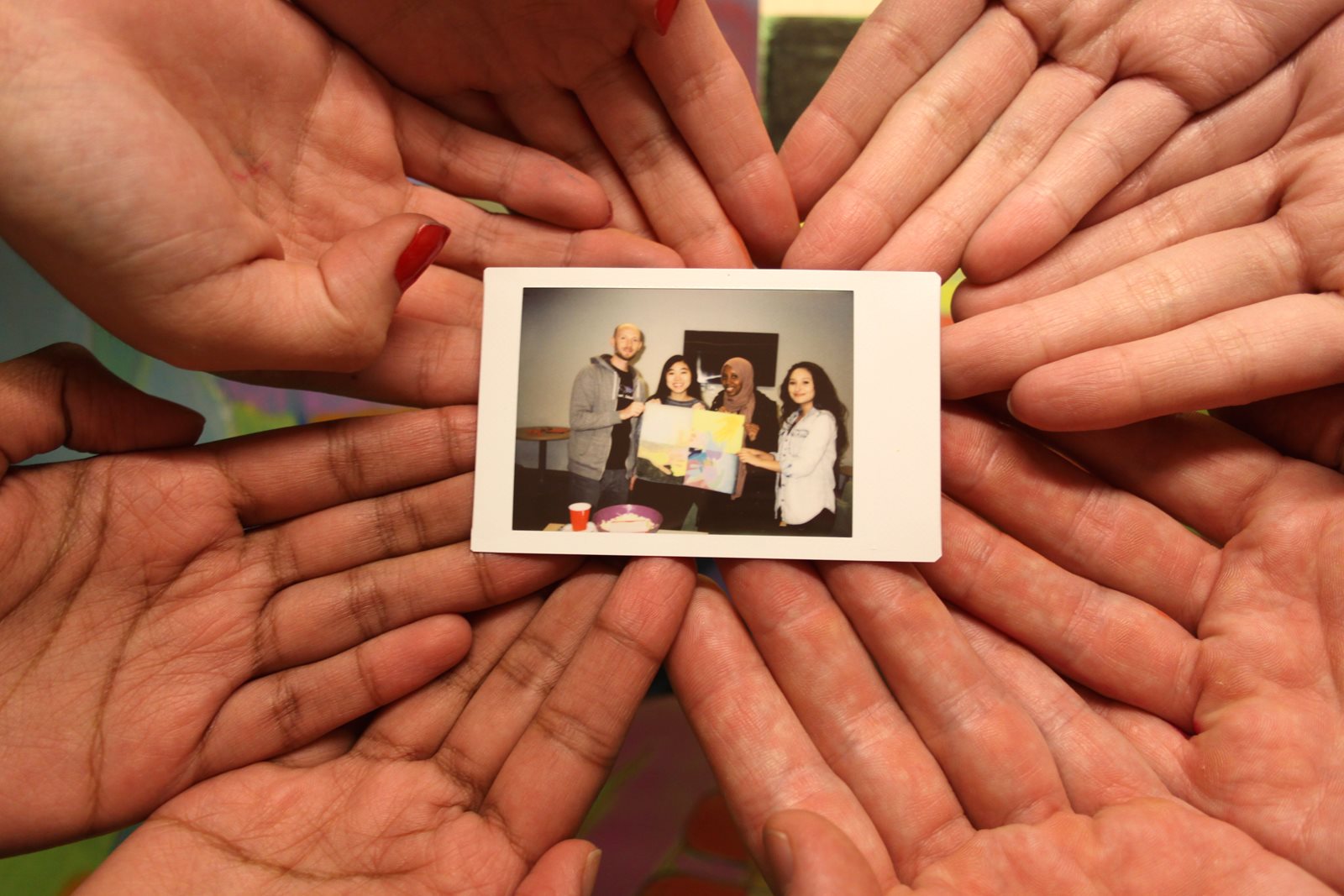 "At first I was concerned that students might just talk to each other and not the residents, but this didn't happen. They treated the residents as equals and involved them in every phase of creating the artwork," Lightner said. "Many of the students had a lot to offer during group discussions, and they were very thoughtful about the art that they were creating." Photo courtesy of Gary Carpenter
The resulting artworks, Lightner said, are "beautiful to look at and a true representation of a community coming together."