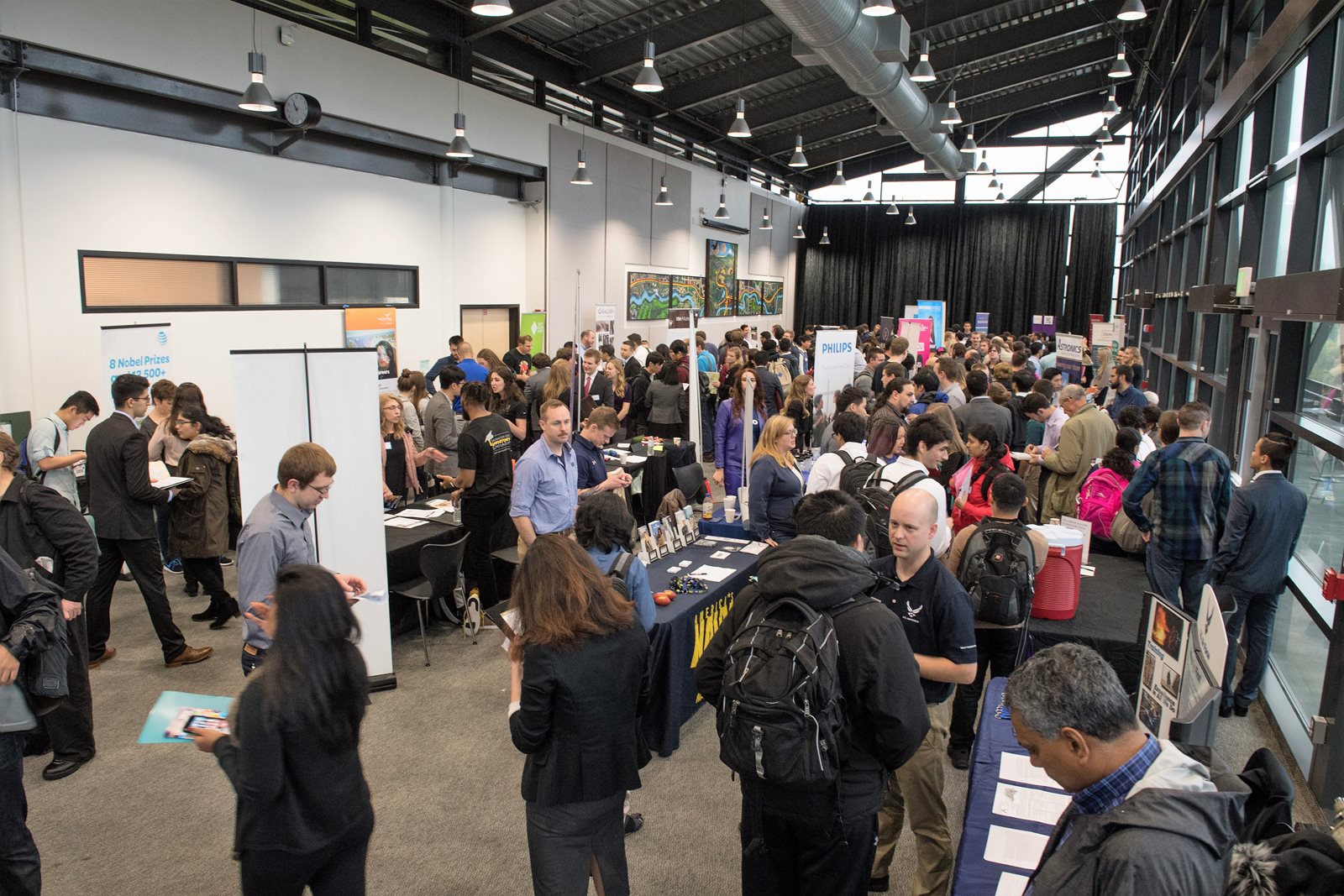 The first Tech & Engineering Fair filled the North Creek Events Center.
By Douglas Esser
Marc Studer photos
More than 1,000 students connected with potential employers Oct. 17 during two career fairs at the University of Washington Bothell, making it the biggest single-day employer event the University has ever hosted.
The crowd exceeded the 750 at last fall's career fair, and the number of registered employers — 80 — also exceed last year's total, said Samara Reynolds, director of career services.
"Our employer partners were thrilled with the talent that UW Bothell students bring and felt very positive about both events across the board," Reynolds said.
It was the popularity of previous job fairs that led UW Bothell Career Services to give the tech and engineer fields their own concurrent event.
The first UW Bothell Tech & Engineering Fair in the North Creek Events Center brought 576 job seekers together with about 30 companies, including Amazon, Microsoft and T-Mobile. Meanwhile, the All-Industries Career Fair in the nearby Activities and Recreation Center drew 458 students together with about 50 employers, including the U.S. Army, Washington State Employees Credit Union, Northwestern Mutual and Techtronic Industries. Many participants took advantage of both fairs, Reynolds said.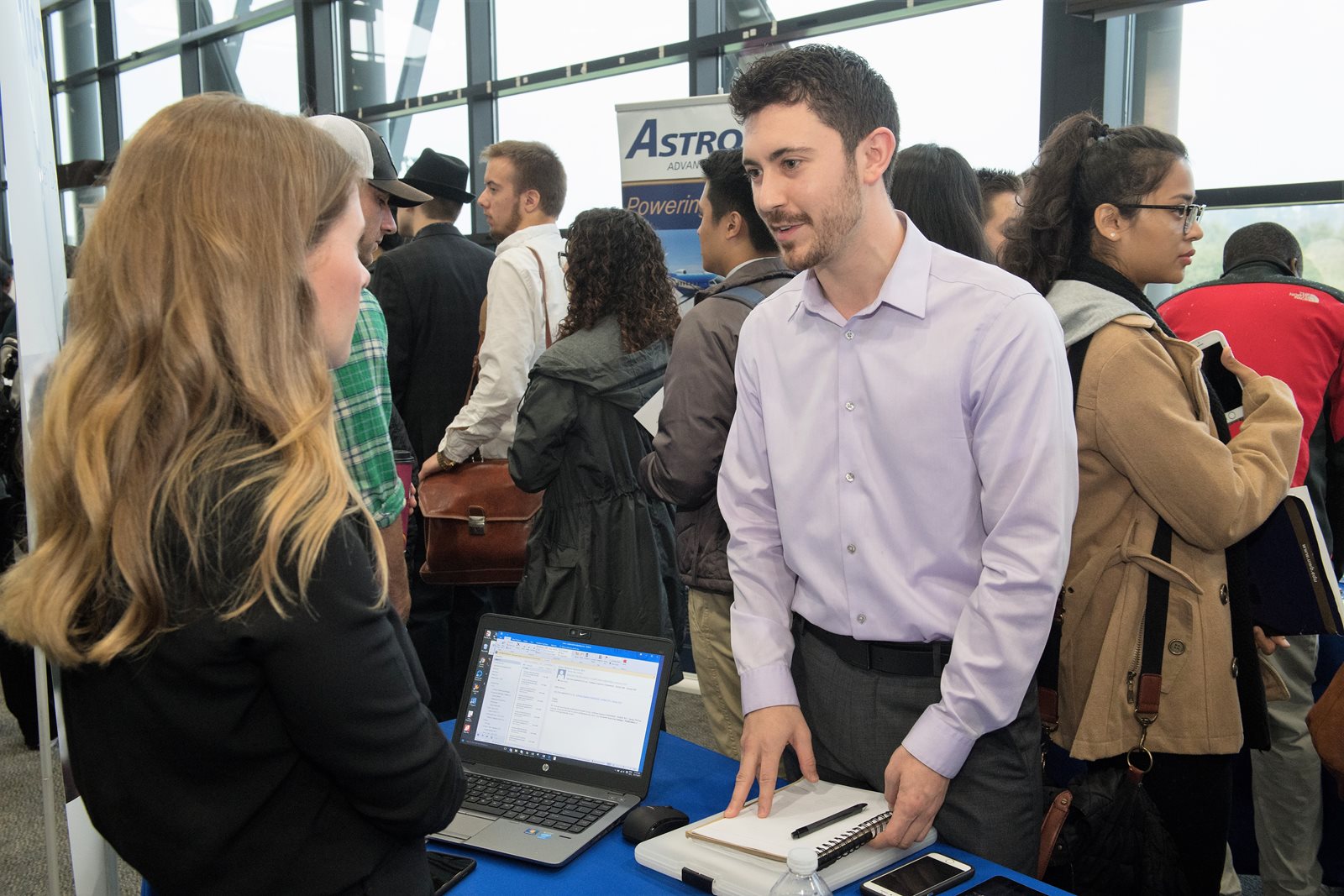 The lines of resume-bearing applicants were "a little crazy," said Sam Stevens, above left, (electrical engineering '18) while waiting to talk with a representative for the Philips health technology company. Stevens had also talked with an Air Force recruiter and said that's "definitely a prospect."
Air Force Tech. Sgt. Ryan T. McFall, left, from Joint Base Lewis-McChord was making his first visit to the campus to contact potential engineers and pilots, although McFall had seen other applications online and set up officer qualifying tests.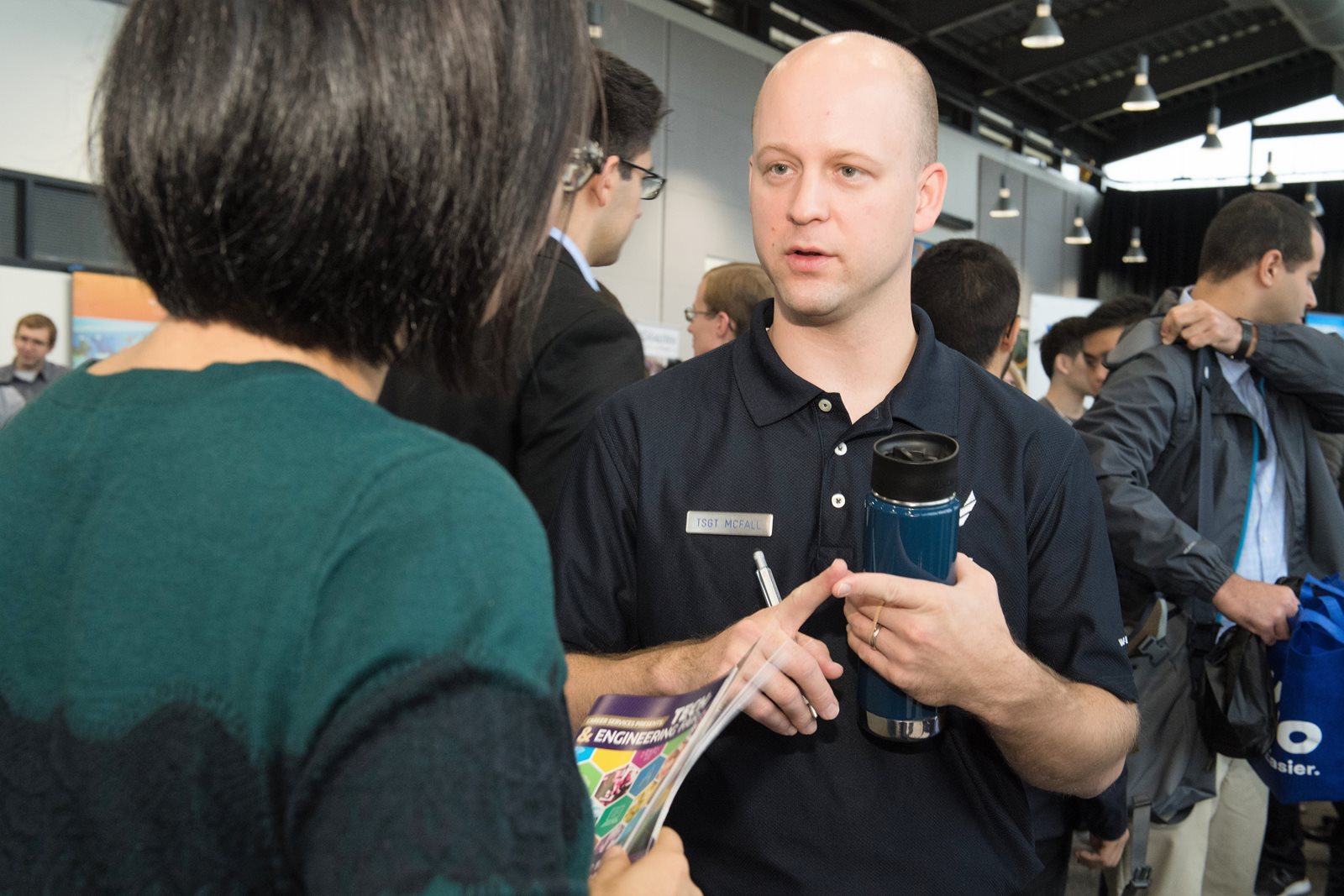 "From what I've seen from this particular university, when individuals take it they do extremely well and are highly qualified. It's a percentile test, so they're in the 90th percentile, for sure," McFall said.
Bethlehem Beshawered, left, (electrical engineering '16) is starting a master's in electrical engineering and looking for a job in the field, possibly with a communications company. The career fair is superior to an impersonal search, Beshawered said while waiting to talk with an AT&T representative.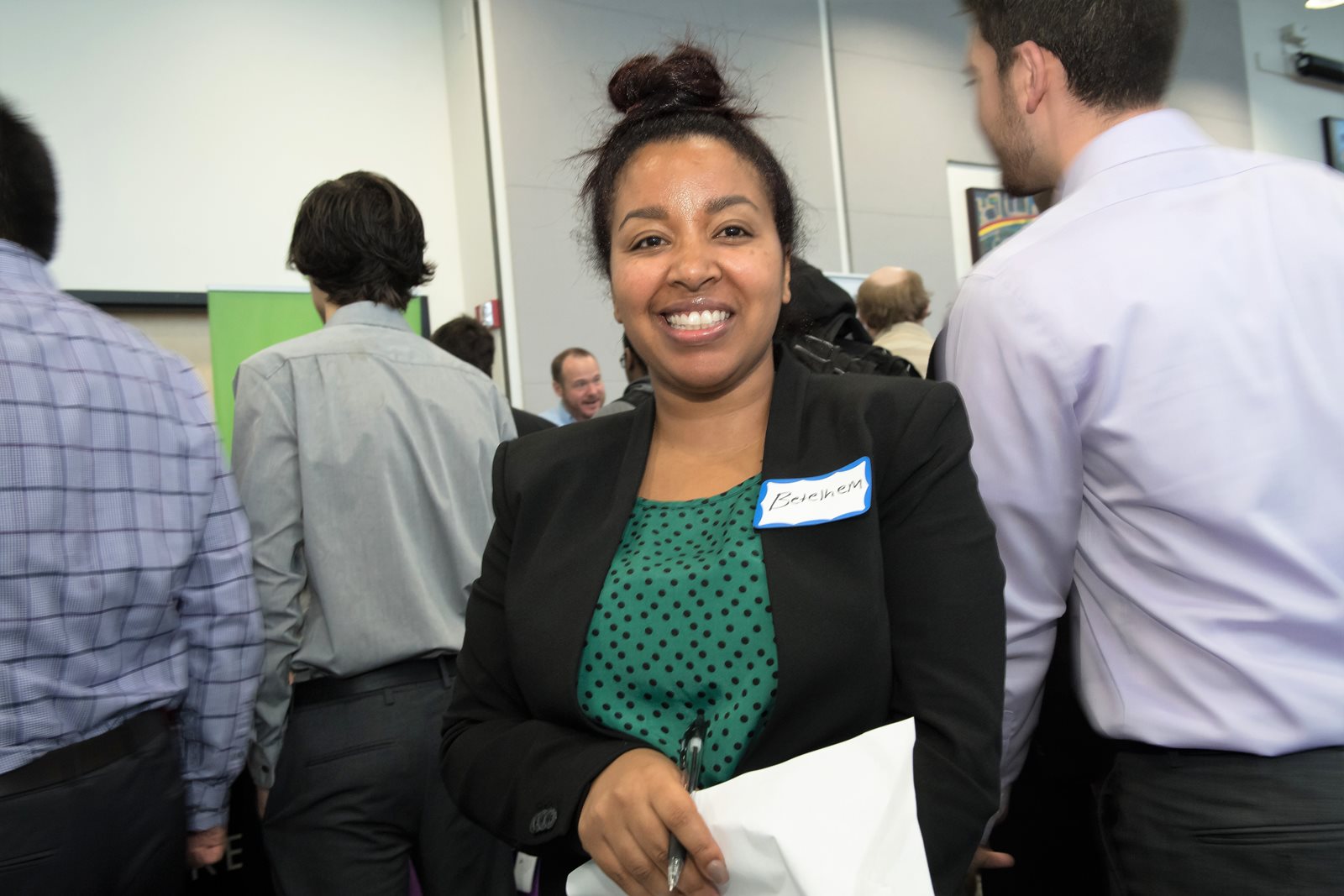 "It's a great event because you get the chance to meet with someone who works there," Beshawered said.
The UW Bothell fairs are a good investment for employers, said Reynolds.
"Employers say our students appear more focused on employment goals when they come to the fair. They're not just browsing. They really are coming with intention," Reynolds said. "With more-serious students and employers who really want to be here, the hiring outcomes are more likely than the average fair."
The pair of fairs were a partnership with Cascadia College and open to students of all years, as well as alumni and community members. The UW Bothell Alumni Council also sponsored a LinkedIn photo booth to help students create and update pages on the business-networking website.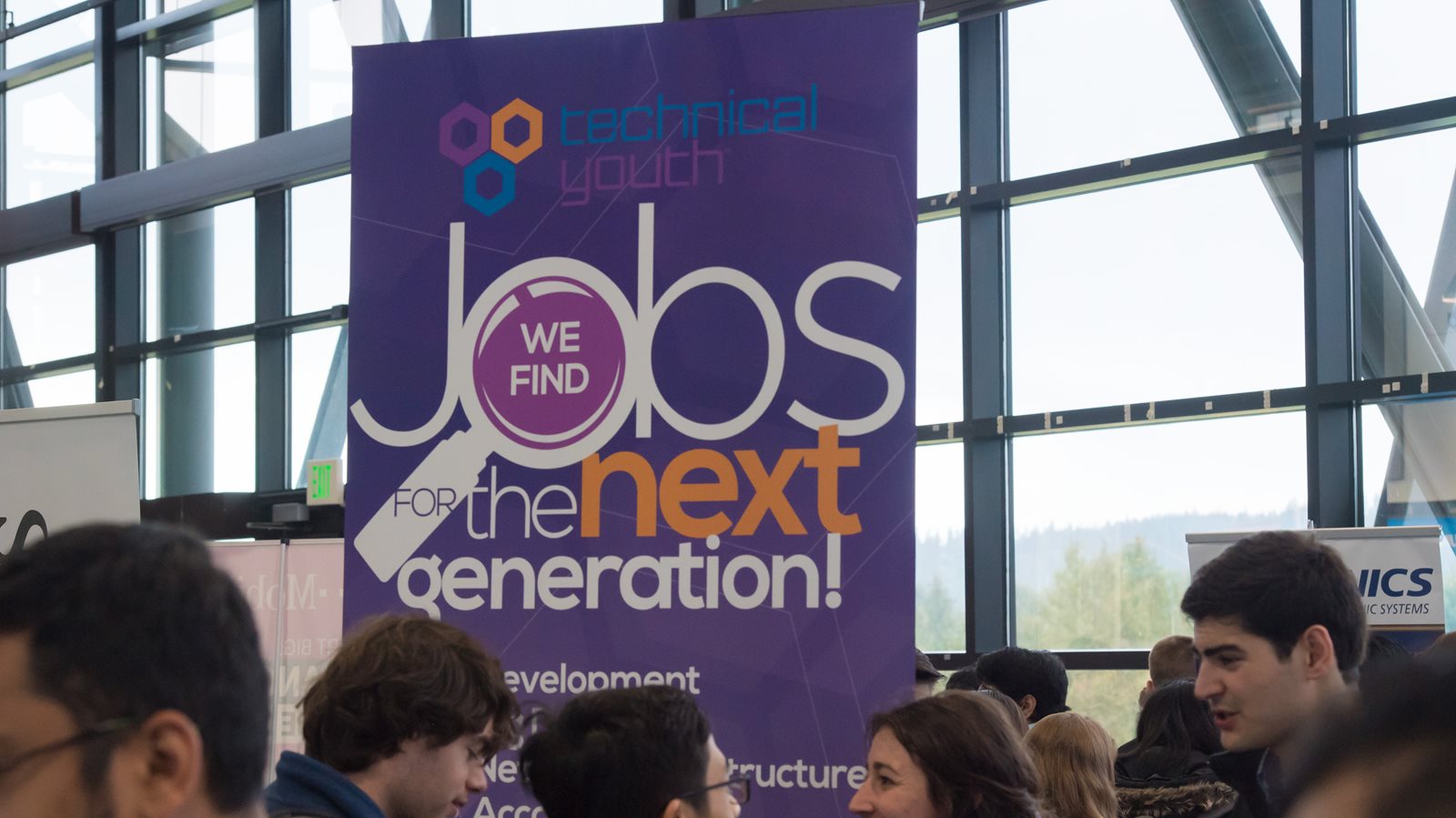 Army recruiter Trevor Reisner from a Woodinville office wanted to have more of a presence at UW Bothell to help fill a "bit of everything" in the service.
"There are a lot of qualified people here," Reisner said. "We'd like some."
Jackson Schwalbach and Joe Zimmerman, left, Seattle territory managers for Techtronic Industries, were looking for event-marketing specialists who could be promoted into jobs in sales, marketing and management.
They found "a lot of great candidates, a lot of really interested students. Everybody seems to be really engaged," Schwalbach said.
TTI makes and markets Ryobi power tools and equipment and floor-care appliances such as Dirt Devil vacuums. TTI is a new premier partner with UW Bothell Career Services, sponsoring programs, adding to communications and engaging with faculty and staff.
Other premier partners for 2017-2018 are WSECU, Northwest Mutual, Alaska Airlines and Enterprise Rent-a-Car, all of which hire UW Bothell grads, says Susan Vinson, employer relations manager.
The next career fair on campus will be in the spring with an emphasis on internship opportunities.