When thinking back on where her interest in science came from, alumna Jackelyn Garcia fondly remembers days spent with her father in their garden in Oak Harbor, Washington.
Her father had worked on his grandparents' farm growing watermelon and rice in the Philippines, where the family moved from in 2006. And the opportunity to learn from someone who had experience growing things, she said, was incredibly valuable and taught her the process of trial and error.
"Getting to grow something like a tomato and harvest it and eat it myself — that really fostered my curiosity about biology and science," Garcia said. "My dad is a big reason why I find science so interesting, and it motivated me to go down that path."
As a first-year student at the University of Washington Bothell in 2016, she discovered a true passion for biology. Although uncertain what she wanted to do for a career at the time, Garcia said it was through her pursuit of this interest along with the mentorship of many people along the way that brought her to where she is today: the 2023 Washington Sea Grant Keystone fellow.
The power of a mentor
In Garcia's first biology class at UW Bothell, STEM faculty gave a presentation on their research. Garcia was inspired by their work and reached out to one of the professors, Dr. Cynthia Chang, about her research into how different plant communities respond to disturbances such as the 1980 Mount St. Helens eruptions.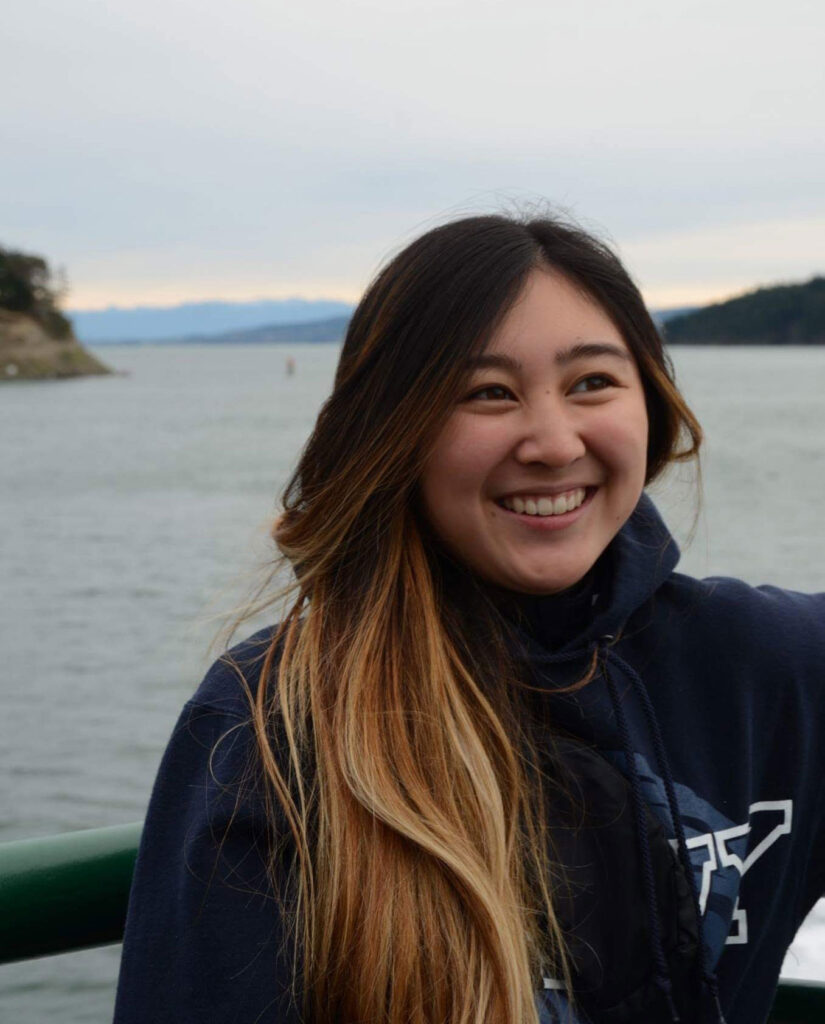 Chang quickly became a mentor to Garcia, and they worked together for three years researching the impacts of variable watering conditions on plants and how climate change would impact them and their progeny.
"It was a special and meaningful experience to engage in undergraduate research at UW Bothell," Garcia said. "Getting to do that project with Cynthia planted the seed, for me, of climate change in the context of research and human communities."
Garcia later presented her research at the University of Washington's Undergraduate Research Symposium and was awarded a Mary Gates Scholarship. She also presented at the National Ecological Society for America Conference.
"This project was really cool because we were interested in understanding how broadly climate change affects plant response, and evolutionary plant response in particular," said Chang, associate professor in the School of STEM. "Jackelyn did a great job. She really did master's level work as an undergraduate."
A zeal for conservation
Garcia found another mentor in Dr. Martha Groom, professor in the School of Interdisciplinary Arts & Sciences, after Chang encouraged her to apply for the Doris Duke Conservation Scholars Program.
In 2018, Garcia was one of 20 scholars chosen from around the country to take part in an immersive, two-summer program focused on conservation and environmental justice in Washington state.
"The program is aimed toward people whose backgrounds are not well represented in conservation — including many racial, ethnic or gender minorities, first-generation and low-income students," Groom said. "It's designed to help alumni of the program take an active part in conservation for their work and any further studies."
Students spent the first summer engaging in field tours of conservation projects around Western Washington, with emphasis on Indigenous-led work. In the second summer, students interned with a conservation field partner. For her internship, Garcia worked with the Woodland Park Zoo.
"The Doris Duke experience was integral in helping me recognize that I wanted not only to pursue natural science but also to seek out opportunities that integrate community in science in a more tangible way," she said. "That program and Martha Groom helped instill confidence in envisioning myself going down the environmental science route."
A lifelong exchange
Garcia graduated from UW Bothell in March 2020 with a bachelor's degree in Biology and minors in Marine Biology and in Ecological Restoration. She then joined the nonprofit Puget Sound Restoration Fund as a hatchery technician intern through the Washington Conservation Corps.
She worked on conservation aquaculture, where her efforts to restore pinto abalone and olympia oysters brought her to various places around the Sound. In this role, she also collaborated with the Natural Resources staff of Jamestown S'klallam tribe on a data analysis project looking at how cockles accumulate marine biotoxins. She also did a similar project looking at how different species accumulate marine biotoxins with data provided by the Washington State Department of Health.
Garcia continued to keep in touch with her mentors Chang and Groom, sending updates and photos of her work. In their ongoing conversations, she began thinking about the possibility of graduate school. Groom recommended she attend Western Washington University, where Dr. Marco Hatch was recruiting a graduate student for a marine biotoxin project. Garcia not only applied and got in, she was also selected to work on the project.
"She had many interests and was looking for work that would allow her to gain more insight into collaborative efforts, particularly those that link Indigenous and Western sciences in promoting conservation goals," Groom said. "Her master's work at WWU in Marco Hatch's lab was a great match."
When Garcia graduated with a master's in Marine and Estuarine Science in June 2023, both Chang and Groom virtually attended her master's defense talk.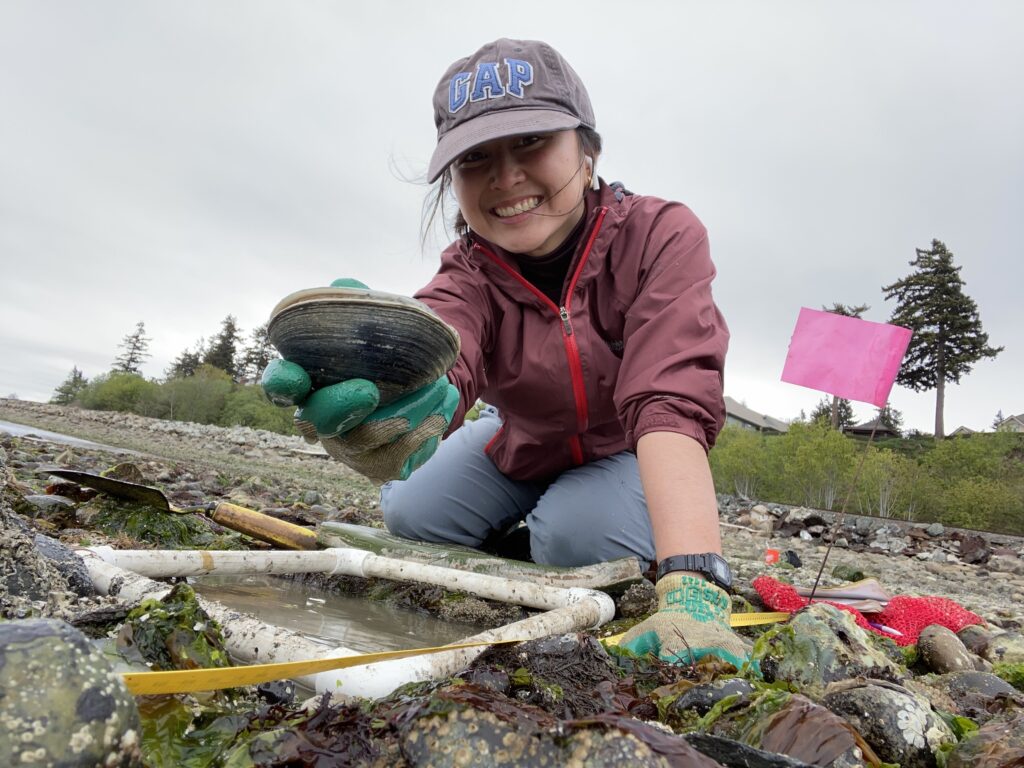 A Sea Grant fellowship 
In June, Garcia was then named the 2023 Washington Sea Grant Keystone fellow after her mentor at WWU encouraged her to apply. The program offers fellows early in their career an opportunity to work in marine science and policy, and places them in partner organizations, such as nonprofits and government agencies.
"What really piqued my interest was that these Sea Grant fellowships seemed to involve a lot of mentorship. The idea and the opportunity to have mentorship has been so important in my life, and I wanted to continue to have that, especially in my early career," Garcia said.
She was also drawn to the program's focus on environmental justice and equity, she added. "It's a chance for me to be part of a network of people who are working together to address environmental harms and disparities across vulnerable and overburdened communities in the Salish Sea, which is something that really interests me."
As a Keystone fellow, Garcia works in collaboration with Puget Sound Partnership on a retrospective analysis of their salmon recovery funding program with an equity and environmental justice lens. She also works with Washington Conservation Action, where she's helping to organize a conference focused on environmental justice.
"I've really valued getting to see how organizations do work around conservation and restoration," Garcia said. "It's reinforced for me the desire to be able to connect social science and environmental science and to apply a community lens to the work I do."
'Put yourself out there'
Looking back at her time as a student, Garcia is appreciative of her younger self for reaching out to professors and seeking out opportunities to sate her curiosity.
"I think all students should feel empowered to just have conversations with people, especially your peers and your teachers, and to really put yourself out there," she said. "If you have questions about how someone got to where they are, just ask. You never know where it could lead you."
Chang said that as a mentor, there's nothing she loves more than being approached by students who are eager to learn and enthusiastic to do research.
"It's particularly exciting when students come early in their time at UW Bothell. You don't have to wait until you've taken all your intro classes. It's good to get to the good stuff as early as possible," Chang said.
"Jackelyn is a great example of how just really going for it early on allows you to pursue the different interests that you may have — and to keep an open mind about how that could continuously change in your career or your time as a student."
As an alumna of UW Bothell, Garcia continues to put herself out there and engage with her former professors. Now, she finds herself taking on the role of mentor and sharing her experiences with students during visits to both Groom and Chang's classes. In 2022, she also became a mentor to another Doris Duke Conservation Scholar — providing guidance on research methods and how to navigate the world of conservation science.
Jackelyn is a great example of how just really going for it early on allows you to pursue the different interests that you may have — and to keep an open mind about how that could continuously change in your career or your time as a student.

Dr. Cynthia Chang, School of STEM