All students at the University of Washington Bothell — regardless of their core area of study —are encouraged to get an interdisciplinary education by taking classes outside their majors, exploring subjects from the arts to the sciences. For Educational Studies students, however, a well-rounded curriculum is imperative to their ability to teach a wide range of topics to their future students.
One of the latest interdisciplinary classes offered by the School of Educational Studies' is "Time in socio-ecological systems: Sun, moon, clocks and contaminants." It offers non-science majors basic science knowledge they can apply not only in their careers but also in their everyday lives.
The course, which had its first run in summer 2023, is the second one funded by a National Science Foundation grant and co-developed by SES faculty members Dr. Veronica Cassone McGowan and Dr. Carrie Tzou. The new five-credit course was co-taught by Cassone McGowan and guest instructors with support from SES research assistant Dr. Symone Gyles and Goodlad Institute research scientist Elizabeth Starks.
"One of our starting points was, what are all the areas of science that elementary teachers need to teach?" said Tzou, professor and director of the Goodlad Institute for Educational Renewal. "This course covers some of the physical and earth sciences part of that teaching.
"We really need them to learn about our place in the solar system and how they function in their place in the ecosystem as well. Time was a thread that connected all of that together for us."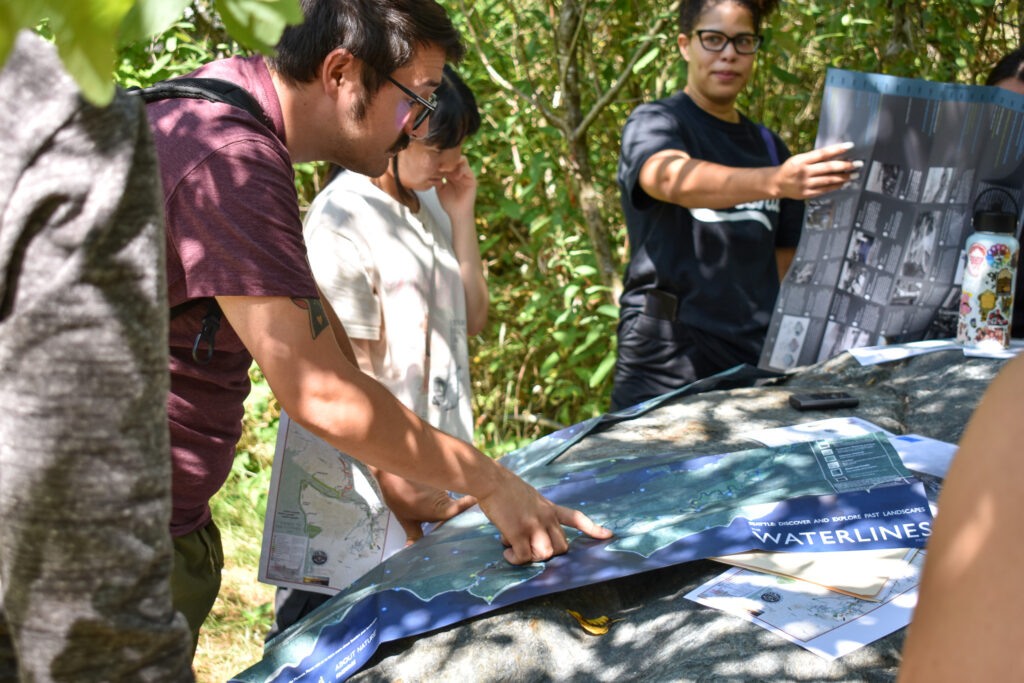 Measurements and meaning
One of the key questions students explored over the nine-week course was: How do our perspectives of time guide our socio-ecological decision making?
"Time, as it turns out, is a very mysterious thing," said Cassone McGowan, a lecturer and co-designer on the project. "The course title alludes to thinking about time in different perspectives … thinking about it being chronos, where it can be measured and sequential, or as kairos, meaning it's a qualitative moment or season."
We also have industrial constraints around time, she added, asking "what does it mean to have our time tracked?"
Students delved into the study of time from a variety of perspectives, including solar time and observations about the sun and the moon, as well as time as it relates to ecosystems here on Earth.
Students had a number of hands-on experiences in and out of the classroom, using natural areas around the UW Bothell campus to explore nature-culture relations and how timekeeping as a socio-ecological process can either support or disrupt them. They also learned about the impact and timeline of contaminants on humans and the environment.
Time, as it turns out, is a very mysterious thing. The course title alludes to thinking about time in different perspectives… thinking about it being chronos, where it can be measured and sequential, or as kairos, meaning it's a qualitative moment or season.

Dr. Veronica Cassone McGowan, lecturer, School of Educational Studies
Critical thinking skills
When developing the course, the project team also wanted to incorporate topics that might not appear in traditional science curricula, such as the integration of racial justice connections and Indigenous approaches to time and place.
"We were interested in having students see science from different perspectives, different ways of knowing and different ways of worldliness or of seeing and being in the world," Gyles said. "There were these ideas of science and what is occurring in the natural world long before Western science."
A central part of thinking about justice is to think about power and who has the power to make decisions about time and how it's measured, Tzou added.
"One of the reasons why time became a theme was because we take our conceptions of time, by the clock, by the workday, for granted," she said. "We tend to do that, but it is a very industrial, capitalist way of thinking about the world. There are other ways of thinking about the world that don't often get taught."
Another key challenge included in the course was learning about how to engage with data itself — understanding how it is collected and interpreted as well as how this can be used to make ethical decisions.
"What we build everything on is that science is not neutral," Starks said. "We think of ourselves as apart from nature, but we are actually a part of nature."
Interdisciplinary approach
Work on this course began in January 2022, with the project team meeting to share readings and to discuss their vision for framing the course, its core principles and curriculum.
One of the highlights of this design process, said Tzou, was working so closely across academic disciplines. "The collaboration with amazing colleagues across units — where we are doing some very powerful learning together that we can then take back to our own practice — has been really transformative.
"I thought I knew what it meant to teach science expansively, and this is just deconstructing everything that I thought I knew," she said. "I'm having as much fun as the students learning science in new ways."
While the class was created with Educational Studies majors in mind, it is open to all UW Bothell students, fulfilling both natural science and diversity graduation requirements. "We hope this class appeals to a broader audience of students who just want to learn science differently," Tzou said.
Throughout the course, students themselves also get the chance to learn from guest lecturers such Dr. Amy Lambert, associate teaching professor in the School of Interdisciplinary Arts & Sciences, and the School of STEM's Dr. Charity Lovitt, associate teaching professor, and Dr. Rachel Scherr, assistant professor, who each taught modules specific to their areas of expertise.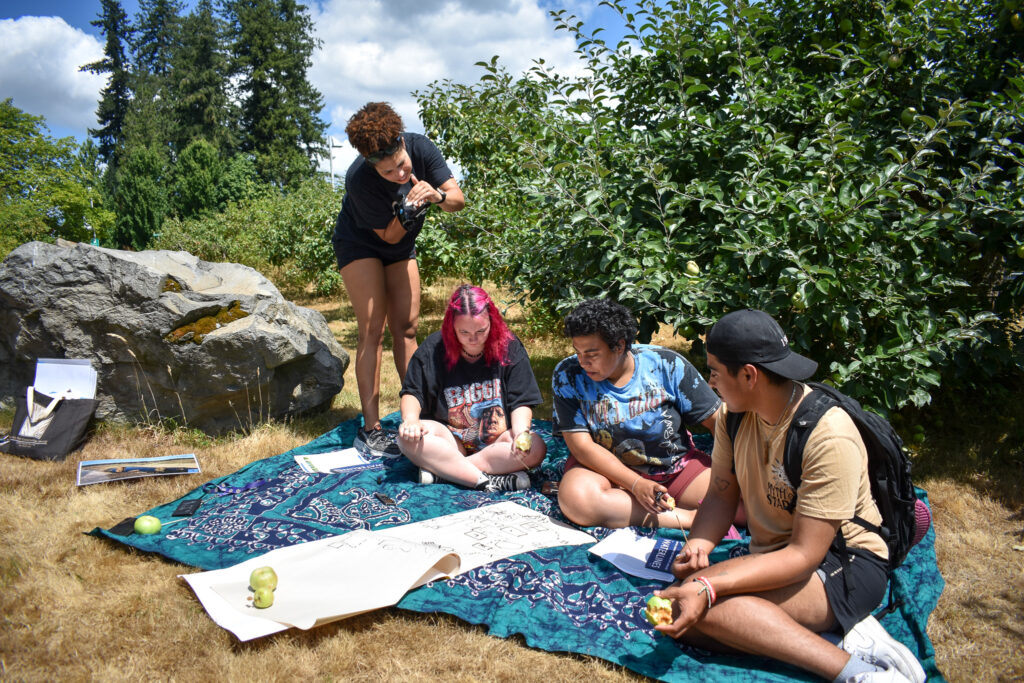 The iterative process
The NSF grant covers a four-year period during which the team will continue to develop this new course about time and socio-ecological systems.
To help see how the lessons might be improved, the project team videorecorded some of the summer class sessions. "It's an iterative design process," Starks said. "We'll go through everything and think about how it was received and change our trajectory a little bit for the next run of the class."
The course was also adapted in real time as the team met regularly during the summer to discuss what was working and what wasn't, to review survey responses from students.
"We're really doing these moment-to-moment changes, and I think the research aspect of it helps us as we try to look at the big picture later on," Gyles said. "It's nice having so many people and researchers on this project because we all have our own perspectives and ways of seeing that we bring into the space, while also having a shared foundation morally, ethically and pedagogically."
Much of this new course is informed from the first course developed for the project, called "Science and engineering for a more just and equitable world." It focused on ethical engineering and gender-inclusive biology, and included Dr. Bryan White, teaching professor in the School of STEM and another principal investigator on the NSF project, as a guest lecturer.
Expanding access
Next, the project team will develop the two courses into workshops for practicing teachers and create an online version of the courses.
"We're also really interested in how this can translate into a community college setting because of our student demographic here," Tzou said. "Many of our students come in as transfer students, and they would take these prerequisite courses at the community college level.
"We'll continue to iterate on these courses," she said, "and then add those other layers to the project to continue reaching a broader student body."