For more than four years, the University of Washington's School of Business mentorship program has made lasting impacts on the lives of approximately 600 UW Bothell students by pairing them with mentors from the community.
Mentorship EDGE — which stands for empowerment, diversity, growth and employability — began as an initiative of the School of Business Dean's Advisory Board led by Dr. Sandeep Krishnamurthy, dean of the school. Its goal is to increase student access to career guidance directly from working professionals.
Elizabeth Prendergast, an alumna who received her bachelor's degree in Business Administration in 2013, is the program coordinator. Each autumn and winter quarter, she matches approximately 65 students with business leaders in the community and then provides support to ensure each pair meets regularly to discuss the mentee's development throughout the year.
"Mentorship is so vital to students who are jumping into this transformational stage of their life," Prendergast said. "You need somebody who is in your corner, who you can talk to, who understands where you are and where you want to go, and who has experience traveling that path."
Thriving interest
When Krishnamurthy first approached Prendergast to get involved, they worked together to coordinate the program, both aware of the need for more formalized mentorship opportunities in the School of Business.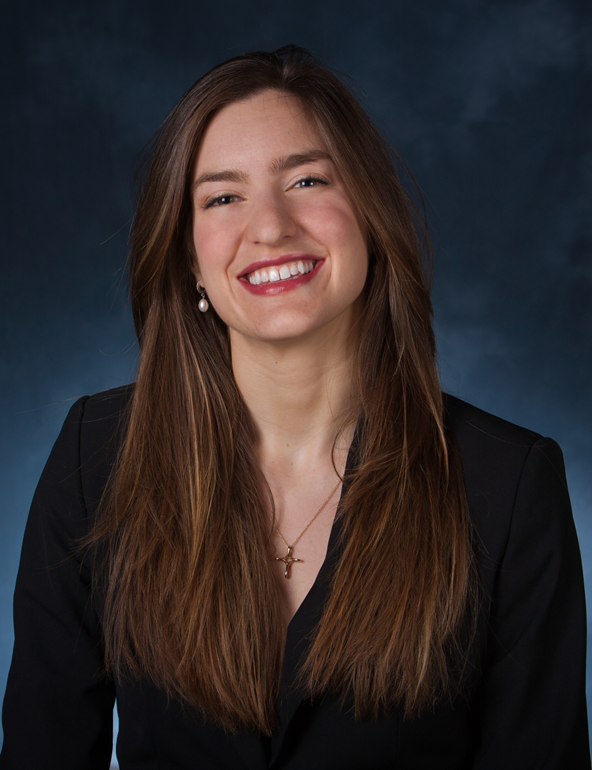 "We recognized that our students could benefit from mentorship," Prendergast said. "We had connections in the industry who wanted to come in and mentor students. We had students who were really glad to sign up and be their mentees.
"We decided we would just connect them, and that's how we started — quite humble beginnings. We did a few quarters, bringing on more mentors and inviting more students, and it just grew."
Prendergast ran the program with Krishnamurthy until late 2018, when the program's beta name Mentorship Days was changed to Mentorship EDGE to better encapsulate the program's values. At the same time, Prendergast took over as full-time coordinator.
Matching pairs
At the beginning of each pairing cycle, Prendergast hosts a mentor and mentee orientation so that potential participants know what is expected of them, what tools and structures will be made available to them, and how to get the most from the program.
Prendergast reviews the mentee applications and pairs each student with a mentor, who range from business consultants to managers to CEOs. She then supports both mentor and mentee in setting a date and time to have their first "kickoff" meeting together.
"We help them get ready to jump in with momentum, and we give them some guidelines," Prendergast said. "We suggest meeting at least once a quarter over the year, yet a lot of pairs meet much more often than that and sometimes they'll meet with others in the program. The synergy they create is really exciting."
According to mentor Mark Myers, a senior program manager in digital security and resilience at Microsoft who's been a mentor in several local mentorship programs, the degree of engagement from Prendergast, the program flexibility, the available supports, and the way Mentorship EDGE prepares mentors and mentees alike makes this one of the best programs he's ever joined.
"They're doing an exceptional job at UW Bothell," Myers said. "Elizabeth and the entire program are top shelf."
Personalized mentorship
After the initial match, the mentor and mentee decide how they want to move forward. Some pairs meet once a quarter online to discuss questions around professional growth, while others make a point to meet weekly or biweekly and have a set strategy on what they want to achieve together and what topics they will discuss during each meeting.
Paired in 2019, Myers and his mentee Kimberly Lomeli met at least every two weeks during the formal year-long mentorship with a laser focus on reverse-engineering a roadmap to Lomeli's dream job. They created meeting agendas and set goals, and the way they structured their time is now being used as an example for new mentor-mentee pairs in Mentorship EDGE.
"It all starts with having the mentee share what they truly need and want to get out of our time together," said Myers. "I don't want to force something on them that isn't natural or isn't delivering them the results they need. If they just want to write a resume and be done, we do that. If they want career advice, we do that.
"I want the experience to be theirs," he said, "not mine."
Strategic success
Their approach worked. Lomeli is now living her dream as a business analyst at Goldman Sachs in New York City. She credits her early openness about her goals and her continued mentorship post-graduation with Myers with helping to make her dream job come true.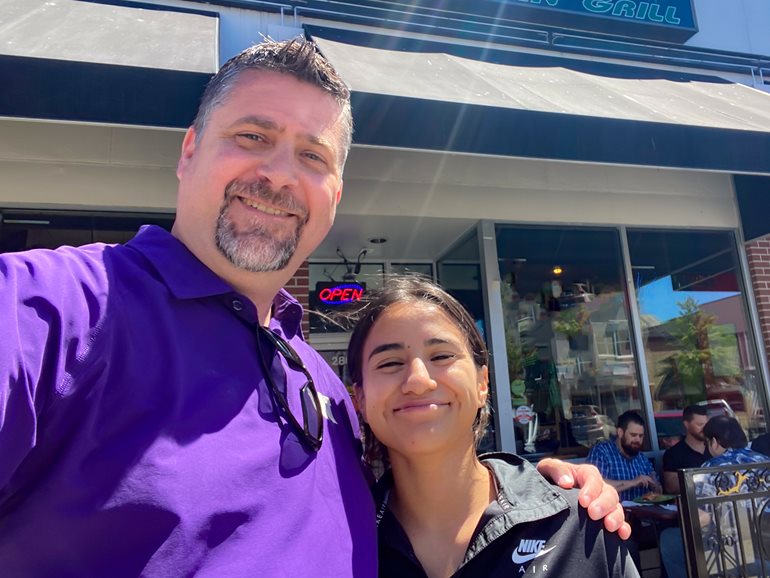 "In 2019, I was a pre-major at UW Bothell, and I wanted to be in the chair I am sitting in today. We literally worked every single day backwards to essentially get me to where I am," Lomeli said. "I did exactly what we talked about, and it worked."
Lomeli graduated in June 2022, but she and Myers are still connected, keeping up with their biweekly meetings online as well as texting and emailing in between.
"Mark is helping me learn to navigate corporate America as a young professional," Lomeli said, adding that Myers is helping her keep a positive, constructive mindset, too. "He's teaching me to take things day by day."
Expanding services
Based on the overwhelmingly positive response to the program — and as part of the School of Business' commitment to diversity — Mentorship EDGE has now been expanded to include graduate students in addition to undergraduates.
"As we started to grow, we had mentors who wanted to mentor graduate students, and we were hearing that graduate students really wanted to be included," she said. "We got to a point where we felt like we could serve them well."
Beau Farris is one such graduate student. Farris graduated with his MBA in 2022 and spent his last year in the graduate program as a mentee in Mentorship EDGE. He was mentored by Peter Goodwin, an independent marketing consultant.
"I wanted guidance in leveraging my education and experience in new industries or in new areas of interest," said Farris. "It was really helpful having a third party to go to for advice who wasn't family, friends or coworkers and who would listen and give me unbiased advice."
Mentee as mentor
Goodwin, like Myers, takes an active, engaged approach to his mentorship. He has several mentees at any given time and has developed an introductory slideshow for them so they could get to know him better.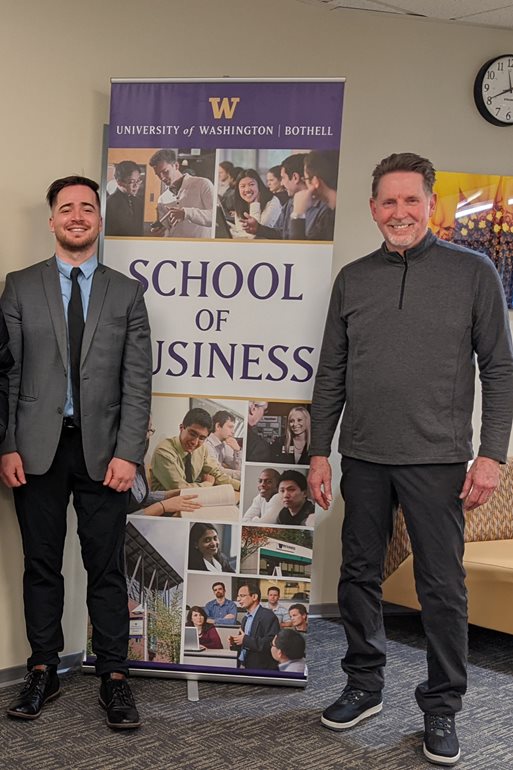 "I've been very fortunate to work with and for some very smart business leaders across multiple industries, including at Nissan when I lived and worked in Japan," Goodwin said. "The perspective I've gained over the years has been very valuable, and my hope is to share what I've learned and jump-start the careers of my mentees."
Like with Myers and Lomeli, Goodwin and Farris' relationship has been fruitful.
"It has definitely helped me see the value in building relationships outside my typical network," said Farris, now a national account manager with the Tulalip Resort Casino. "My relationship with Peter has inspired me to enter the Mentorship EDGE program again, this time as a mentor!"
Ever evolving
Prendergast says she is always looking for ways she can enhance the impact Mentorship EDGE has on UW Bothell students.
Each summer quarter, she organizes a networking event where past and present mentors and mentees from the program can mingle and get to know each other. The event in 2022 then inspired the launch of a Mentees of the Year award, a tuition scholarship presented to exceptional students. Lomeli was one of five recipients.
"We're an agile, growing program. We're always trying to improve and get better," said Prendergast. "This coming spring quarter I hope to give out more scholarships. And we're always looking for more mentors from different fields and different levels of seniority to connect with our students.
"We want to create more opportunities for these transformational connections to happen."