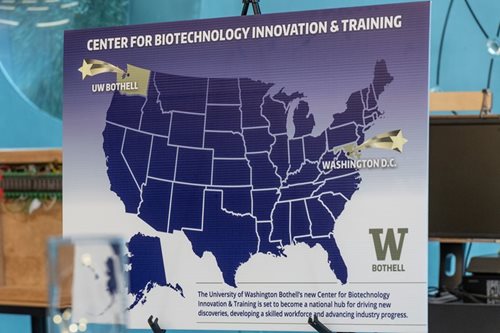 The biotechnology industry is booming. Along the I-405 tech corridor between Bothell and Woodinville alone there are more than 150 biotechnology firms — and that number is only expected to increase.
"The higher education sector in Washington state has not been able to keep pace with this growth, leading to a significant shortage of industry-ready employees to support these companies," said Dr. Leslie Cornick, dean of the University of Washington Bothell's School of STEM. "The potential for these industries to relocate if we cannot provide the trained life sciences graduates they need is a significant risk to the economic health and vitality of the region."
To help meet this need, last month UW Bothell launched the Center for Biotechnology Innovation & Training. In partnership with the local biotech industry, CBIT will engage faculty and students in a range of research and educational projects. A key goal of its programs is to develop the future workforce by providing students with a high level of training specifically tailored to the region's needs. Earlier this year, $750,000 from the the FY 2022 omnibus spending bill was earmarked by the U.S. Congress for this cross-campus center, which will be housed in the School of STEM.
Responding to regional needs
Students will receive specialized education and hands-on training to build the biotechnology skill sets required by regional and national industries for both entry-level and advanced jobs. Cornick said CBIT is also planning to offer the Biotechnician Assistant Credentialing Exam which was recently endorsed by the Washington State Board of Education as the preferred entry-level industry credential.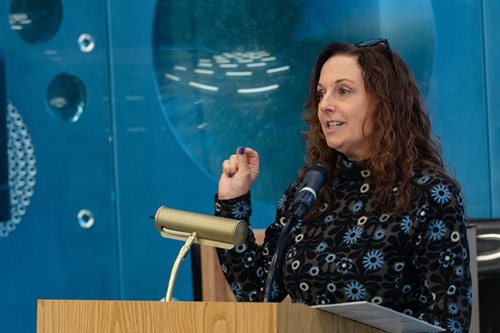 "The goal is to serve the workforce needs of this fast-growing and incredibly innovative sector of our economy while providing UW Bothell students access to exceptional education, training and internships," she said. "We also want to connect UW Bothell faculty and industry partners in cutting edge and critical research."
At the CBIT launch event attended by industry partners and civic leaders, Dr. Kristin G. Esterberg, UW Bothell chancellor, said, "As a public institution of higher education, we are called to respond not just to the needs of our students but also to the needs of people in Washington state.
"This includes offering academic courses, extracurricular activities and research that can help foster healthy and equitable communities over the long term."
Faculty at CBIT are developing a new curriculum that teaches students laboratory-based skills as well as the knowledge required for employment in the industry, with the first series of classes slated to begin in winter quarter 2023. Future curriculum development will include graduate certificates leading to professional master's degrees.
"These new pathways will provide opportunities for UW Bothell students and faculty to work directly with area firms for talent development, job placement and collaborative research," Cornick said. "Many UW Bothell faculty are already engaged in research that connects to the life sciences sector. CBIT will serve as a catalyst to foster additional scholarship and workforce development across schools and within the industry."
Spiking student interest
The School of STEM's Dr. Hyung Kim, assistant professor, and Dr. Lori Robins, professor, will co-teach a class at the center called Techniques in Biotechnology. In the class, students will express — synthesize, modify and regulate — the Spike (S) glycoprotein, otherwise known as the spike protein of the coronavirus. "We are not working with the virus," Kim said, "only with that protein."
Students will take the DNA sequence of the spike protein and insert it into E. coli bacteria. "This fools the bacteria into thinking it is its own DNA, and then the bacteria start to express it, making it a factory for the production of the spike protein," he explained.
The class will go through not just the process of making the protein but also the process of purifying it, taking it out of cells and, ultimately, demonstrating how that spike protein binds to a receptor.
"This research is highly beneficial as a big part of biotechnology is the study of a specific protein and finding ways to manufacture that protein," Kim said. "We are not trying to solve the coronavirus pandemic, but this is pertinent to the times and is a relevant way to teach students about biotechnology.
"At CBIT, we hope to engage students in exercises that mimic real-world research. We thought this was a good way to start."
Diverse demographics and disciplines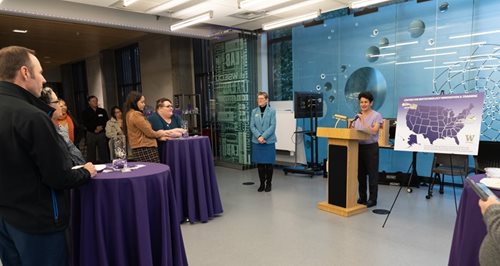 CBIT will also further UW Bothell's core value of fostering an inclusive culture, Cornick said. The center will proactively recruit students from underrepresented groups into the curriculum and research training, which will eventually lead to paid internships and career placement.
"Personal recruitment efforts by faculty will be employed to ensure the number of graduates in underrepresented groups is significantly increased through the CBIT program," Cornick said. "Also important to note: A team of diverse faculty from UW Bothell and from industry will be the ones teaching the curriculum and providing the training."
UW Bothell faculty will be coming from a wide range of disciplines, including chemistry, biology, bioengineering, physics, computer science, health studies, environmental sciences, business and regulatory affairs, and policy studies. Affiliate faculty from outside UW Bothell, including experts from the local biotech industry, will become an integral part of the teaching and training core, as well. Together, they will address the needs of the industry in biomedical device engineering, medicine, public health, disease outbreak prevention and environmental impacts.
Building a bigger pipeline
With its location along a main tech corridor in the state, UW Bothell's School of STEM is perfectly poised to build the pipeline of talent needed to keep the biotech industry in the region and support its continued growth.
Cornick noted that the location also provides a valuable opportunity for students and faculty to be embedded directly in industry laboratories, accelerating the pace of research and training by integrating experiential, project-based learning with the needs of the industry.
"We have close proximity to the industry, innovative faculty who understand the intersection between research and workforce development and a diverse and growing student population with a strong interest in biotechnology," she said.
"No other institution in the state is better poised to provide this critical need than UW Bothell, and the Center for Biotechnology Innovation & Training and the School of STEM are excited to lead the way regionally and nationally as indispensable partners and as a hub for innovation."