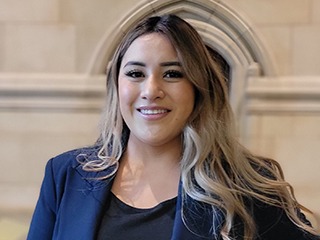 Monserrat Morales Miranda has always been a leader — and a learner.
As a child, she helped her parents navigate the health care system, translating medical forms for them and guiding health services for her brother, who has epilepsy.
She learned that the health care system was not designed with immigrant families such as hers in mind. Instead of being discouraged, she used their experience to shape her path in life. "This is not only a health justice issue but a social justice issue as well," said Morales Miranda. "I aspire to combine my passion for social justice within my work in the public health sector and herald the needed change to accommodate access for all."
In college, she again ran into issues of access that inspired her to make change. As a first-generation college student, she could not get advice from her parents on how to navigate higher education and at times felt "completely lost." Wanting to help others on their paths, she became a founding member of a support group for these students at the University of Washington Bothell.
For her expansive work with underserved communities, Morales Miranda has been named one of the 2022 Husky 100 honorees. Each year, the UW recognizes 100 undergraduate and graduate students from the Bothell, Seattle and Tacoma campuses who are making the most of their time at the University.
The recipients actively connect what happens inside and outside of the classroom, applying what they learn to make a difference on campus, in their communities and for the future. Morales Miranda, who received her B.A. in Health Studies from UW Bothell in 2020 and her Master of Public Health from the UW School of Public Health in Seattle, is one of 11 students from UW Bothell to be recognized in 2022.
Documenting disparities
After taking the Introduction to Public Health course taught by Dr. Grace Lasker, teaching professor in the School of Nursing & Health Studies, Morales Miranda realized that she could pursue a career that fulfilled her childhood aspirations. She discovered that in this field, she would be working on real, current issues affecting the world — and her community specifically.
"I was mesmerized by how public health could help me create awareness and preventative measures that would improve the health and well-being of the Latinx immigrant community," Morales Miranda said.
So she immersed herself in opportunities to apply her classroom learning. She interned as a health educator at Sea Mar Community Health Centers, a community-based organization that provides a variety of resources — including health care and housing — to diverse communities, specializing in service to Latinos. She learned about health education and promotion for her community and worked with patients with diabetes.
On campus, she continued to advocate for her community by helping to develop resources for students like herself. One of her proudest achievements was helping to lead campuswide training for fellow students, faculty and staff on how best to support students with programming and mentorship opportunities. This work was documented in her research, Picturing Lives Undocumented: A photovoice project exploring barriers and facilitators to health and academic persistence among undocumented college students.
Coaching communities
Morales Miranda went directly to the UW School of Public Health after graduating from UW Bothell, bringing with her a commitment to improving health outcomes among immigrant populations. She joined the Community Health Worker Coalition for Migrants and Refugees, which works to meet the needs of underserved communities.
As a health program coordinator there, she focused on managing and coordinating programs designed to support and educate Latinx immigrants and refugees. "There are many health disparities within the Latinx community that need to be addressed," she said, "and there are not enough resources to address them."
Through the coalition's Stanford Youth Diabetes Coaches Program, Morales Miranda taught Latinx high school students how to advocate for their families just as she did as a child. "Still to this day, I vividly remember riding the bus with my mother for hours so that my little brother could receive treatment for his epilepsy," she said. "As a 10-year-old, I managed his health needs out of necessity."
The coaching program allowed Morales Miranda to provide others with the training she didn't get when she was young. She taught students communication and coaching skills with an emphasis on action planning and working closely with health care providers. She also shared information about diabetes, healthy meals and stress reduction.
"Helping address the growing problem of diabetes in underserved communities and empowering youth to improve the lives of their family members aligns so well with my hope to join the public health workforce," Morales Miranda said. "I want to do work that promotes health care equity, quality and accessibility."
Advancing aspirations
Morales Miranda also earned a fellowship with the Latino Community Fund where she had another opportunity to work on the issues of access she faced as a first-gen student. She facilitated educational workshops for Latinx youth that focused on career readiness, the college application process and financial aid. She wrote for LCF's Latinos in Tech, a blog designed to introduce and inspire Latinx youth to pursue STEM careers.
"My work allowed these high school students to feel supported and be successful in applying for and navigating college," she said.
Dr. India Ornelas, associate professor in the Department of Health Systems & Population Health Studies served as a mentor to Morales Miranda. "Monse is a Latina immigrant who is committed to making a difference in her community. She cares deeply about the communities she serves and represents — and brings her own lived experience growing up as a Latina immigrant in Central Washington to her work.
"She represents the positive impact we hope our students will have in the larger community."
Morales Miranda says that she values the opportunities in leadership, research and community building she had during her six years at the UW. Her vast experience inside and outside the classroom were paramount to her advancing her aspirations to prioritize equity within all social determinants.
"I want to be a bridge to help people access health care services and reduce health disparities in underserved and underrepresented communities," she said. "Once I get my doctorate in Public Health, my dream is to start a nonprofit organization focused on public health promotion for immigrants and youth."