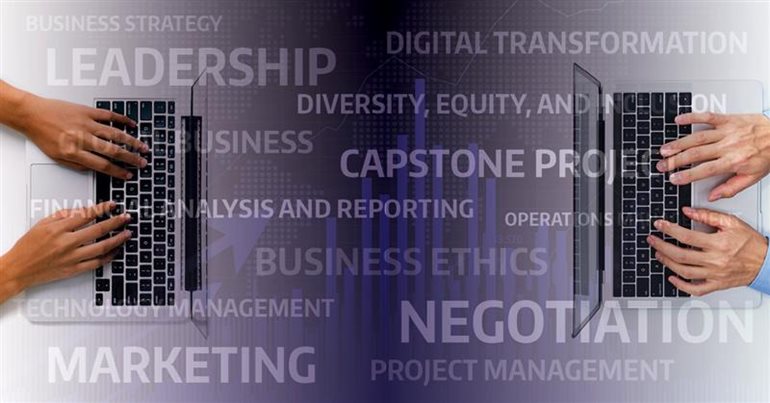 Over the years, Dr. Sandeep Krishnamurthy, dean of the University of Washington Bothell's School of Business, has championed accessibility of business education and leadership development.
"As a leader of a business school, I believe that we have to take seriously the obligation to democratize the MBA," he said. "It is the most important way that someone can rise to be a business leader. We have to make it more accessible.
"There is so much talent in our community, and given the right inputs, we can work to educate the next generation of community-minded business leaders."
Krishnamurthy serves on the board of directors at the Bellevue Chamber and leveraged his network there to create the Eastside Mini-MBA, an executive certificate program aimed at creating the next generation of leaders.
Designed to help small and medium-sized companies develop leaders in their organizations, the Mini-MBA is more flexible than a traditional MBA — and is offered at a more affordable cost.
For accessibility and community
The Bellevue Chamber promotes the Mini-MBA through marketing and outreach and helped to attract the first cohort of students. Chamber leaders also contribute time and expertise as mentors to the students.
"One of the three pillars of the Bellevue Chamber is education," said Kim Fredericks, chamber vice president. "After learning the vision for this program from Sandeep, we felt it made complete sense to collaborate with him and the University of Washington Bothell's reputed business school."
Recruitment is also aided by the fact that the Mini-MBA courses are 100% online and, as noted by Krishnamurthy, reachable by leaders everywhere. In fact, Satyabrat Chowdhury, vice president of engineering at Corestack, was able to participate in the program all the way from India. "By paying attention to the affordability of business education, we are able to diversify who becomes a future business leader," Krishnamurthy said. "Our campus motto has always been access to excellence, and I feel that we are living up to that with this certificate program."
Encouraging future business leaders to care deeply about their community is also a passion of Krishnamurthy's and a pillar of the program. With this spirit, all students are assigned to address a challenge in their region. "We want business leaders with heart who are interested in societal impact above and beyond profit," Krishnamurthy said.
Students Jackie Ocampo, a quality assurance training specialist at Symetra; Shanmugapriya Surendavarman, a teacher in Singapore; Parul Chheda, the vice president of strategic alliances at Corestack; and Venkatesh Perumal, the field chief technology officer at Corestack, all took on the challenge of tackling gender equity in organizational leadership.
"Despite the progress we have made in society, the percent of high-level leadership roles held by women remains at a low level," Krishnamurthy explained. "Corporations don't seem to know how to fix this problem. So the question posed to the students was this: What should we do, as a community, to ensure gender equity in organizational leadership?"
Above and beyond profit
In a search for answers, the team conducted more than 20 interviews with women who work in corporate organizations. One of these women, an information technology professional, said, "With opportunities readily available in my organization, mothers are not given priority. Instead they are to take a step back and sit in the backseat for years."
Another woman in human relations echoed this pain, saying to the team, "I took nine months of maternity leave only to be put down in my job and given a junior position. It was a hard blow as I worked so hard to get to where I was."
To hold corporations accountable, the team proposed a solution they named the Grace Hopper Act. Hopper was an American mathematician and rear admiral in the U.S. Navy. She was also a pioneer in developing computer technology, helping to devise the first commercial electronic computer. "We felt she was an influential change agent," Perumal said. "We were inspired by her life and hence wanted to name this act after her."
In their final class presentation, the students explained that the act would mandate reporting of diversity hiring, promotions and all related information. It would also drive transparency by ensuring those numbers and related data are auditable. "Even though the program is over, we plan to continue working on the act," Perumal said. "We plan to continue meeting with our mentor, Gavriella Schuster, and seek her guidance on how we can take this to the next level."
An expert in her field, in 2020 Schuster gave a TEDx Talk titled BeCOME an Ally: How to achieve gender equity. "I was thrilled to work with an amazing and motivated group of students on the topic of creating gender equity in the workplace," she said. "We met several times, and each time I was pleasantly surprised at the level of creativity and innovation the students had developed.
"The final recommendation was clear, actionable and very well presented. The experience exceeded my expectations."
Other challenges worked on by students from this cohort centered on racial equity, affordable housing, financial health of youth, software as service, creativity in the workforce and building entrepreneurship capacity in community.
Personal and professional gains
While the certificate program is designed to benefit the community, it also had a substantial impact on the first students to participate. Arlene Hampton, senior site director at Mary's Place in Bellevue, decided to enroll in the Mini-MBA while at a luncheon for the Bellevue Chamber. "Former Seattle Seahawk Doug Baldwin was speaking, and he was sharing this heartening message about pursuing your dreams," she explained. "I felt inspired listening to him.
"And then, while he was speaking, an advertisement for the Mini-MBA popped up on this huge screen behind him, and I knew it was meant for me," she said. "I felt pulled to pursue it."
Hampton has worked in nonprofit organizations for more than 30 years and had been wanting to expand her skillset and explore other possibilities. She said this program gave her the tools she needed to advance in her career. "It taught me how to think in a global context to conduct business, lead people effectively, build trust and resolve issues. But maybe even better," she said, "it gave me lifelong friendships."
While in the program, Hampton suffered the loss of her younger brother and, shortly after, was hospitalized due to a herniated disc. She ended up attending some classes from a funeral home and a hospital bed. "I didn't need to be there — I wanted to be there," she said. "These classes were my favorite part of my week. My classmates and professors were amazing, and they helped me get through the hard times."
That strong sense of community was something many other students and professors attested to as well. "We all came from the same starting point," said Oscar Reese, senior unit manager at Symetra. "We are all career-focused individuals and had that in common from the get-go. This was something all of us wanted to do.
"As we got to know each other better, we all realized how much we have in common, and I know from our six months together that we will always keep in touch."
Dr. Ceri Nishihara, assistant teaching professor in UW Bothell's School of Business, reported that the online chats during class were always full of encouraging words and affirmations. "People were willing to be open and vulnerable amongst themselves, and that set the tone for how this program worked," she said. "These students were some of the most engaged, supportive and kind people I have ever had the pleasure of teaching."
'Superb' educational experience
The first cohort of students completed the 10-week program last month and held a virtual graduation to commemorate their experience. Valedictorians Megan Adams, who is individual and corporate giving manager at Village Theater, and Jessica Nichols, who is director of service and operations at Symetra, gave remarks which were followed by inspirational words from Joe Fain, the president and CEO of the Bellevue Chamber.
Nishihara described the virtual ceremony as incredibly moving. "We had students from across the world," she said. "Most of their family members came and had signs cheering for their loved ones. Even though it was online, the love in that virtual space was palpable."
A significant number of the Mini-MBA graduates are also planning to pursue a full MBA degree. "It was definitely a success — and we did it together with community partners," Krishnamurthy said.
"I firmly believe these students received a superb educational experience, and that's something I hope to continue. Our vision is to graduate 500 community-minded business leaders in the next five years."