The plan was … there was no plan.
When Youssef Beltagy left Egypt, the only thing he knew was that he was getting a fresh start and a chance to pursue a career in STEM. He left behind everything familiar and started at Bellevue College with an exploratory mindset that would eventually lead him to receiving the University of Washington Bothell's 2022 President's Medal.
A graduate with a major in Computer Engineering and a minor in Mathematics, Beltagy excelled in the most challenging of classes. It was his passion for discovery and innovation, however, that made him stand out.
This passion inspired him to take on projects ranging from mitigating web application security vulnerabilities to creating a sensor system for salmon research to improving the quality of OpenStreetMap data to building a smart asthma inhaler.
Low on confidence, loads of motivation
Beltagy struggled with bad study habits in high school. "My performance in high school would not have allowed me to pursue a career in STEM," Beltagy said. "I lost confidence in my ability to succeed academically."
Yet he had always wanted to travel. So after taking the Cambridge International Examinations that would allow him to study abroad, he enrolled at Bellevue College and moved to Washington state.
Beltagy committed to learn from his mistakes in high school. He vowed to build effective study habits and made a list to live by.
To never fall behind in class.
To always attend class even if I don't think it is particularly productive unless I succeed in staying on track by myself.
Since there is extra credit — such as research — offered in the United States, to do every single one.
To create an environment that will help me succeed.
And to simply try my best.
"They were all basics," Beltagy said, "and they worked."
Making a fresh start
Still unsure of his future, an interest in computer programming led him to his first computer science class. He was surprised by how much he enjoyed it, and, upon learning that the tech industry offered diverse career opportunities, he decided to major in Computer Engineering. After a year at Bellevue College, Betalgy transferred to UW Bothell in 2018. Finally, a plan.
"I also learned that here in the U.S., it is normal to change majors," he said. "I could always change my mind. What a luxury."
He didn't change his mind. If anything, he became laser-focused to succeed in his chosen studies. He built his technical foundation first in Dr. Brent Lagesse's computer science class, Data Structures, Algorithms and Discrete Mathematics.
"It is the first course most students take once they are admitted into the major, and it is often very difficult because of the transition from one computer language to another," said Lagesse, an associate professor in the School of STEM who recommended Beltagy for the President's Medal. "Youssef not only excelled in the class — earning a 4.0 and outscoring the next highest grade by more than five percentage points — he was consistently a contributor to class discussions."
Said Beltagy of the experience, "Dr. Lagesse's support gave me much-needed confidence, and the technical competency I gained in the class backed up that confidence."
Staying on track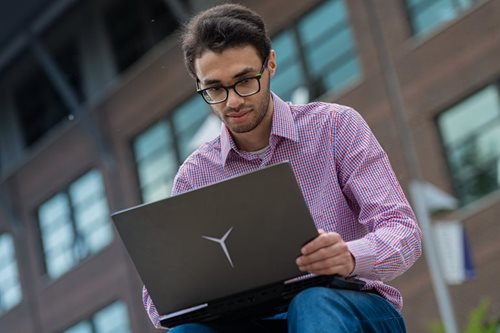 From that strong foundation, Beltagy moved on to Operating Systems and Cloud Computing, both taught by Dr. Robert Dimpsey, associate teaching professor in the School of STEM. The first gave him an understanding of how the applications he developed in Lagesse's class fit in the greater scheme of computer engineering, and the second taught him how to build apps that can grow to serve the goals of people worldwide.
Dimpsey, who has worked in the computer science industry as a developer and manager and is currently consulting at Microsoft on Cloud Service Excellence, said, "In my many years of work in the field and in academia, I can say that Youssef stands out in my mind as a unique and memorable individual. He finished each class near the top, and his understanding of the material was clear and deep."
In recommending Beltagy for the award, Dimpsey said, "Youssef has a passion for understanding and knowledge that is unique amongst his peers. He is clearly driven toward excellence and self-development. For instance, he would come to office hours not just to discuss the topic under review but others as well.
"I recall specifically one office hour when we discussed reasons why people have trouble with writing an ampersand by hand, and he was deeply fascinated poking at multiple reasons. His curiosity was palpable."
Taking extra credit
Beltagy found his first "extra credit" opportunity through independent study. Alongside a fellow tutor from UW Bothell's Quantitative Skills Center, he built a sensor system to help Dr. Jeff Jensen, teaching professor in the School of STEM, with his salmon research. The prototype monitors water temperature, counts salmon fry as they hatch from incubators and uploads the data online for analysis.
"I learned how important it is to think from the user's perspective and how complex 'simple' systems can be," Beltagy said.
Extra credit also came in the form of a research project in which he worked with Microsoft software engineers and two graduate students to improve the quality of OpenStreetMap data for routing algorithms. He redesigned the existing graph model, which reduced the runtime 20-fold, allowing his teammates to scale the tool to work in seven additional countries.
The project taught him more than how optimize a real-world problem: he also gained insight in collaborating with a team very much like the one he envisioned for his career. And that lesson in collaboration helped Beltagy take his next step: to co-lead his capstone presentation that encapsulated the knowledge and skills he acquired at UW Bothell.
Applying his learning
Beltagy and his team of four wanted a capstone project that had potential to improve people's lives. They chose to advance the research on a smart inhaler for asthmatics started by a previous team.
The multi-disciplinary project comprises three components: an Android app, a Bluetooth-enabled inhaler and a Bluetooth-enabled wearable environmental sensor. The app shows users when they used their inhaler and the conditions — weather and air quality tracked by the sensor — at the time. The data would provide the user's physician with important information that could improve the user's condition.
He and co-lead Sarah Panther, a 2021 Computer Engineering alumna, presented their work at the 2022 Undergraduate Research Symposium last month. Their project received one of 16 Population Health Recognition Awards, a high honor conferred by the University's Population Health Initiative.
Acknowledging his environment
Receiving the President's Medal would not have been possible without the support of many through his four years at UW Bothell, said Beltagy. He expressed gratitude for all his professors, mentors and collaborators, particularly his capstone team.
"This award is a result of their confidence in me and the opportunities they provided for me to excel," he said.
The President's Medalist is selected from among graduating seniors with the most distinguished academic record, taking into consideration courses taken, honors and awards, research and publications, as well as future plans. Despite not having a direction four years ago, Beltagy, who graduated in March with a 3.98 GPA, now has several plans in the works.
Start a career in software engineering.
Mentor undergraduates in programs like Mentorship EDGE in the School of Business.
Pursue a master's degree with a focus on cybersecurity.
Work on socially impactful projects like the smart inhaler.
And to simply try my best.