"The world is currently experiencing a mental health crisis that demands immediate action," said Dr. Jody Early, professor in the University of Washington Bothell's School of Nursing & Health Studies.
Citing the Centers for Disease Control and Prevention and the World Health Organization, Early said that one in four adults and one in five children around the world are estimated to be living with a mental health condition. "The actual numbers are likely to be higher than these estimates given the reluctance or inability for some people to seek help," she said. "In fact, a large portion of the world population — as much as 85% — does not receive adequate mental health care due to obstacles such as lack of resources, shortage of trained health providers and social stigma."
Unlike diagnoses of other conditions, a mental health diagnosis carries a sense of shame that prevents people from seeking treatment. "People globally are dying from chronic illness like cancer and heart disease, but they are also dying from depression, loneliness and despair," Early said. "We need to address the stigma of mental health and apply a preventative approach as we do with other health issues.
"There is no reason our mental health should be treated any differently."
Mental health matters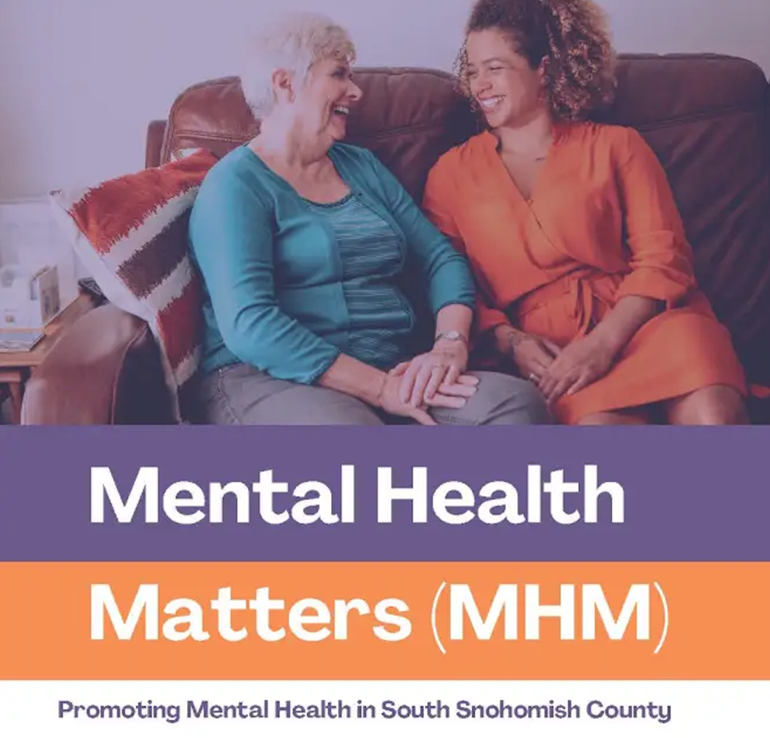 To create the change she wants to see in the world, Early partnered with Sandra Huber, community engagement manager with the Verdant Health Commission, to develop Mental Health Matters of Washington. This new community-centered mental health awareness program builds on Verdant and UW Bothell's previous initiatives to support community-based, tailored health education and promotion in South Snohomish County.
Early is the principal investigator and co-director of the project, and UW Bothell was awarded $110,000 from Verdant to launch the program this year with the potential of an additional $300,000+ to follow over years two and three.
Huber said there is a pressing need for these kinds of programs. "There is a nationwide shortage of mental health professionals, with only 28.1% of the needs being met. Filling this gap is critical as mental health is an essential part of our overall health and well-being. While we encourage and support students interested in the mental health field, we can't wait until those future professionals are in place."
To build capacity within communities and to help mitigate this shortage of providers, MHM trains peer mental health navigators to promote mental health in daily conversations with others. Trained by the MHM team and licensed mental health professionals, peer navigators are supporting their communities as trusted liaisons, helping to link people to basic resources that people need to thrive — such as food, housing, and medical and behavioral health services. "Research from studies around the world support 'popular education' and a peer-advocate model as promising strategies to reducing rates of hospitalization for mental illness as well as suicide," Early said.
Monica Vorn, a UW Bothell student in the School of NHS was drawn to the peer navigator role as talking about health within her culture and community was considered taboo. "It was heavily stigmatized and I didn't know how to cope with my emotions — it felt like my internal thoughts were eating me up from the inside," she said. "It wasn't until last year I started to develop my own understanding of mental health.
"MHM built a safe space to normalize talking about different aspects of health and taught me the importance of reaching out for help."
Increasing social connection
The training is currently offered in both English and Spanish, but the team hopes to expand this to include different languages and cohorts, including one for youth.
Helping to lead the charge for a youth advisory group is 14-year-old Mehr Grewal of Bellevue, Washington, the youngest trainee of the program who became a peer mental health navigator during the pandemic.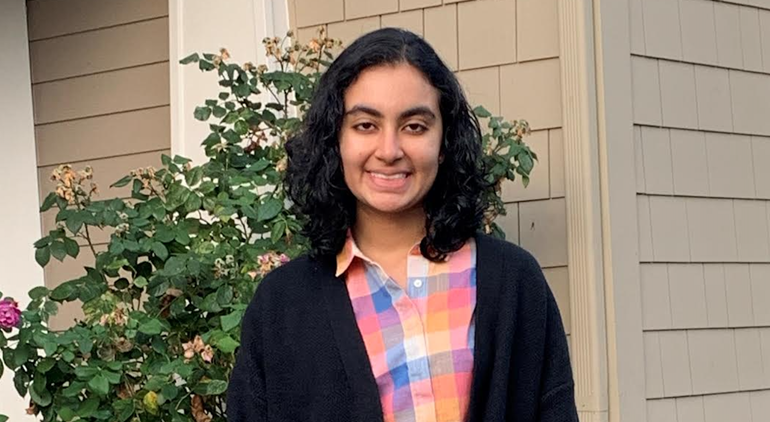 "A year of isolation and online school paired with the loss of a social support structure and the sometimes-cruel effects of social media have had a huge impact in deteriorating the already fragile mental health of youth," Grewal said. "I have seen so many of my peers crushed under the weight of these crises, struggling to find support and just an anchor in these isolating times — battling with loneliness, anxiety and depression."
Witnessing this firsthand led her to look inward and think about what she could do to help her peers and, on a larger scale, her community. She started Teen Mental Health Cafés, an online support group for adolescents, just over two years ago. When MHM of Washington launched, she saw a way to create an even larger impact and immediately knew she wanted to get involved. "It felt like a natural progression for me to partner with them and help develop the youth program," she said.
Emily Tuy, a student in the School of NHS, got involved in Mental Health Matters for similar reasons. "I've witnessed mental health, particularly mental illness, having intergenerational effects on my family and the Asian American and Pacific community," she said. "Since mental health hits so close to home, my hope is to change the way we think about and talk about mental health where stigma and a lack of resources exists."
"I believe that mental health needs to be valued more in our schools, homes and society because mental health has increasingly detrimental effects on our way of life if not addressed."
Lead peer navigator Nohemi Rivera relates to Tuy, as her love for her community is what drew her to this work. "I firmly believe that I have a responsibility to help create spaces where people feel that they belong and where they can feel and gain solidarity, understanding and empathy. Our program helps people learn about themselves and how to help others. We connect people to care and to the resources that every human being needs and deserves," she said.
Other team members include Salomé Valencia Bohné, a graduate of UW's School of Social Work who serves as the program coordinator, and Annika Sahota, a graduate student in UW's Department of Bioengineering who serves as the program's research assistant. Additionally, Ana Thompson from UW Bothell's Office of Digital Learning & Innovation has helped with instructional design and training for both the English and Spanish versions.
Annika Sahota said the work MHM is doing aligns with her long-term goals as an aspiring physician. "Overcoming mental health problems is a challenge every community deals with regardless of socioeconomic status, culture, religion and political environment. However, these factors may influence accessibility to mental health resources," she said. "MHM emphasizes the need to reprioritize mental health as well as the need to improve dissemination of resources especially in under-resourced populations.
"Participating in the program has made me more aware, sensitive and empathetic to others."
Improving sense of belonging and inclusion
The MHM program also offers support to the community by hosting events to increase dialogue and social connection. "I'm especially grateful that MHM works as a team in making program choices and that all of us created the program's curriculum, selected the roundtable [event] topics and have contributed to partnering with local organizations," Valencia Bohné said. "I believe that what all of us have created has made a strong and positive impact on the community."
In November 2021, the team worked with MÁS, Movimiento AfroLatino Seattle, to host Versadas, a virtual celebration and workshop to apply oral traditions as a tool for healing and mental health promotion. In March 2022, MHM hosted Gender Affirming Care: Supporting Queer, Black, Indigenous and People of Color, which was presented by UW Seattle 2019 alumnus Aleks Martin, a licensed clinical social worker and social justice advocate.
"In health care in general, there is an ongoing disregard for gender identity, and that translates into discrimination and negative care — or no care at all. Currently, states like Florida and Texas are attempting to ban medical care for individuals identifying as trans or non-binary," Early said. "The event that Aleks led was about consciousness raising. There are many people out there, especially in health care, who don't know what gender affirming care is or why it's so important."
Early explained that centering the experiences of communities of color and marginalized groups is key to the program since these groups are more likely to experience adverse mental health and disparities due to factors such as historical trauma, economic disenfranchisement, racism, gender-based discrimination, ableism and homophobia. "Our program covers these root causes as well as how culture, community and collective action can help create individual healing but also positive systems-level change."
Looking to the future, Early hopes to expand the program's reach and grow the training so that navigators can reach an even wider range of audiences. "We most recently partnered with North Sound Accountable Communities of Health to help us take the program beyond Snohomish County and further into Western and Northern Washington" she said.
"In addition, we also want to conduct longitudinal studies on the effectiveness of our tailored model and peer-to-peer approach. It's also important that we help to increase social consciousness about public policy and mental health advocacy and the important roles these play in impacting mental health."
Adding to this, Rivera said that in these times, "it is important that we all work together to not only better serve communities but change the systems that cause disparities."
Want to learn more? Check out these resources:
In honor of National Nurses Week May 6-12, we recognize the faculty, staff, students and alumni of our School of Nursing & Health Studies.