The spirit of Dr. Julie Shayne's new class, The Power of Feminist Writing, is perhaps best captured in the words of Malala Yousufzai, a Pakistani activist for female education, who said, "One book, one pen, one child and one teacher can change the world."
Shayne, a teaching professor in the University of Washington Bothell's School of Interdisciplinary Arts & Sciences, has been an educator for nearly 25 years. From the beginning, she has relied on books to create breakthroughs in student learning. "I teach mostly about the Global South to students who are mostly from the Global North," Shayne said. "I have always found that novels and memoirs by folks from the countries I teach about are the most effective, powerful and, I think, respectful way to transport U.S. students to unfamiliar realities."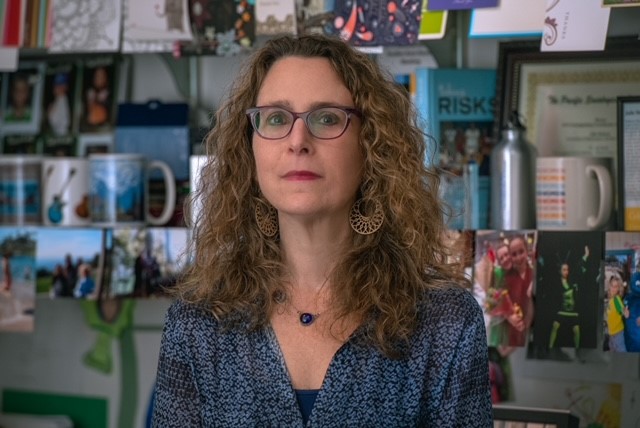 The two texts that have historically had the greatest impact on Shayne's students — especially those from Latin America — have been memoirs written by women revolutionaries from Chile and Nicaragua. "Oftentimes students' parents or grandparents left their home countries because of war, but they never talked to their children about it," Shayne said. "Then these students read books in my classes and start asking their parents questions, ultimately learning some really heavy personal histories."
Despite the powerful response these books have elicited from Shayne's class, it wasn't until a year ago that the idea dawned on her to create a course that dives solely into the written word. In The Power of Feminist Writing, which debuts this spring, students will spend the quarter reading genres ranging from fiction and nonfiction to memoirs and poetry. In addition to reading the books, students will also have a chance to talk to the authors directly when they visit the class.
"This is definitely a passion project of mine," Shayne said. "I hope the students will be just as excited about it as I am."
Power and privilege
An avid reader herself, it took Shayne months to narrow down the topics and genres she wanted to include in the class. Having read as many as 1,000 books over the course of her lifetime, she only allowed herself to select four to serve as the course's required reading.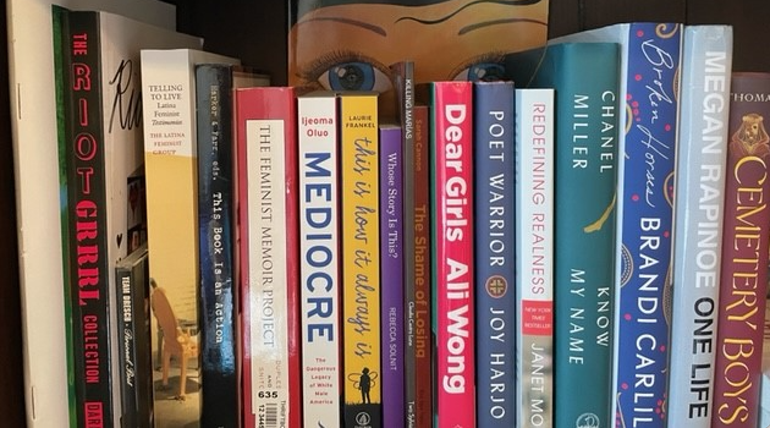 "To help make the decision, I thought about who our students are from a demographic point of view," she said. "I then made sure to include authors who were either Black, Indigenous or people of color as the students deserve to see themselves not just as the content — but as the writers."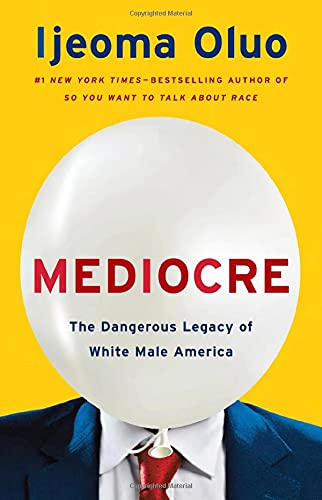 The first book the class will read is Mediocre: The Dangerous Legacy of White Male America by Ijeoma Oluo, a New York Times bestselling author. Each chapter looks at historical examples of white supremacy and misogyny, showing how they embolden each other. Oluo then uses contemporary examples to demonstrate how "mediocre" white men benefit from that patriarchal history while BIPOC folks and women continue to be harmed.
For instance, Oluo begins the book with William "Buffalo Bill" Cody, who she describes as the showman whose slaughter of buffaloes was an introduction for the hunting and killing of Indigenous people at the hands of American colonizers. She then draws parallels of this version of masculinity with the contemporary example of American football, a sport she argues was so violent that when it first began, dozens of players were killed. Now, she notes that professional football owners and managers are mostly white while the majority of players are Black, an arrangement that costs the latter "their bodies, and — often after repeated concussions — their minds."
Shayne described the book as the best history of the interplay of misogyny and white supremacy she has ever read. "Since I am trying to train my students to be feminist writers, and not just readers, that means they need to be able to write about the interplay of both white supremacy and misogyny. They need to show how the two function together, and if they emulate Oluo's style, they will absolutely be on the right track," Shayne said.
Poetry pros(e)
The second book the class will read is Killing Marias: A Poem for Multiple Voices. The collection of poems is written by Claudia Castro Luna, an author and the 2019 Poet Laureate of Washington state. Her work speaks to the femicide in Ciudad Juárez, Mexico, that began in 1993. Castro Luna described it as her "feminist manifesto."
Her inspiration for writing the collection came while working on her master's in fine arts. "I stumbled upon a website for a nonprofit whose purpose was to name the hundreds — now thousands — of women who have been murdered from the femicide in Mexico," she said. "As I was reading it, I was struck by how many 'Marias' there were, and I felt this strong impulse to write."
That impulse led her to write 45 poems, one for each of the Maria's identified on the website. The title of each poem was their name, Maria, but rather than using their last name, she chose a poetic phrase to "cast agency back into these women and acknowledge the women's material bodies as well as their spirits." Examples include Dweller of Heaven, Mirror of Justice, Mother of Weeping Rocks and Hug of the Earth.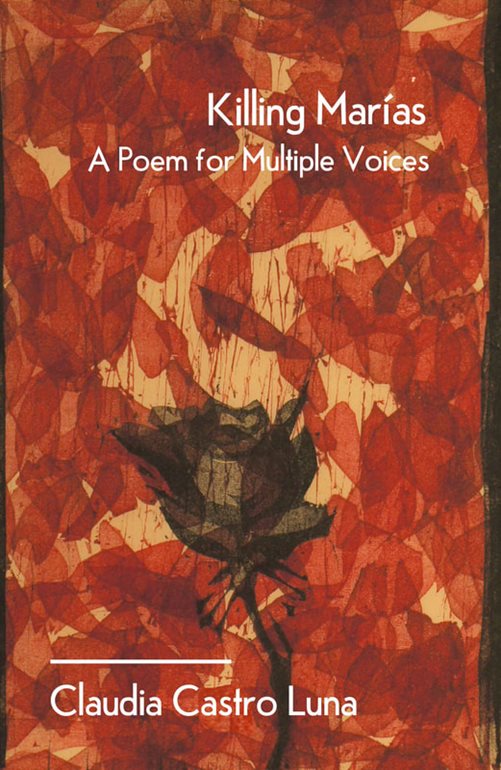 "This book is a place of remembrance and solidarity, but it's also a place of questioning," Castro Luna said. "These women were killed because of their gender. I hope the readers think about how to become agents of change and how they can make sure things like this don't happen in their immediate environments."
Naturally, the connection between gender and violence will be a topic of conversation in Shayne's class as the students read through the collection. "Poetry is a way to tell and document history," Shayne said. "I hope students absorb the magnitude of the pain and injustice of the Juárez murders through Claudia's poems. And for the aspiring poets, I hope they are inspired to use poetry as a way to document violence against women that we know happens every single day in every single city. Femicide is not unique to Juárez."
Castro Luna is thrilled the students will be reading her work and is looking forward to speaking with them. "I am so excited Julie is teaching this class, and I am honored she is featuring my work. Her class is super important because women have been silenced for centuries, and curriculums like these help students articulate their experiences, form theories of actions and make connections in the ways in which they are embedded in power structures," she said. "I hope to dive deeper into this topic when I come to speak."
Breakthroughs with books
Although this is a college class, Shayne did assign one children's book — Killer Whale Eyes by Sondra Simone Segundo, a Haida singer, artist, author and educator. Shayne describes it as a "beautiful children's book written by an Indigenous woman for Indigenous children about their spirit world."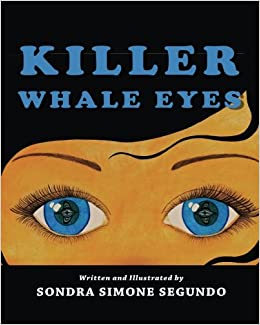 Aside from non-fiction history books, Shayne said most children don't grow up reading books about Native American people or their cultures. "This is also true for other marginalized or underrepresented communities. There are even fewer books for marginalized populations that are affirming, and fewer still that are written by members of their own community.
"It's these kinds of conversations I am hoping to generate by assigning that text," she added.
Another book that will start lively conversations surrounding power and representation is a novel titled, This Is How It Always Is, the final book Shayne has assigned. To avoid spoilers, it can be summarized as a beautiful, timely story of family. "The parents let their child live the life she knows she is meant to live, and I think the book has a million wonderful messages about gender," Shayne said.
The author — a New York Times bestseller — is coming in person to speak with Shayne's class. "This Is How It Always Is has been one of my all-time favorite books ever since I read it years ago," Shayne said. "I am thrilled author Laurie Frankel will be speaking with the class, and I hope students will see the value in using fiction for truth telling — that everybody deserves to have their truth told, no matter how young they are, and there is a particular urgency for the protagonist in this novel to have her story heard right now.
"I also hope they will see the potential role of writers in influencing policymakers and voters who want to pass laws guided by hate and fear," she added.
Pages provide purpose
For Shayne, this class is a dream come true.
"At a basic level, I am very excited to geek out about feminist books, reading and writing with other people (students!) who also want to geek out about feminist books, reading and writing," she said. "I am also really excited to teach students historical and practical stuff about feminist publishing, and I am beyond excited to meet and hear from all of the authors and other guests who will be gracing us with their presence this quarter.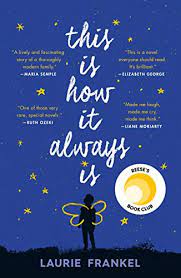 "And truthfully, I have already started a list of more readings and guests for the next time I get to teach this class."
The authors and guests who will be coming to the class this quarter include:
Jody Bleyle (she/they) – musician, record-label owner, early contributor to the queercore and riot grrrl movements, and member of the band Team Dresch
Sarah Cannon (she/her) – author of the memoir The Shame of Losing
Claudia Castro Luna (she/her) – Washington state Poet Laureate (2018–2021), author of many collections including Killing Marias: A Poem For Multiple Voices
Donna Dresch (she/her) – musician, zine maker, record-label owner, queen of grunge, trailblazer of the queercore and riot grrrl movements and member of the band Team Dresch
Miranda Findlay (she/her) – editorial assistant at Feminist Formations, a peer-reviewed journal that began as the journal of the National Women's Studies Association
Laurie Frankel (she/her) – author of This Is How It Always Is and other NYT best sellers
Professor Deborah Hathaway (she/her) – a lecturer in UW Bothell's Gender, Women & Sexuality Studies with a specialty in theater
Jisu Kim (she/her) – senior marketing, sales and publicity manager at The Feminist Press
Ijeoma Oluo (she/her) – writer, speaker and internet yeller as well as author of So You Want to Talk About Race and of Mediocre: The Dangerous Legacy of White Male America
Sondra Simone Segundo (she/her) – Haida singer, artist, educator and author of the children's book, Killer Whale Eyes
Roxy Szal (she/her) – digital editor at Ms. magazine and podcast producer of "On the Issues" with Michele Goodwin