Andrew Truong, a recent graduate from the University of Washington Bothell, spent his days as a student studying and conducting research on material science. He would then spend his evenings on the field, playing intramural sports with fellow Huskies. When the weekend rolled around, you could also often find him at his former high school, supervising events for students competing in the national Science Olympiad.
"He was always busy doing things in the community," said Mathew Cooley, program manager for Intramural Activities, "and no matter what he was doing, he was putting his soul into it. He went above and beyond — as a student, a teammate and a mentor.
"The University is better because of him."
To recognize the impact Truong has made at UW Bothell, he was named one of the 2021 Husky 100. Each year, the UW recognizes 100 undergraduate and graduate students from the Bothell, Seattle and Tacoma campuses who are making the most of their time at the University. The recipients actively connect what happens inside and outside of the classroom, applying what they learn to make a difference on campus and in the community. He is one of 12 students from UW Bothell to be recognized last academic year.
Diversity & inclusion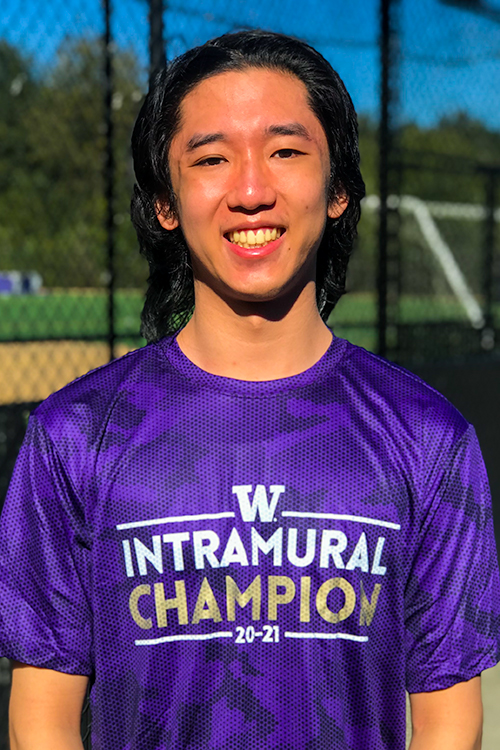 Truong participated in intramural activities as a first-year student and played nearly every sport at least once. While he won the championship for ultimate frisbee, dodge ball and softball, what he considers to be the real victory is the diverse group of friends he made by joining the team.
"There were people from different cultures, religions, gender identities and areas of study," he said. "Being a part of an environment that encouraged everyone to join in allowed me to form bonds with people from different backgrounds. For me, that was the best part."
The next year, Truong was not just a player but an intramural official. He wanted to take on a leadership role to get more involved in bringing the campus together through recreation. By his senior year, he had worked his way up to become the program coordinator.
"A lot of the students who came out and played were looking for a way to relax, and it was my job to facilitate this," he said. "I always tried to make their day a little better than it was before. Sometimes it was something as small as lending a listening ear or just making someone laugh."
Close-knit community
Aside from supporting his peers, Truong was responsible for managing the administrative side of intramurals. After the outbreak of COVID-19 and the shift to remote learning, he had to find a way to help students feel connected.
"When I started thinking about it, I realized it wasn't the sports that made the community special, it was the people," Truong said. "It didn't matter so much what we did. It just mattered that we did something fun, and we did it together."
Intramural Activities continued to host weekly game nights, for example, but gathered people together through Discord, not in person. Students were offered the chance to play web browser and mobile games such as skribb.io, Among Us and Apples to Apples. They could also do console games such as War Zone and Madden. They even collaborated on a virtual escape room over Zoom, which was Truong's favorite.
"We had just as much fun playing these games online as we did out in the field," he said. "It kept us together as a community."
Field-based research
In winter 2020, Truong had an opportunity to connect his time on the field to his research in the lab. He joined the Materials Testing and Characterization Lab on a project that investigated the degradation of crumb rubber, otherwise known as synthetic turf. "I am on turf almost every day because of intramurals but had never considered how the substance might change over time, or the impact the change could have on the people who use it," he said.
To seek answers to these new questions, Truong conducted a study with Dr. John Bridge, associate professor in the School of STEM, and fellow students Cham Hang Yeung (Jacky), J.M. Phipps and Jason Ginos. The team analyzed three different samples of crumb rubber in different conditions: new, used and stockpile.
Each sample underwent chemical, mechanical and thermal tests to determine how the material's properties change throughout the aging process. The crumb rubber hardens, degrades and becomes brittle over time. "Studies like these are important because they impact the safety of players," Truong said. "Knowing when to change the surface of a field can help prevent injuries from occurring and reduce cost."
Last December, Truong was invited to present his research at a student night hosted by the local American Society for Metals International, an organization dedicated to engaging and connecting individuals interested in discussing materials. There, he talked about what the lab is doing and fielded questions from material engineers.
"Speaking at this event, we were able to gauge what might need to be clarified in our paper," he said, "and received some helpful advice before we finish our final draft."
Continuous learning
Before UW Bothell, Truong attended Raisbeck Aviation High School, and while he is no longer a student there, he is still immersed in the community. The last four years, he has served as a mentor and an event supervisor for the school's Science Olympiad team, which competes in 23 events across various scientific disciplines.
One of the most memorable events Truong proctored was Mystery Architecture. He was responsible for devising a list of supplies for competitors to try to build the tallest structure. In this list, he included a sheet of newspaper.
"I anticipated that participants would fold the sheet of newspaper and make their structure sturdier. However, one team rolled it up into a cylinder and attached it to the top of their building," he said. "From then on, I realized that there are opportunities to learn from younger students as well."
He also learned that in order to proctor an event, he had to have a deeper understanding of the concepts so that he could explain them to participants in a way that was easy to comprehend.
"The Science Olympiad gave me a wealth of skills," Truong said. "But what I valued most was being able to give others the same opportunities I had by helping mold young minds into becoming the next generation of scientists and engineers."
Husky highs
Now, Truong is an alumnus from UW Bothell's School of STEM with a degree in Mechanical Engineering. He is no longer preparing for the Science Olympiad competitions and instead is busy studying for the Fundamentals of Engineering exam to become a licensed engineer.
"Right now, I am riding the high of being a college graduate," Truong said. "Like my old high school motto said, the sky is NOT the limit."