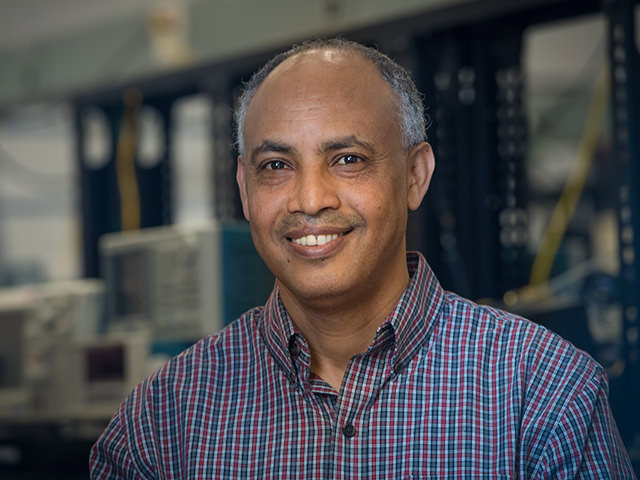 For Dr. Tadesse Ghirmai, teaching is about piquing curiosity, raising enthusiasm and ultimately inspiring the passion of his students.
"At its best, teaching is an art that stimulates students to continue learning outside of the classroom," he said. "My goal is to give students lifelong learning skills and the ability to become citizens who are equipped to meet their individual goals and society's needs."
In recognition of his dedication to student learning and the students themselves, Ghirmai has been named recipient of the University of Washington Bothell's 2021 Distinguished Teaching Award.
Exemplary professor
Students nominated Ghirmai for mentoring graduate and undergraduate students, for supporting them personally and academically, and for taking the time to ensure they have the necessary skills to succeed inside and outside of the classroom.
Created in 1995, the award each year recognizes one faculty member at UW Bothell who both engages students and demonstrates a mastery and enthusiasm for course material. The award comes with a $5,000 honorarium.
"Since joining the UW Bothell faculty, Associate Professor Tadesse Ghirmai has consistently been an outstanding mentor and professor," said Dr. Sharon A. Jones, vice chancellor for Academic Affairs. "His commitment to each student's success inside and outside the classroom has helped our graduates become confident professionals.
"He is an exemplary professor, mentor and colleague who is most deserving of this award for excellence."
Lifelong impact
Ghirmai has been teaching at UW Bothell since 2009. When the School of STEM's Electrical Engineering program launched in 2009, he was the first faculty appointment.
"In the first year of the program, I taught almost all the courses," he said. "I taught nine undergraduate and four graduate classes when they were initially offered on our campus. This experience allowed me to shape and leave marks on these courses — and gave me a big picture understanding of our curriculum.
"I am really proud to have contributed to its growth," Ghirmai said, "and I hope that in the process I have impacted many of our graduates."
As one alumnus who nominated him for the teaching award wrote:
"As a full-time and international student living halfway across the globe from family and loved ones, I felt alone, sad, worried and overwhelmed by financial stressors that would come of my father's stroke. When my grades inevitably plummeted, Dr. Ghirmai was one of the few instructors who took the time to talk, listen, understand and relate to me on a personal level. He helped me find the courage to persevere in difficult times. Because of him, I successfully completed the quarter and finally graduated with my BS in Electrical Engineering.
"Dr. Ghirmai exemplifies dedication at every stage of the teaching process. To say more would simply dilute the simple point that Dr. Ghirmai is richly deserving of the Teaching Award."
Real-world application
Teaching has always come naturally to Ghirmai, as he spent many afternoons in high school helping classmates.
"I loved working together and having discussions to help solve problems. That's how I knew I wanted to end up in some kind of teaching position," he said.
To this day, talking with students and problem solving remain his favorite part of the job.
Ghirmai takes a big-picture view of the electrical engineering curriculum so he can give students diverse and coherent content that helps them develop critical thinking skills and improves their employment opportunities.
In making their recommendation for the award, the selection committee members cited a number of powerful nominations, including this one from another former student:
"I attribute much of my success at Samsung as a 5G/4G subject matter expert and network system engineer to Dr. Ghirmai. Dr. Ghirmai has an incredible talent for linking wireless communications theory to practice and providing relevant, real-world examples of how the course material relates to the current telecommunications industry. Much of his courses covered real-world applications of 4G/5G technologies such as MIMO, modulation techniques, receivers, and cellular networks, which made me an outstanding candidate for the network team at Samsung."
Access and inclusion
Ghirmai says he has always been committed to increasing diversity, ensuring equity and fostering an inclusive environment within the field of engineering.
"It is about promoting access to science and engineering education for women and underrepresented minority students. I am committed to enhancing the representation of these groups in science and engineering," he said, "and throughout my tenure at UW Bothell, I have directed efforts toward this goal."
As principal investigator, Ghirmai obtained a summer Research for Undergraduate Experience grant to increase the participation of women and underrepresented minority students in engineering research. The grant is for three years and engages 10 students each summer. In its first two years, 10 women and 14 underrepresented minority students participated from schools across the country.
Advising a group of Black students in 2015, Ghirmai also helped establish a chapter of the National Society of Black Engineers at UW Bothell to encourage Black students to pursue engineering education.
"It is clear to see," a former student wrote, "that the continued efforts showcase Dr. Ghirmai's commitment to inspiring and cultivating excellence and achievements among all students.
"Dr. Ghirmai is deserving of recognition for his continued efforts and commitment to student and community growth."